Gardening, guitar, rehab in Waino's future
Cardinals ace to miss 2015 season due to Achilles injury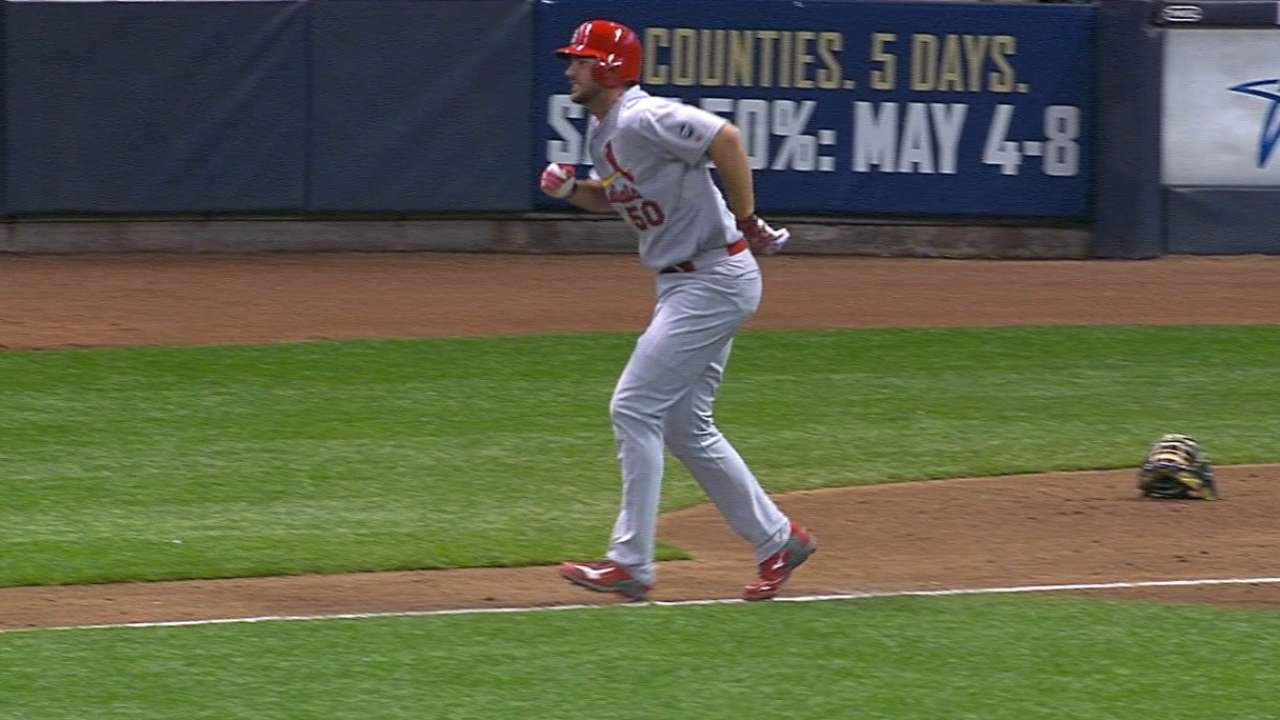 ST. LOUIS -- Looking for a way to fill his unexpected free time four years ago, Cardinals ace Adam Wainwright, his arm in a sling, marked off a small plot of land in his yard and constructed a garden. It kept him busy while he rehabbed from Tommy John surgery.
That garden has grown immensely since then, with Wainwright planting fruit trees to stand alongside rows of vegetables. And it'll receive plenty of tending to this summer, as Wainwright again looks for outlets to keep him occupied. This time, a torn left Achilles leaves him sidelined until 2016.
But that's not all. He intends to dust off his guitar, too, noting that guitar lessons are all of a sudden in his immediate future.
"I can play the chords and strum," Wainwright noted. "I can't pick. I can't play the bar chords. I'm not great, but I'd like to be. Sounds like something cool to do. I'll find ways to pass the time."
Wainwright's 2015 plans changed in an instant on Saturday, when his left Achilles tendon broke from its place as he broke from the batter's box. Doctors have described the injury as a "total fluke," telling Wainwright that they have no explanation as to why his strong tendon snapped the way it did.
Reason or not, Wainwright, 33, has accepted that his season is over.
"It's really disappointing. It really is, as great a baseball as we're playing," he said. "And what I want to make real clear to this team is that we need to avoid the trap of having that lull when you lose an impact player. You can almost be shell-shocked for a couple days, and we just need to keep that energy because we have incredible energy in our dugout, and when we do, we play really good ball. Those guys will pick that up. Those guys will be just fine."
Wainwright intends to have an impact, however, noting that he will still be a regular presence around Busch Stadium for home games and will likely join the team on some road trips, once his foot begins to heal. He maintained a similar schedule in 2011, a season he missed in its entirety, but one that nevertheless ended with the Cardinals capturing their 11th World Series title.
"I don't want anyone feeling sorry for me," Wainwright said. "I want to show up here every day, and if there are young guys I can help or guys I can watch helping tipping or get scouting reports or whatever it is -- dugout dances will be a little tough -- but I'll figure out a way to make a positive impact in this clubhouse. I know I can do that."
Wainwright said he'll motivate himself by striving to make a late-season return, but he admits that will be more a mind game than anything else. The typical recovery period for an Achilles tear is 9-12 months, and Wainwright knows it's an injury that must be allowed to fully heal.
Since suffering the tear on Saturday, he has spoken to former Cardinals Jim Edmonds and Mark Mulder about their experienced with similar issues. Edmonds ended his career to avoid risking further damage from an Achilles injury, while Mulder's comeback attempt last season was halted by an Achilles rupture suffered during a Spring Training fielding drill.
"What's really bad is knowing that in a baseball career, you only get a certain amount of years to do your job," Wainwright said. "And fortunately for me, I've been doing this a while now, and I've had some great years in the big leagues. And I know that when I'm healthy, I'll have more great years. … But it does stink knowing that my arm is healthy, and I'm just starting to get to the point where I want to be as a pitcher this year, and I have to miss time. That's the hardest part about it."
So might he make up for a year lost now with an extra year pitched later?
"That's what I told my wife," Wainwright said with a laugh. "I said, 'This year doesn't count. Just tack a year onto the end.'"
Jenifer Langosch is a reporter for MLB.com. Read her blog, By Gosh, It's Langosch, follow her on Twitter @LangoschMLB and like her Facebook page Jenifer Langosch for Cardinals.com. This story was not subject to the approval of Major League Baseball or its clubs.