Moreland to undergo elbow surgery, miss 2-3 weeks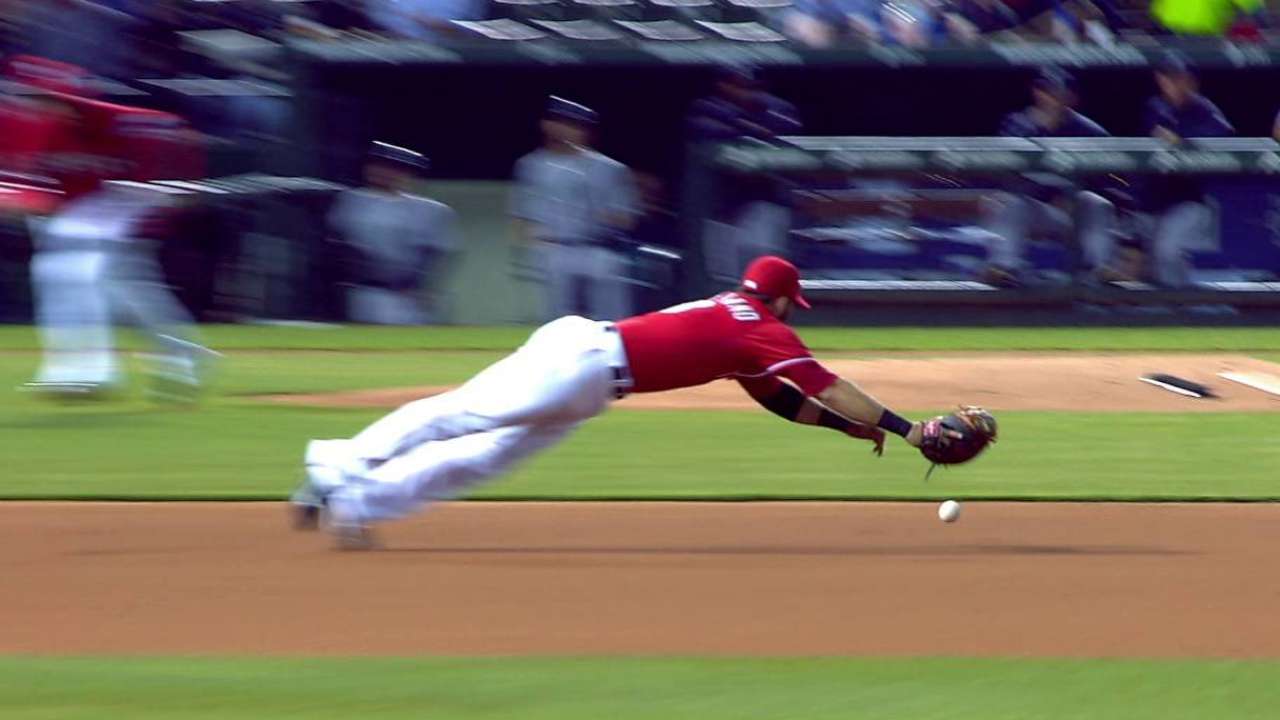 ARLINGTON -- Mitch Moreland and the Rangers decided on Tuesday night not to wait any longer on moving forward with surgery to take out bone chips in his left elbow.
Moreland, who was placed on the 15-day disabled list, was scheduled to have the procedure done on Wednesday by team physician Dr. Keith Meister. Moreland woke up Tuesday with tightness in the elbow. He was scratched from the lineup before the 2-1 loss to the Mariners.
After they tried various treatments to straighten his elbow out, the decision was made to go ahead with surgery. He'll be out 2-3 weeks, depending how quickly he heals and can go out on a rehab assignment.
The earliest he would be eligible to return from the disabled list is May 13.
"We're going to clean the bone chips up and be ready to play at that 15-game mark," Moreland said. "It was still locking up on me after we tried various things to straighten it out."
Kyle Blanks was promoted Wednesday from Triple-A Round Rock to take Moreland's place on the 25-man roster. On Monday, Blanks was named the Pacific Coast League Player of the Week. He had three homers and five RBIs in his last 10 games.
To make room for Blanks on the 40-man roster, the team designated outfielder Alex Hassan for assignment.
Moreland started dealing with the elbow issue two weeks ago. He missed two games on the last road trip, but he's gone 5-for-15 in the last four games to up his season average to .304.
"He's had some really good days, and other days he's been able to grind through it," Rangers manager Jeff Banister said. "Today seems to be, if you grade it on good, fair and not-so-good, it's probably a little further to the not-so-good side."
Moreland's absence is another blow to a Rangers' offense that ended Tuesday's game with a .212 team batting average. Moreland is second on the team with nine RBIs.
Worth noting:
• Shin-Soo Choo wasn't in the lineup Tuesday, and possibly won't be in Wednesday's either, because he's slumping, and Banister wants to give him a workday or two. Choo is hitless in his last 20 at-bats to drop his season average to .096, the lowest among Major League qualifiers.
If Choo doesn't appear in Wednesday's game -- he will be available as a pinch-hitter -- and with the Rangers having Thursday off, his April batting average (.096) would go down as the lowest since the Rangers moved to Arlington from Washington, D.C. in 1972 when Larry Parrish hit .115 in April 1988.
"I still believe in who I am," Choo said. "That's the tough part. I'm not doing well. ... I can get through it. It's not a big test for my life. I had a more tough time in the Minor Leagues. This is nothing. Nothing."
• Left-hander Alex Claudio retired both batters he faced Monday night, becoming the 18th pitcher the Rangers havs used in April, most in the Majors. Claudio was the first left-handed reliever to appear in a game for the Rangers this season.
• Double-A Frisco catcher Jorge Alfaro, the Rangers' No. 2 ranked prospect, hit his first home run of the season Monday night. Alfaro, who took a five-game hitting streak into Tuesday's game, had a season-high three hits and three RBIs.
Todd Wills is a contributor to MLB.com. This story was not subject to the approval of Major League Baseball or its clubs.