Rendon scratched from second straight rehab start
After missing Monday due to 'fatigue,' Nats third baseman dealing with side/back soreness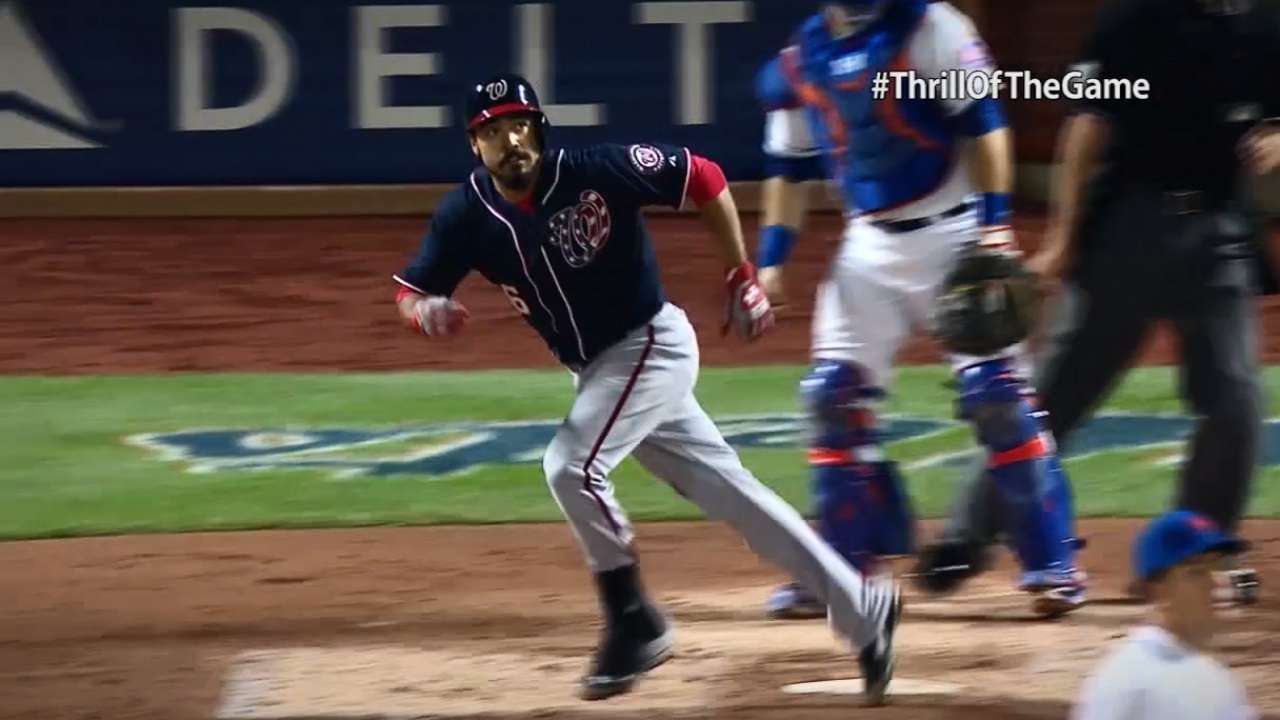 ATLANTA -- Washington Nationals third baseman Anthony Rendon missed his second straight rehab start on Tuesday, pulled from Double-A Harrisburg's game against the New Britain Rock Cats because of soreness high in his side and toward his back.
Rendon, still recovering from a sprain of the medial collateral ligament in his left knee, missed Monday's game with Harrisburg because of "fatigue."
The Nationals, who entered Tuesday night's game against the Braves on a six-game losing streak, certainly could use Rendon in a couple of ways. He hit .287 with 21 home runs and 83 RBIs in his first full season in the bigs last year, which could only help a team hitting just .215.
Plus, the big league club is thin on infielders. Acting third baseman Yunel Escobar was not in the starting lineup against the Braves on Tuesday. He injured his hand Monday on a hard slide by Atlanta's Andrelton Simmons at third base, though manager Matt Williams said Escobar could play Tuesday in an emergency. Danny Espinosa (hitting .205) was in at third on Tuesday against the Braves, while Dan Uggla (.135) took over at second.
Despite the clear need to bolster the offense and the defense, Williams is in no hurry to push Rendon along, especially given the area of the soreness that was reported on Tuesday.
"We want to make sure we don't mess with his back," Williams said. "I think he's fine."
The Senators play a noon game on Wednesday, and the warm weather might help Rendon recover. Williams would not rule out sending Rendon to another Minor League outpost in a warm-weather spot if it helps him recover more quickly. Wherever his next few games are, though, Williams isn't going to worry about pushing him.
"We just want to make sure he's good to play," Williams said. "So, if we have to take a day or two, then we'll take a day or two."
John Donovan is a contributor to MLB.com. This story was not subject to the approval of Major League Baseball or its clubs.