Hurdle: Pirates didn't do much right in loss to Cubs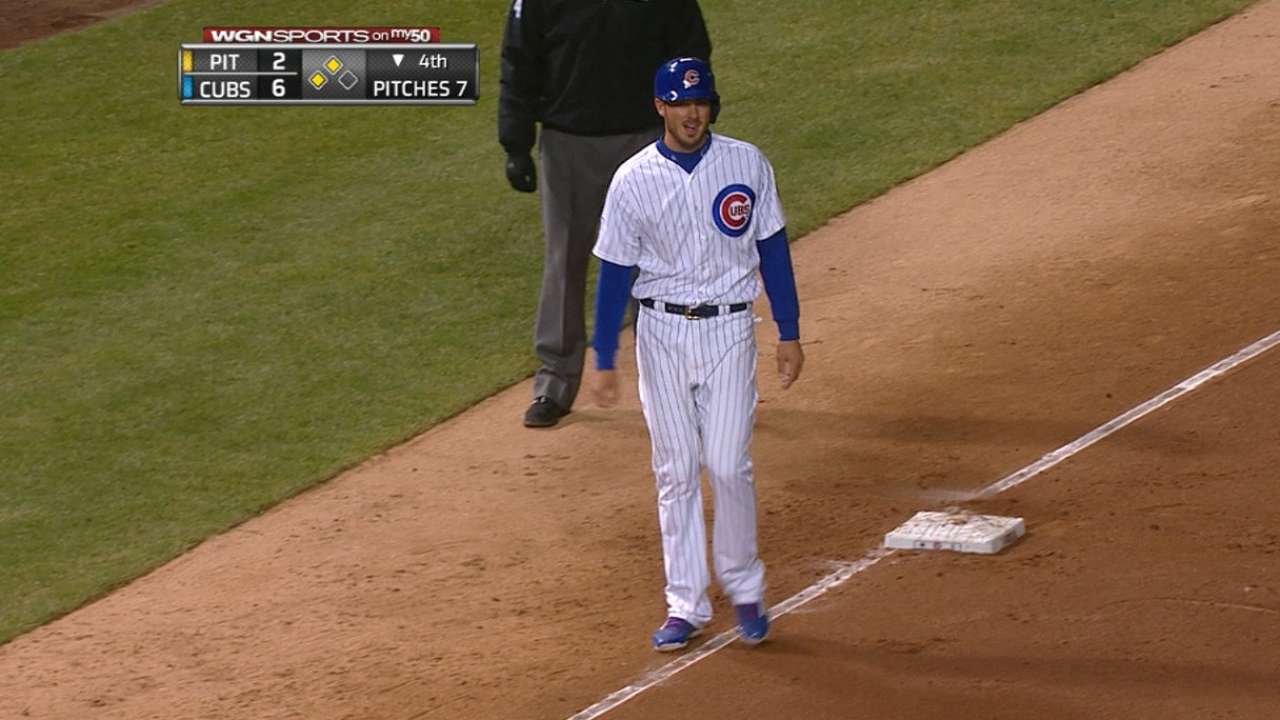 CHICAGO -- When the Pirates reeled off five straight wins last week, they saw what their team looked like when things started clicking just the right way. If they weren't hitting, they were pitching well enough to make up for it, and vice versa.
In Tuesday's 6-2 loss to the Cubs at Wrigley Field, the Pirates got a glimpse of what their team looks like when nothing goes their way.
Offensively, Pittsburgh struck out 11 times and didn't draw a walk. Starter Jeff Locke only lasted 3 2/3 innings. They committed two errors, ran into an out on the bases and let the Cubs steal five times.
"We did everything you usually end up doing when you end up coming up upside down in the game," Pirates manager Clint Hurdle said.
It started in the second inning, after Locke already had given up one two-out run on a double by rookie Cubs second baseman Addison Russell. The Pirates had a chance to get out of the inning when Dexter Fowler knocked a single to right field.
First baseman Corey Hart cut off the throw from Sean Rodriguez, struggled to get the ball out of his glove, lost his balance and bounced his throw off second-base umpire C.B. Bucknor, allowing Fowler to advance all the way to third.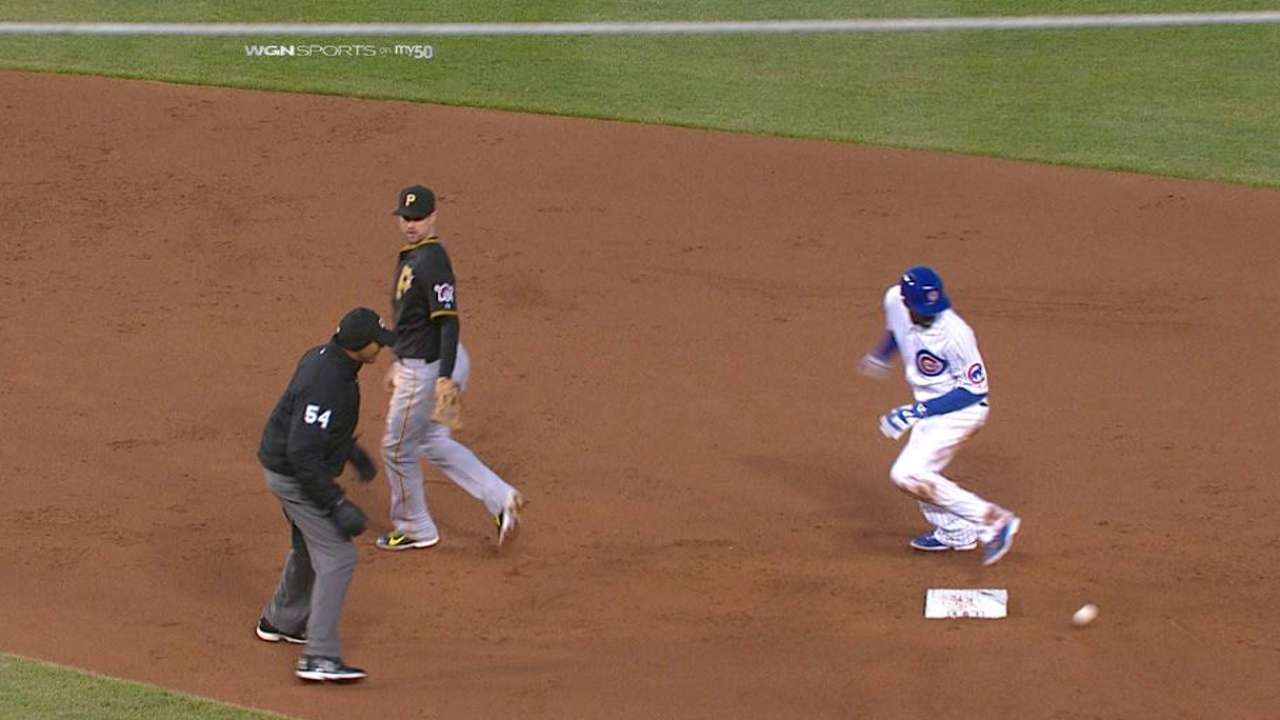 Locke struck out the first two batters in the third and induced a grounder from Starlin Castro, but Josh Harrison's throw to first landed three rows into the stands. Castro immediately came around to score on a double by Junior Lake.
"When you play four outs in an inning, five outs in an inning, things aren't going to end well," Hurdle said.
The Pirates managed to get through the fourth without an error, but the Cubs swiped four bases on two double steals and went on to score two runs in the inning.
Locke seemed surprised to see the Cubs running wild, considering they were caught stealing in their only attempt against him last week. Hurdle agreed that the Cubs' running game "definitely got our attention."
The Pirates only had three hits after Starling Marte's two-run homer in the fourth, and their only chance to score came in the sixth. Hart knocked a two-out double and rounded third on Marte's single to left but came too far off the bag.
A replay review showed that Kris Bryant tagged Hart before he could step back, and the initial safe call was overturned.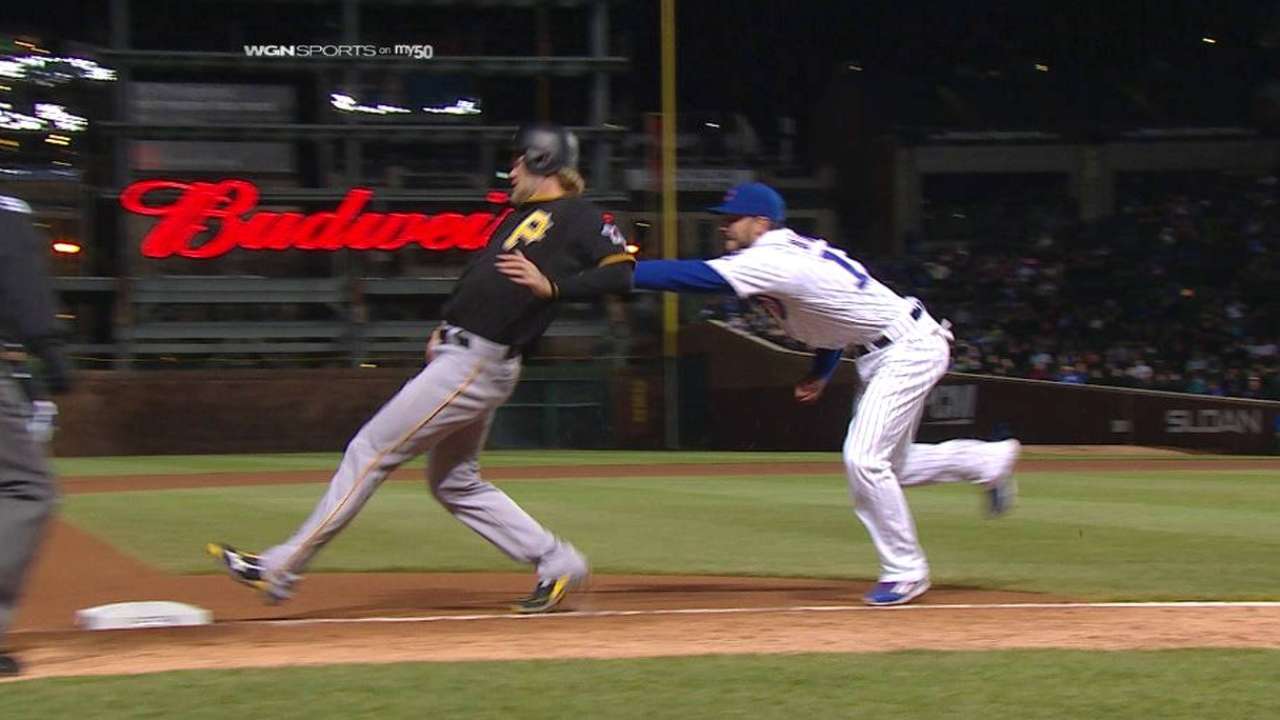 After that, the final nine Pirates hitters went down in order. The last two nights, the Bucs have struck out 18 times without a walk.
"We've been playing in some streaks," Hurdle said. "We continue to say the game's contagious. We've had some contagion on the other side."
Adam Berry is a reporter for MLB.com. Follow him on Twitter at @adamdberry. This story was not subject to the approval of Major League Baseball or its clubs.