Locke bemoans lack of execution in loss to Cubs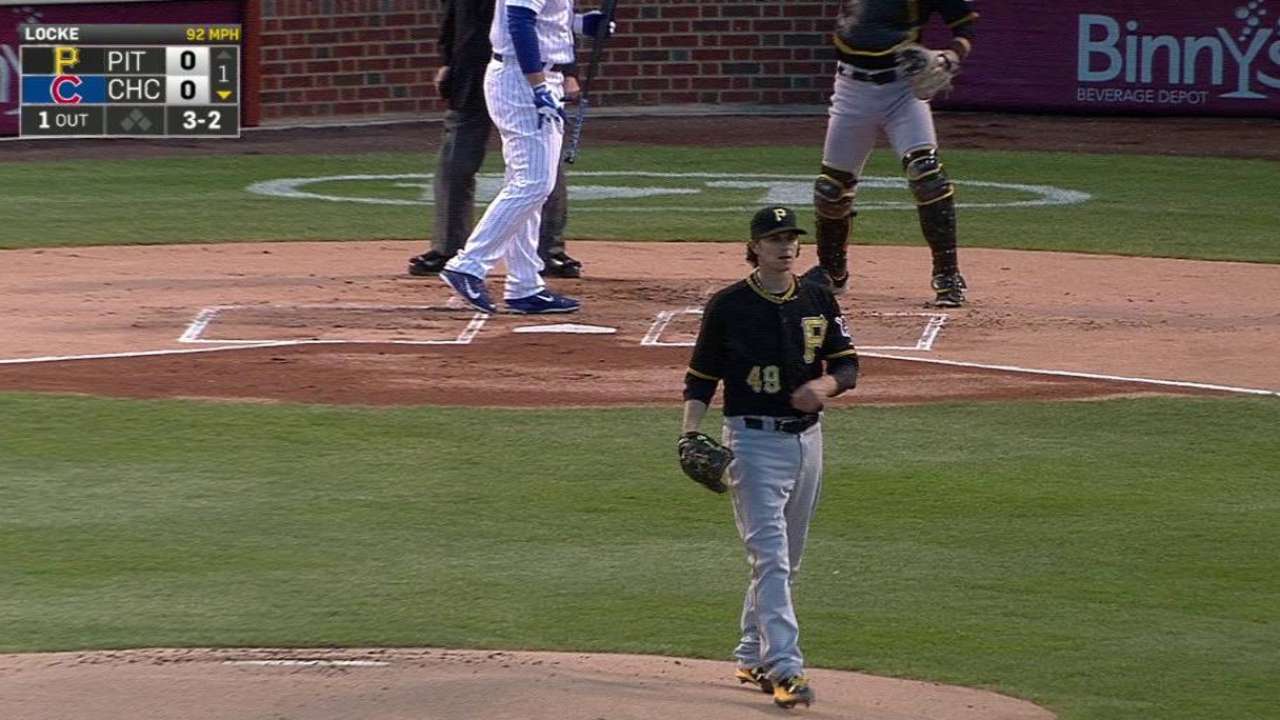 CHICAGO -- In facing the Cubs twice over the last six days, Jeff Locke became all too familiar with what happens to a pitcher when he falls behind a talented, aggressive lineup.
The problem for Locke in Tuesday's 6-2 loss to the Cubs at Wrigley Field was simply that: He couldn't get ahead in the count often enough, and Chicago made him pay for it.
"It was a battle for him tonight," Pirates manager Clint Hurdle said.
Locke surrendered six runs, five of them earned, on eight hits and three walks while lasting only 3 2/3 innings on 86 pitches.
"The intent, everything's there. Just the execution of the pitch was not," Locke said. "When the fastball was out over the plate, these guys were ready to hit it."
Locke threw first-pitch strikes to nine of the hitters he faced but immediately fell behind the other 13. Forced to throw strikes to get back in the count, Locke wound up playing right into the Cubs' aggressive approach.
"I think we fell behind some guys and we needed to make pitches out over the plate," Locke said. "You've got to be able to get ahead of these guys and try to put them away as soon as you can. You can't let them hang around."
But the Cubs have proven their ability to hang around. All of their runs Tuesday night came with two outs.
Locke said he hasn't noticed a difference in the Cubs' two-out approach, but the results speak for themselves.
"You've just got to be able to make pitches. That's what it comes down to," Locke said. "You've got to have a killer instinct out there on the mound, especially when you've got two outs and you want to get your guys back in there."
Further complicating matters for Locke was the Cubs' aggressive strategy on the basepaths. They pulled off two double steals in the fourth inning alone, one of them against Locke.
"It just goes back to making pitches," Locke said. "You make some pitches, those guys aren't on base."
Adam Berry is a reporter for MLB.com. Follow him on Twitter at @adamdberry. This story was not subject to the approval of Major League Baseball or its clubs.