Gomez on track to return from DL on Friday
Brewers All-Star outfielder has been out since April 16 with a right hamstring injury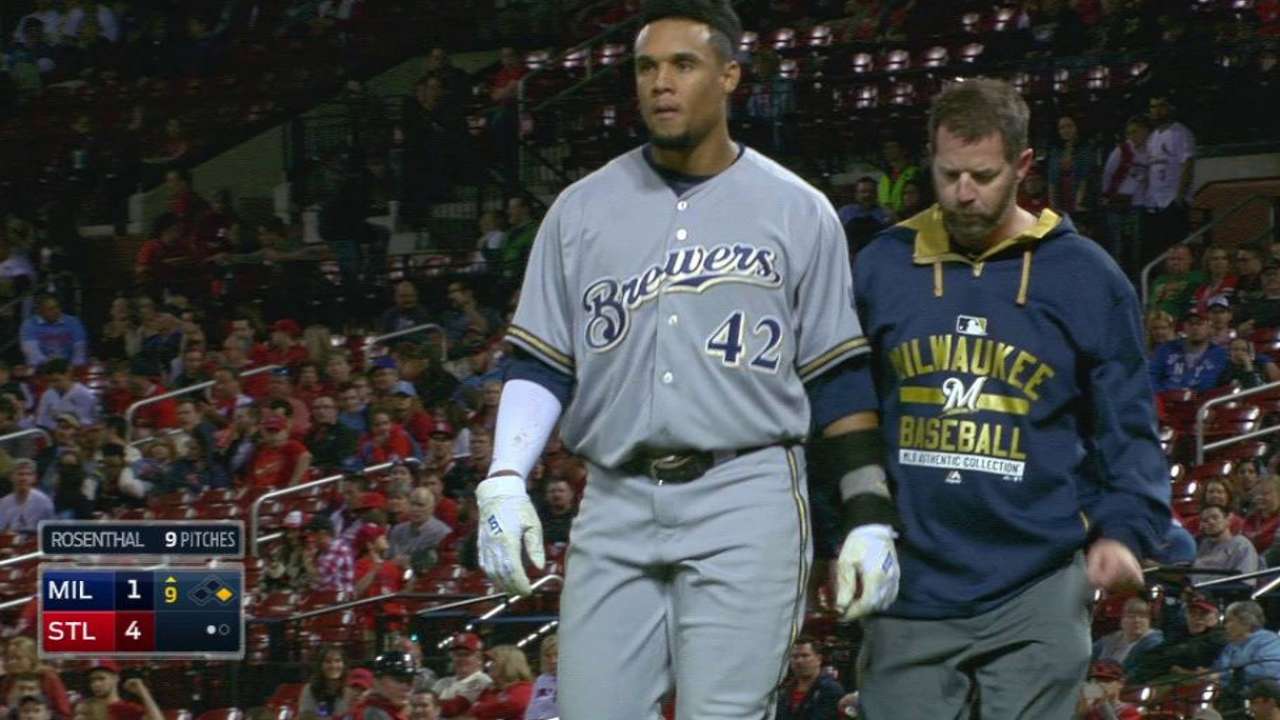 CINCINNATI -- The Brewers are getting closer to having a full roster again.
Manager Ron Roenicke said Tuesday that injured center fielder Carlos Gomez (right hamstring) should return some time during this weekend's series against the Cubs in Chicago.
Injured second baseman Scooter Gennett, meanwhile, will have stitches removed from his left hand Wednesday in Cincinnati and could be activated early in a four-game series next week against the Dodgers at home.
Gomez, a two-time All-Star and 2013 National League Gold Glove winner, hasn't played since April 16.
"He's close," Roenicke said. "Friday should be close; if not, a day or two after. He's been chasing fly balls well in the outfield."
Gennett suffered a laceration near the middle finger of his left hand April 20 that required five stitches to close. He was reaching for shower gel when he cut his hand on a shower caddie. The 24-year-old second baseman was able to take full batting practice Tuesday.
"There's no pain at all, no restrictions at all," Gennett said. "I'm pretty much able to do everything."
Everything, that is, except convince people that his account of the accident is accurate.
"The only thing I get upset about is people saying, 'Come on, that didn't really happen,'" Gennett said with a grin. "I want to make sure everybody knows I am not the type of person who would hurt myself, certainly not intentionally."
Gennett has certainly taken his share of grief from teammates as well.
"I don't think that will ever stop," Gennett said.
All-Star catcher Jonathan Lucroy has been on the disabled list for a week with a fractured left big toe. He said the original timetable of 4-6 weeks is still accurate.
"We'll look at the X-rays when we get back to Milwaukee, check my pain level, and go from there," Lucroy said.
For now, he is doing a lot of swimming, weightlifting, light hitting, throwing and riding a stationary bike.
"The first time I broke my hand, I gained a lot of muscle," Lucroy said. "You can't do anything other than get in the weight room and work out."
When he returns, Lucroy will add a flap to his shin guard to protect the toe and also wear a pitcher's toe guard on his left shoe.
"I don't think it will affect my running too much," Lucroy said. "It's not like I've ever been a blazer anyway."
Andy Call is a contributor to MLB.com. This story was not subject to the approval of Major League Baseball or its clubs.