A-Rod tutoring Gregorius on playing shortstop
Veteran infielder emphasizes 'positioning, cadence' and 'internal clock'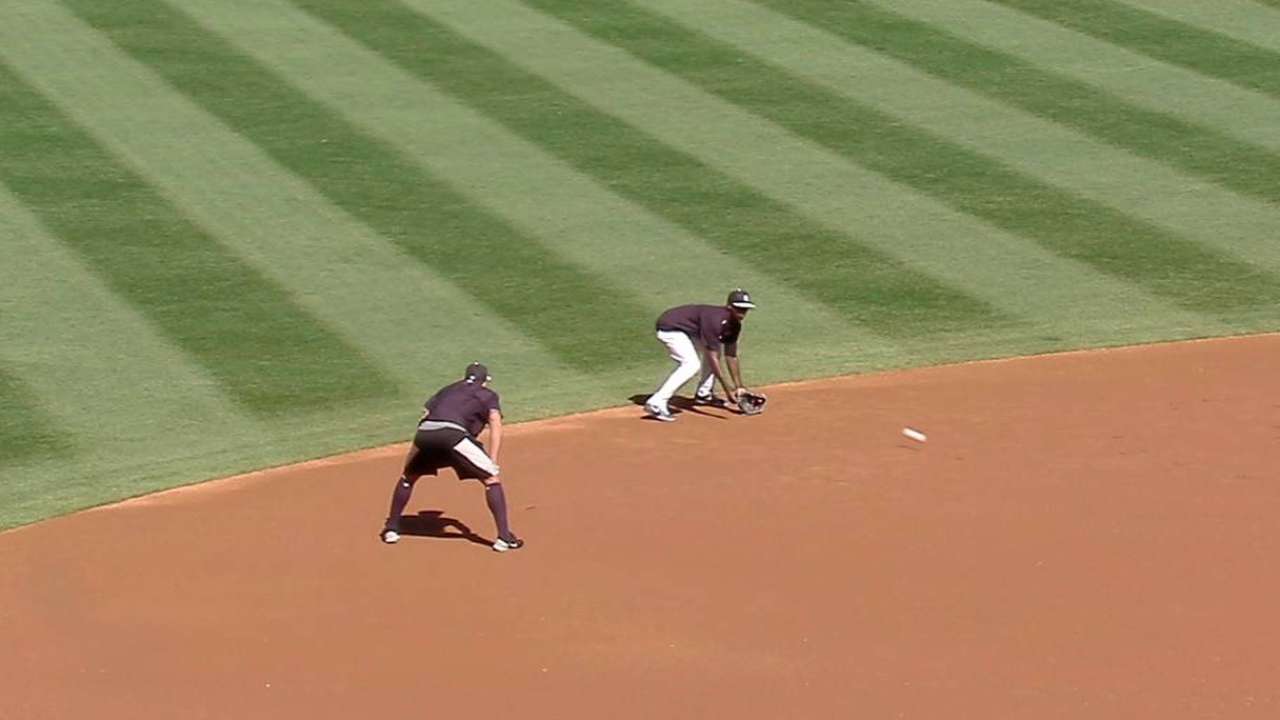 NEW YORK -- Alex Rodriguez grabbed his glove and dashed across the clubhouse carpet Tuesday afternoon, an important appointment on his agenda. With Didi Gregorius going through early defensive work at shortstop, the Yankees had requested his presence in a coaching role.
Rodriguez, a two-time Gold Glove Award winner at shortstop, offered feedback with infield coach Joe Espada as Gregorius took ground balls and whipped throws across the diamond. Rodriguez said that he sees the natural ability in Gregorius' game, and that regular practice will be important to iron out the kinks at the position.
"The one thing about playing shortstop that I tried to convey to him was positioning, cadence and also that internal clock that a shortstop needs," Rodriguez said. "You only get that with preparation and experience."
Espada said that he approached Rodriguez two days ago to set up the appointment and offer feedback to Gregorius, who has committed three errors and made several other miscues in the field and on the basepaths through the first weeks of the season.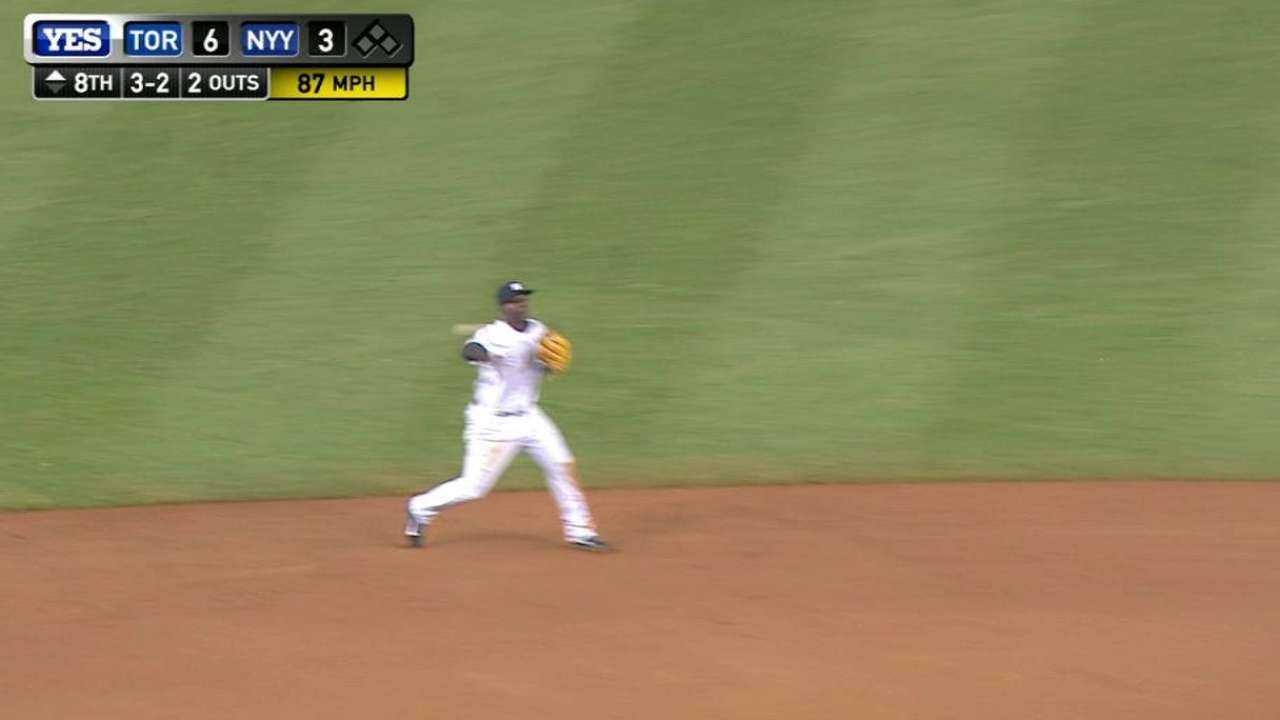 "I wanted Didi to hear it from one of his teammates," Espada said. "He's a guy that's played 20 years on that side of the infield. There's a lot of experience, there's a lot of knowledge there. I just want Didi to have someone to relate to some of that play on that side of the infield. I thought the session went really well."
Espada said that the Yankees are trying to help Gregorius anticipate plays better, remaining aware of outs and knowing when to charge the ball and when to stay back. Gregorius said that he thought the workout was helpful.
"Everything he brought up was good," Gregorius said. "Just really everything like positioning, timing, anticipation and all that stuff."
Yankees manager Joe Girardi said that he believes Rodriguez's experience could be a helpful asset as Gregorius adjusts to the American League and to New York.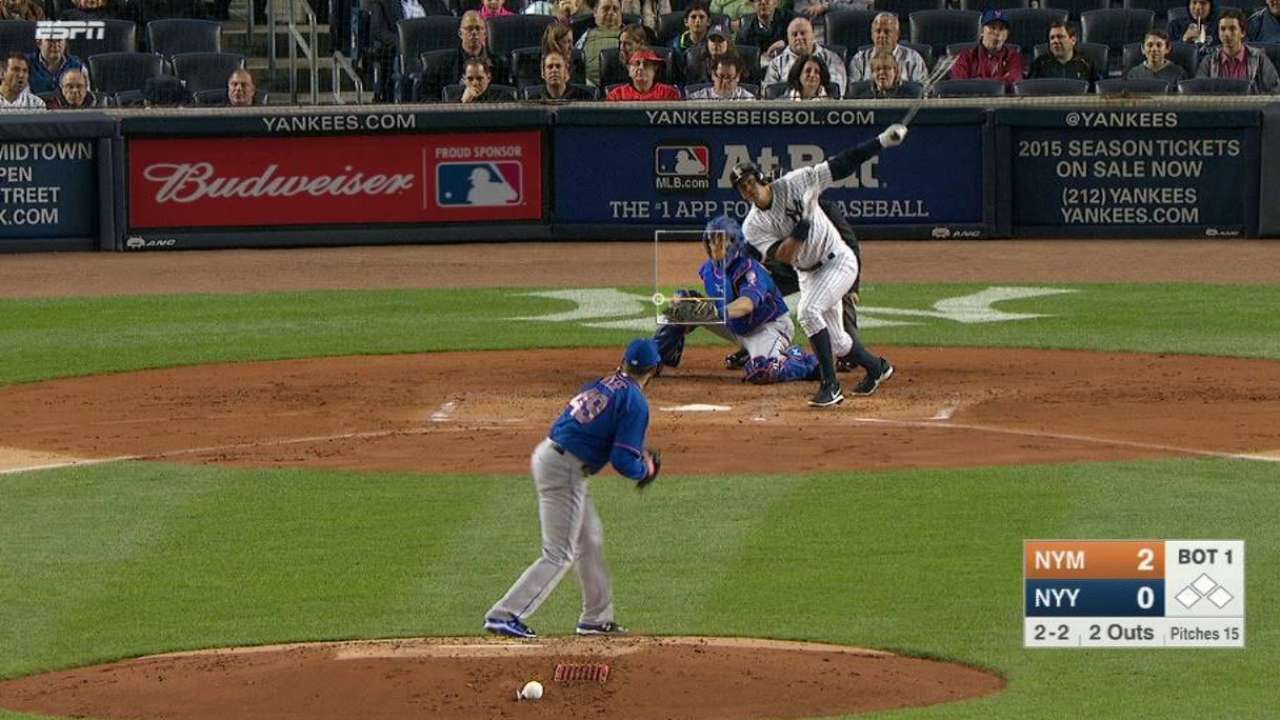 "If you think about Alex, he was a great shortstop that was willing to move over to third," Girardi said. "He's played in big markets; he's played in big games. Alex loves the game. Alex is a teacher by nature, and he also studies the game a lot and just wants to learn. I think it comes natural for him."
Rodriguez said that he believes by June, Gregorius will look back at these first weeks in pinstripes and feel much more comfortable.
"The abilities are off the charts," Rodriguez said. "I said that in Spring Training, we saw that in Spring Training. He's got the things you can't teach; incredible range, great arm strength. People forget, he's only been playing shortstop for eight years. The more he comes out, the more he gets experience, the better he's going to be."
Bryan Hoch is a reporter for MLB.com. Follow him on Twitter @bryanhoch, on Facebook and read his MLBlog, Bombers Beat.
This story was not subject to the approval of Major League Baseball or its clubs.