Braves, Nats expect to move past dramatic slide
Atlanta manager Gonzalez says Simmons' awkward baserunning the issue, not maliciousness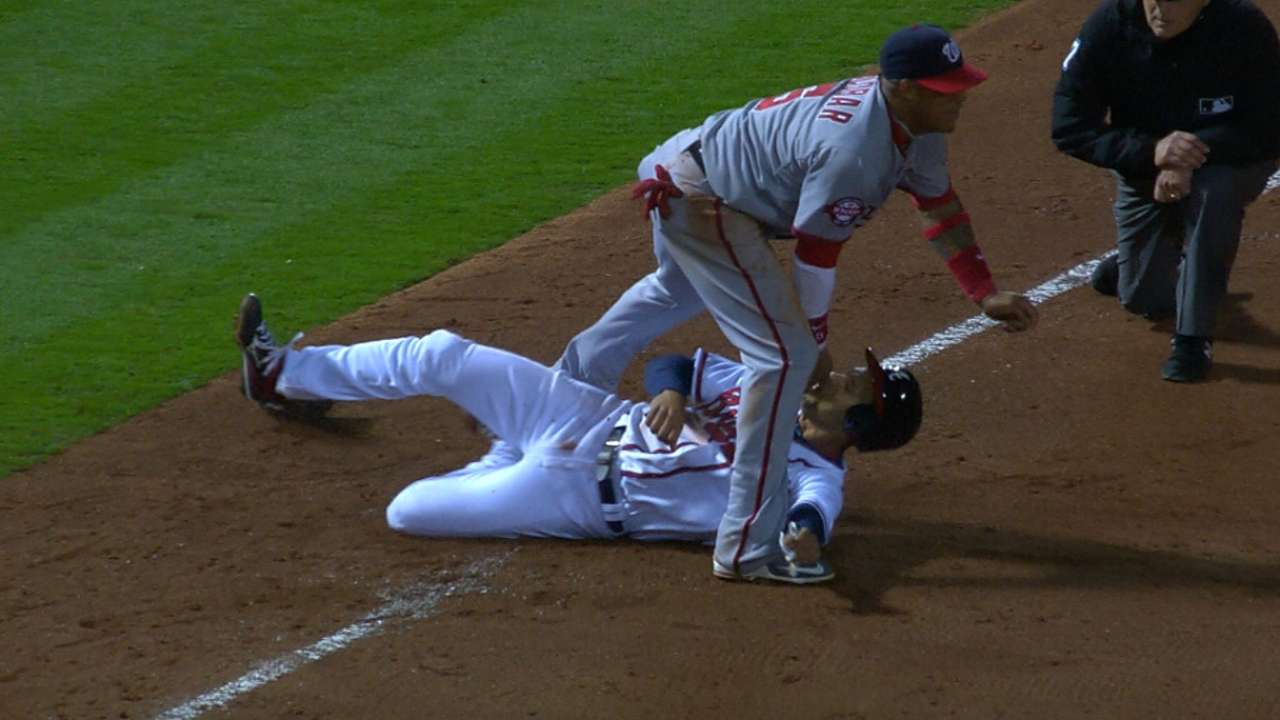 ATLANTA -- Braves manager Fredi Gonzalez and Nationals manager Matt Williams had differing opinions regarding Andrelton Simmons' slide that injured Yunel Escobar in the Braves' 8-4 victory Monday night. But as they prepared for Tuesday's game, both skippers said they did not expect the incident to have a carryover effect.
"There was no malicious intent at all with Simmons," Gonzalez said. "I've been quoted in articles about how bad of a baserunner he is, and we make fun of him because he thinks he's invisible."
The often overaggressive Simmons seemed to think he had the power of invisibility as he ignored third-base coach Bo Porter's stop sign while racing from first base to third base after Doug Fister made an errant pickoff throw during Monday's fifth inning.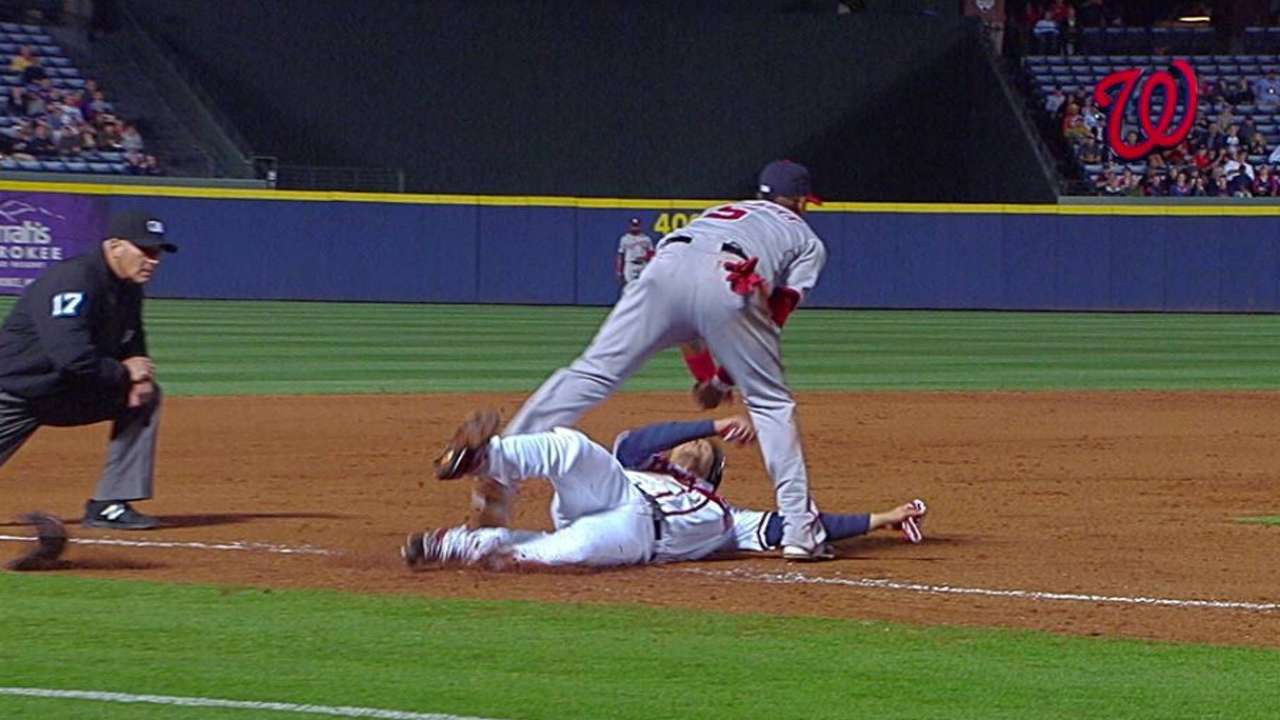 Escobar, who had never played third base on a regular basis before this season, received Danny Espinosa's throw well ahead of Simmons' arrival. But the Braves shortstop's late slide toward the bag dislodged Escobar's glove, resulting in a safe call.
Adding injury to insult, Escobar made an immediate exit because his left hand was cut and bruised by Simmons' spikes. The former Braves shortstop did not require stitches, but he was not in the Nationals' lineup for Tuesday night's game.
"If I'm trying to beat the ball to third base, I try to beat the ball to third base," Williams said. "If I'm trying to take the man out at the base, I slide past the base."
While Williams saw Simmons play 15 different games last year, he is certainly not as familiar with him as Gonzalez, who has routinely seen his Gold Glove infielder make awkward slides after allowing his aggression to lead to an unwise baserunning decision.
"I was worried about [Simmons] getting hurt," Gonzalez said. "I've seen that video 15-20 times from different angles. If you see him going around second, he's got his head down and he doesn't even know where he's at. He just slid late. I'm sorry that Escobar got hurt. I hope it's not too serious. But there was nothing malicious."
Still, given what had transpired, it was not surprising to see Simmons hit in the backside with a Rafael Martin pitch in the seventh inning. This apparent act of retribution combined with shortstop Ian Desmond's ninth error of the season helped the Braves tally a pair of insurance runs in the victory.
Mark Bowman is a reporter for MLB.com. This story was not subject to the approval of Major League Baseball or its clubs.