Twins get big hit to down Tigers as Pelfrey outduels Sanchez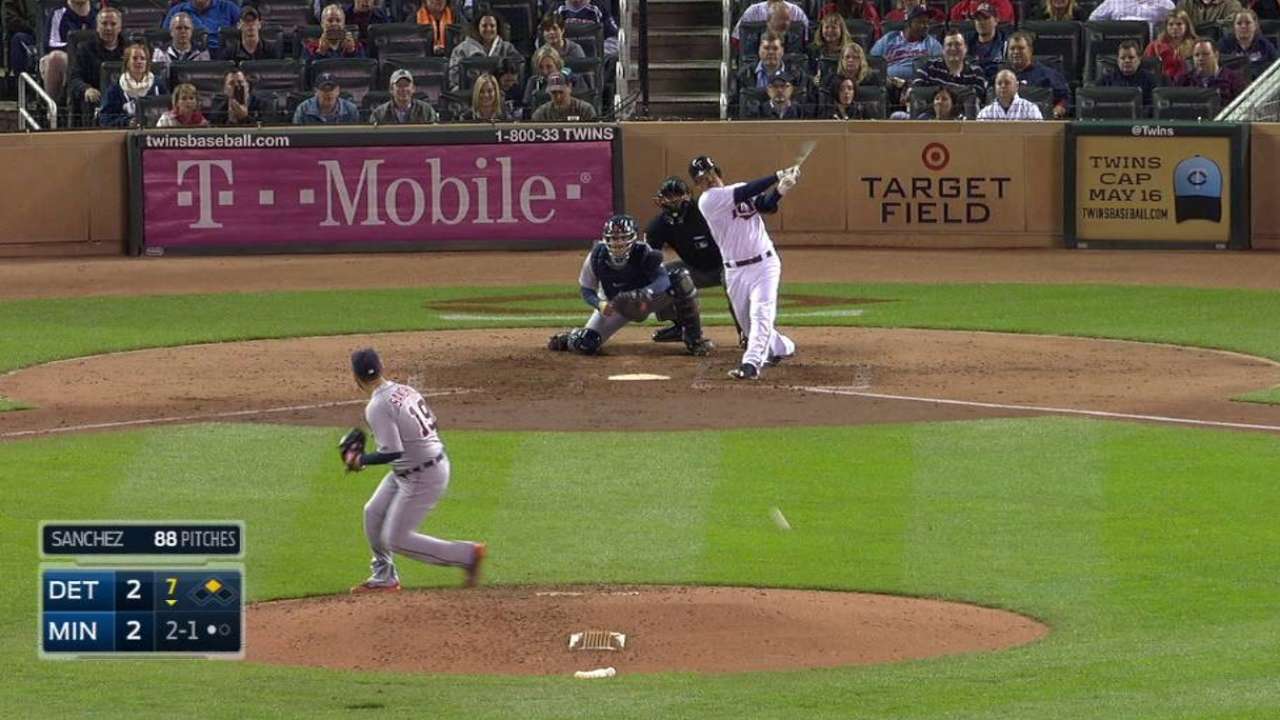 MINNEAPOLIS -- Mike Pelfrey turned in another strong outing, outdueling Tigers right-hander Anibal Sanchez, while Kurt Suzuki connected on a go-ahead RBI single in the seventh to lift the Twins to a 3-2 win on Tuesday night at Target Field.
Pelfrey went seven innings, giving up two runs (one earned) on just three hits and two walks with seven strikeouts. The right-hander, who is coming off elbow surgery that limited him to just five starts last year, improved to 2-0 with a 2.25 ERA in four starts this season. Detroit scored in the third on an RBI single from Anthony Gose, and again in the fourth on an RBI double from Yoenis Cespedes after an error from shortstop Danny Santana.
"Another pick-me-up for us after a good battle last night," Twins manager Paul Molitor said of Pelfrey. "He had a lot of good clean, crisp innings. We missed one play that was a difficult play that led to a run."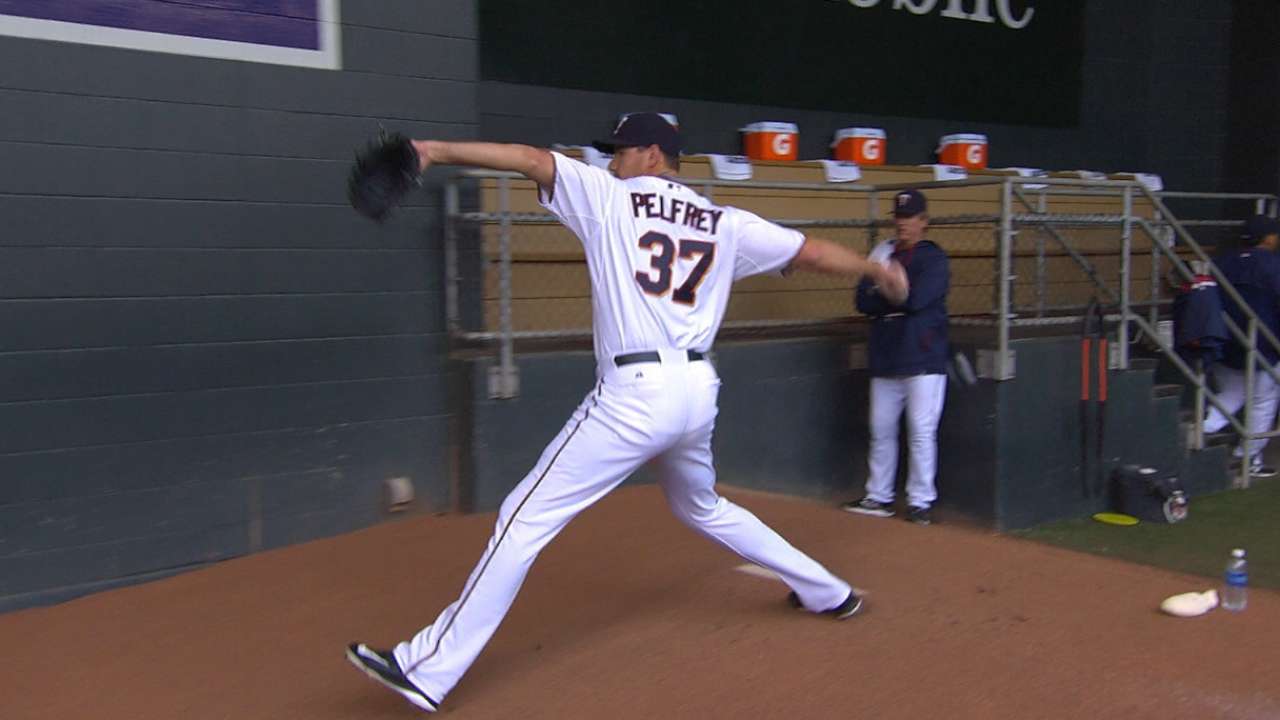 Sanchez also tossed seven frames, giving up three runs on nine hits with six strikeouts. The first run he allowed came on a game-tying RBI single from Santana in the third. He was helped by his defense in the fifth, when Oswaldo Arcia was thrown out easily at home plate while trying to advance on a two-out single to right from Santana. But the Twins rallied for two runs in the seventh to take the lead for good, with Eduardo Escobar plating a run with an RBI double and scoring on Suzuki's single.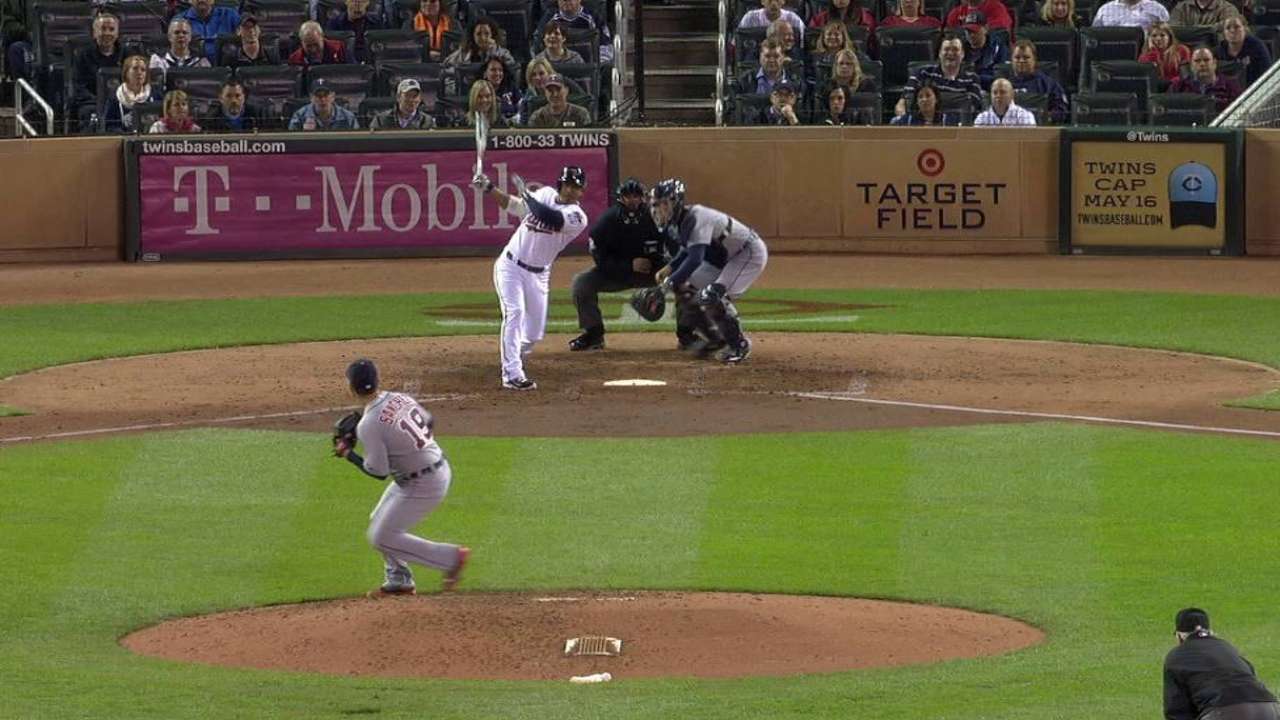 "I felt like our odds with [Sanchez] in the seventh -- even though they scored ... a couple runs -- I still felt like, as we were going through that inning, he was our best chance to get out of that inning," Tigers manager Brad Ausmus said.
MOMENTS THAT MATTERED
Twins rally in the seventh: With the Twins trailing by a run, Eduardo Nunez sparked a rally in the seventh with a leadoff single off Sanchez before scoring on a double from Escobar. After Arcia struck out, Suzuki came through with an RBI single to give the Twins the lead. It was the kind of big hit the Twins didn't get in their 5-4 loss on Monday.
"When you have a guy on second base, Sanchez becomes even tougher," Suzuki said. "You have to really get a pitch to hit and be selective up there. You can't overthink things, because he throws, like, six pitches."
Double trouble: The Tigers took a 2-1 lead with two outs in the fourth inning when J.D. Martinez and Cespedes hit back-to-back doubles. Martinez cracked a line drive to the alley in right-center, and Cespedes followed with a booming blast that short-hopped the 411-feet sign in center field. That was all the offense could muster, however, as the final 16 batters were retired in order. More >
Arcia runs through stop sign: With two on and two outs in the fifth, Santana singled to right, but third-base coach Gene Glynn put his hands up to hold Arcia at third base. Arcia, though, kept running and was thrown out easily at home to end the inning and the potential rally.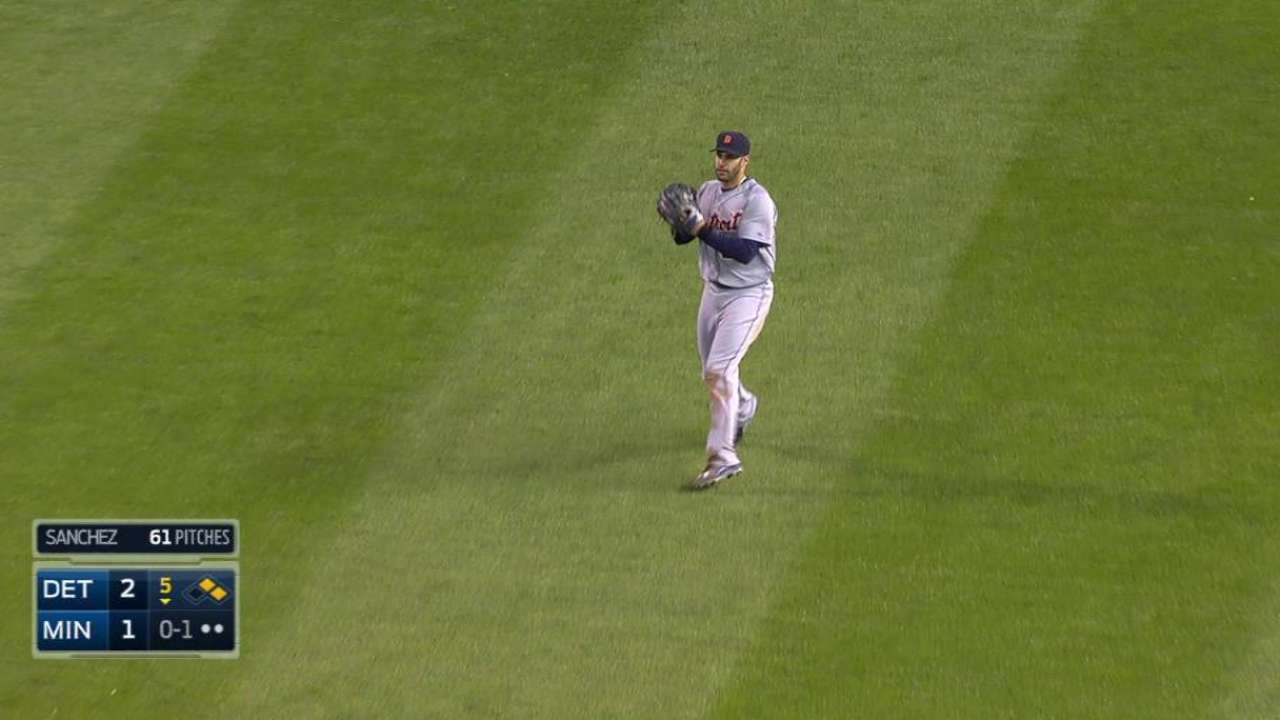 "There was a miscommunication from the hand signals Gene uses in certain situations," Molitor said. "I think Gene and Arcia are going to try to clean that up so it doesn't happen going forward."
Flashing the leather: Miguel Cabrera is known for his hitting, but he made a slick play to retire Joe Mauer leading off the bottom of the eighth. Mauer hit a hard grounder that appeared to be headed to right field, but Cabrera stabbed it with a backhanded lunge and made an accurate throw to pitcher Blaine Hardy covering first base to get the out.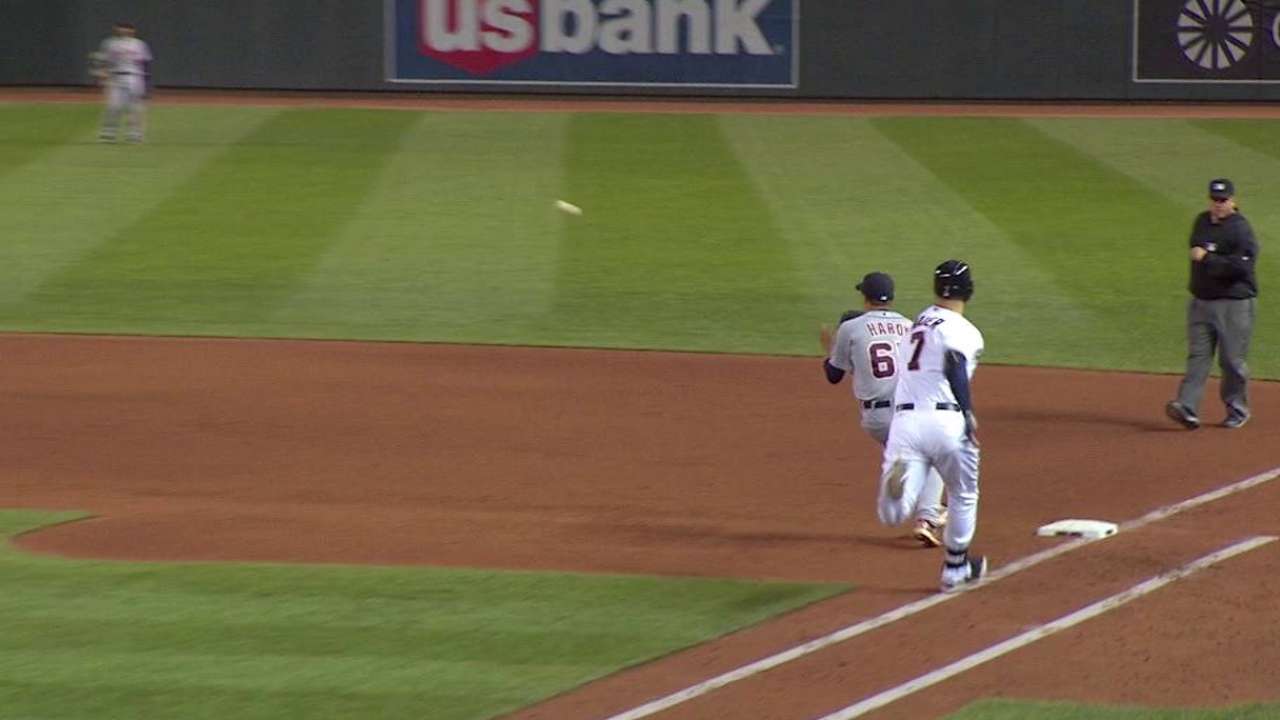 QUOTABLE
"It's always nice when a pitcher gives you good innings like that and battles his butt off out there, to be able to get him the win. It's always a good feeling." -- Suzuki, on Pelfrey.
"A 12 o'clock game? That's early, man. I don't care if you win or lose [the night before]. But we'll get up, get ready to play and try to win a series." -- Tigers second baseman Ian Kinsler, on Wednesday's early start
SOUND SMART WITH YOUR FRIENDS
When Pelfrey struck out Victor Martinez, J.D. Martinez and Cespedes in the second inning, it marked the first time he struck out the side since July 10, 2011, while pitching for the Mets against the Giants. He went on to strike out seven batters, one off his career high, and his highest total since Sept. 6, 2013.
WHAT'S NEXT
Tigers: Shane Greene looks to recover from a disappointing outing against Cleveland when the Tigers face the Twins in the series finale on Wednesday at 1:10 p.m. ET. Greene won three straight starts before giving up eight runs in four innings against the Indians last time out .
Twins: Right-hander Phil Hughes is set to start for the Twins in the series finale Wednesday afternoon. Hughes turned in his best outing of the year on Friday against the Mariners, giving up two runs over eight innings with nine strikeouts, but was stuck with the hard-luck loss.
Watch every out-of-market regular season game live on MLB.TV.
Rhett Bollinger is a reporter for MLB.com. Read his blog, Bollinger Beat, and follow him on Twitter @RhettBollinger. Patrick Donnelly is a contributor to MLB.com. This story was not subject to the approval of Major League Baseball or its clubs.