Gibbons reinstates Cecil as closer
Manager to use Castro in lower-leverage situations after blown saves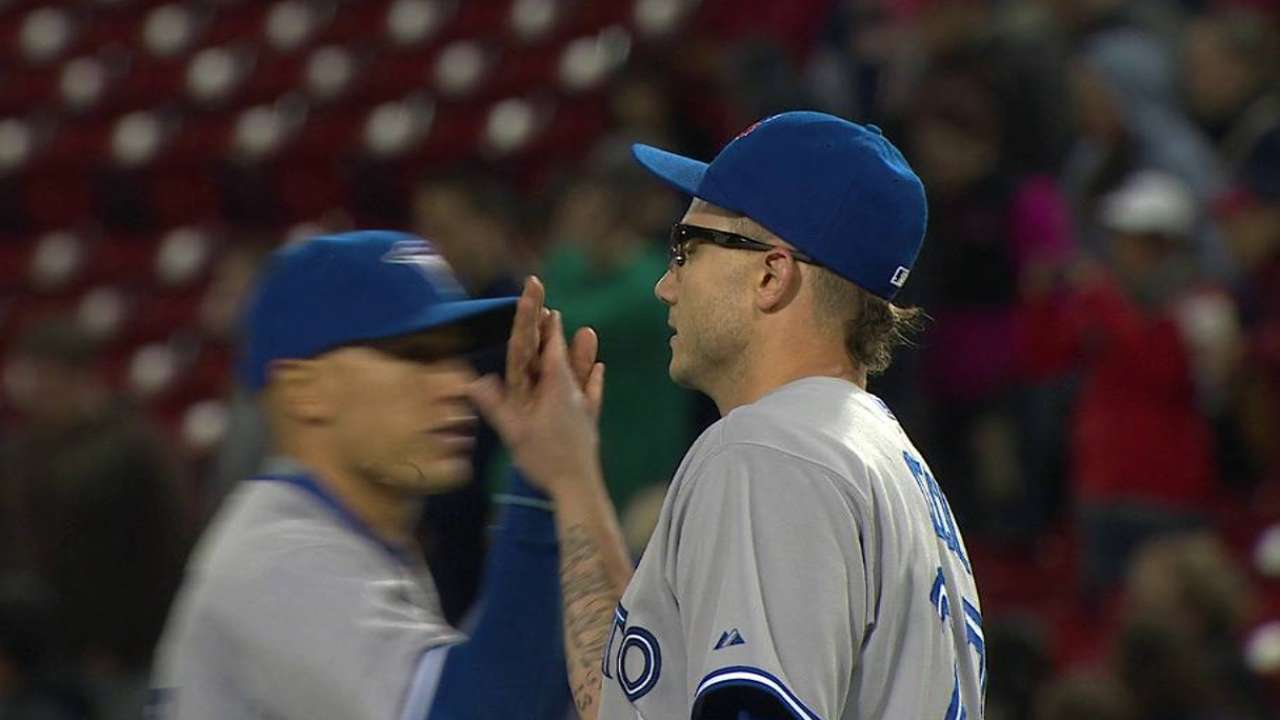 BOSTON -- The revolving door at the back end of the Blue Jays' bullpen continued to spin on Tuesday afternoon after manager John Gibbons announced that left-hander Brett Cecil has reclaimed the closer's role.
Cecil, who earned the save in Tuesday's 11-8 victory, began the year as the closer, but his stint lasted all of one appearance before he was moved into middle relief. Rookie Miguel Castro took over the ninth-inning duties, but the plan has changed once again after the 20-year-old had a series of tough outings.
Castro has allowed runs in four of his last five appearances and five of his last seven outings dating back to April 14. The latest incident happened when Castro surrendered a walk-off single to Mookie Betts in a 6-5 loss to the Red Sox on Monday night.
"[Castro is] out there competing. He's gotten hit around a little bit lately, but that's not unusual," Gibbons said. "He's not polished off yet. He's so inexperienced. But to be fair to the kid, early on, he was big for us.
"Now back him off, build him up, and get him back in there. Nobody goes through this game without getting hit around a little bit. To think a 20-year-old is not [going to get hit], that just doesn't happen, you know."
Gibbons intends to use Castro in low-leverage situations for the time being, while Aaron Loup and Roberto Osuna handle the primary setup roles. Right-hander Liam Hendriks could also see some setup opportunities, while Marco Estrada and veteran Jeff Francis continue to pitch in long relief.
One scenario the Blue Jays apparently haven't completely ruled out is moving right-hander Aaron Sanchez back to the bullpen. Sanchez took over the closing duties late last season, but he transitioned to the starting rotation this spring when right-hander Marcus Stroman suffered a season-ending knee injury.
Gibbons was asked during an afternoon media session whether Sanchez might return to his former role.
"We've talked about that a lot," Gibbons replied.
The followup question was about where things stand with the Sanchez possibility, and Gibbons said: "I've got nothing to tell you. We talk about everything," before joking that the club has even considered batting Jose Bautista leadoff, but that doesn't mean it will happen.
Regardless of what the Blue Jays decide to do, it's clear that the team is scrambling after a series of blown saves in recent weeks that has brought the level of talent in the bullpen into question.
"I know one thing: After each game, you look at things, analyze it, maybe we'll try this," Gibbons said. "What can you do better? That happens for 162 games. Unless you win, if you win, you don't do it.
"I look at it this way: We're 20 games in. We're still right in the thick of this thing. If you win a few games in a row, you're right back at the top of this division, possibly. You have to look long term, you have to iron some things out, there's no question about that."
Gregor Chisholm is a reporter for MLB.com. Read his blog, North of the Border, and follow him on Twitter @gregorMLB. This story was not subject to the approval of Major League Baseball or its clubs.