Tito stresses focus, attention to detail in team meeting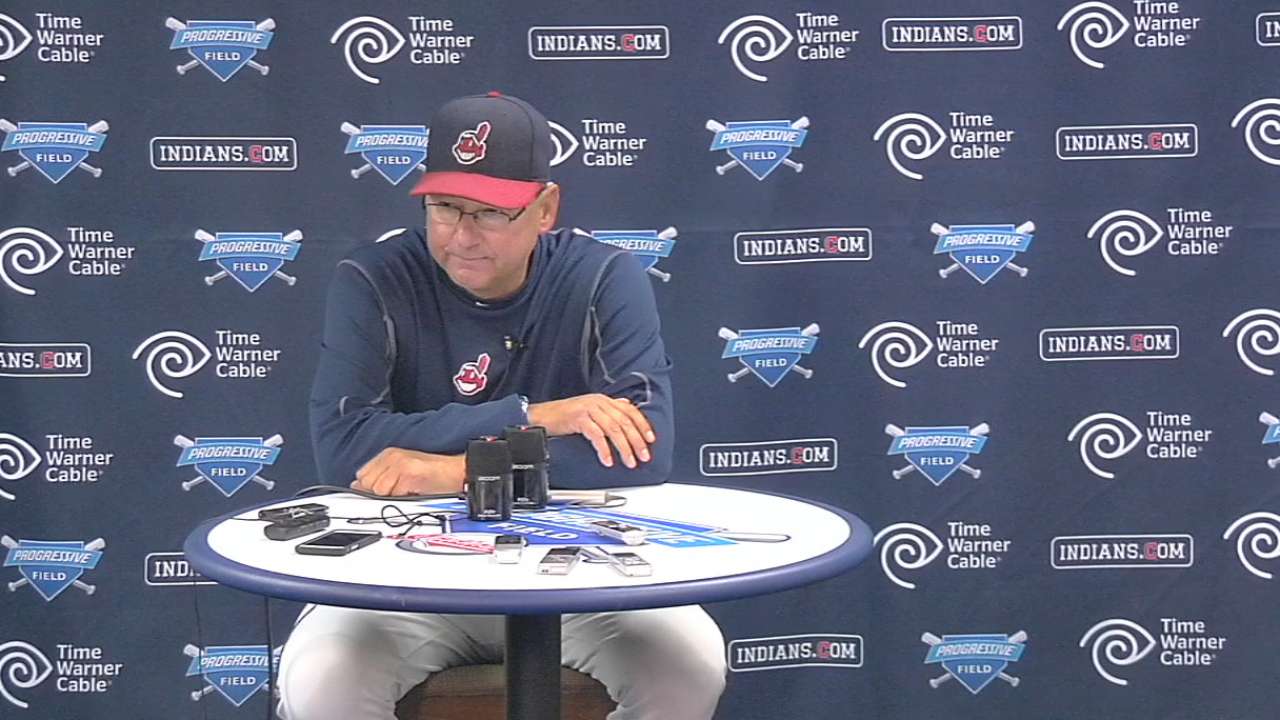 CLEVELAND -- Indians manager Terry Francona is not big on speeches, but he knows there are times when a message needs to be delivered to his ballclub. Francona felt that one of those moments arrived after Monday night's loss to the Royals.
Francona wanted to reassure his players that he still believes they have what it takes to contend for a playoff spot, and that one rough month does not mean the season is lost. The manager emphasized that paying attention to details and maintaining daily focus are necessary to eventually make up the ground that has been lost in the American League Central race.
"I'm not the biggest team-meeting person," Francona said on Tuesday. "I told these guys, a lot of times a manager comes in and yells and screams and he feels better. I'm not sure what that does for the players. I just wanted to remind them of what we believe in. All the things we've talked about from Day 1 of Spring Training, and that part of the reason we talk about those things is so when you run into problems or tough times, we have something to fall back on.
"There's no guarantees that if you have a team meeting ... you throw a winning streak up there, because the teams we're playing are good. I just want to make sure we play the game the right way and pay attention to detail. Then I'll take my chances."
Cleveland was 6-12 heading into Tuesday's game against Kansas City, and sat seven games back of first-place Detroit in the AL Central. The Indians went 10-17 last April before rebounding to finish with 85 wins. In 2013, Cleveland opened with an 11-13 record in April, but then went on to win 92 games and capture the top AL Wild Card spot.
Francona said it is important not to be overwhelmed by the early deficit.
"We actually talked about that last night a little bit," Francona said. "We have to be strong enough now, and believe enough. We're going to have to look up at the scoreboard for a while and see our record, because if you try to get it all back or you think about getting it all back, it looks a little daunting. But if you just take care of what's in front of you, then maybe you look up down the road and, if you play good baseball, that'll take care of itself.
"We've done this before. But when you start talking about, 'Well, we've got to win nine out of 10.' That would make me nervous. I've heard people say that on other teams. What we need to do is go play a good game tonight. Then, when you do that, you follow it up and just keep it in smaller segments. That makes it a little less daunting, a little easier to handle."
Francona said it is not always easy to know when the right time has come to call such a meeting.
"There is no book for that," he said. "It's our obligation and our challenge to know our guys, because you don't want to do it too much. I don't think that helps. Sometimes you feel the need to almost reassure them, 'Hey, this is how we feel. This is how we're going to go about it.' The object is to help."
Jordan Bastian is a reporter for MLB.com. Read his blog, Major League Bastian, and follow him on Twitter @MLBastian. This story was not subject to the approval of Major League Baseball or its clubs.