Royals' bullpen reaching new heights in 2015
CLEVELAND -- How good is the Royals' bullpen?
Entering Tuesday's game vs. the Indians, Kansas City relievers had been scored upon only twice in 19 games. The bullpen leads the Majors with an ERA of 0.73 and a .149 opponents' batting average.
As Royals starter Danny Duffy said recently, "That's sick."
The reason for the bullpen's dominance is really quite simple: Manager Ned Yost essentially has a gang of closers at his disposal.
"We had some pretty dynamic bullpens when I was in Atlanta," Yost said, shaking his head, "but not four guys who could close for other teams like we have here."
Make that five closers once right-hander Luke Hochevar (Tommy John surgery in 2014) returns from a rehab stint at Triple-A Omaha, which will be the first week of May.
"It will take time for Hoch to get back to what he was," Yost said. "I mean, he's pitching well there. But to get back to where he was, it will probably be midseason."
The Royals have not had to even think about rushing Hochevar's recovery because they have Wade Davis, Kelvin Herrera, Greg Holland (currently on the disabled list) and Ryan Madson, a former closer with the Phillies who has made an incredible comeback from Tommy John surgery in 2012. Madson last pitched in the Majors in 2011, but has become an integral part of the bullpen.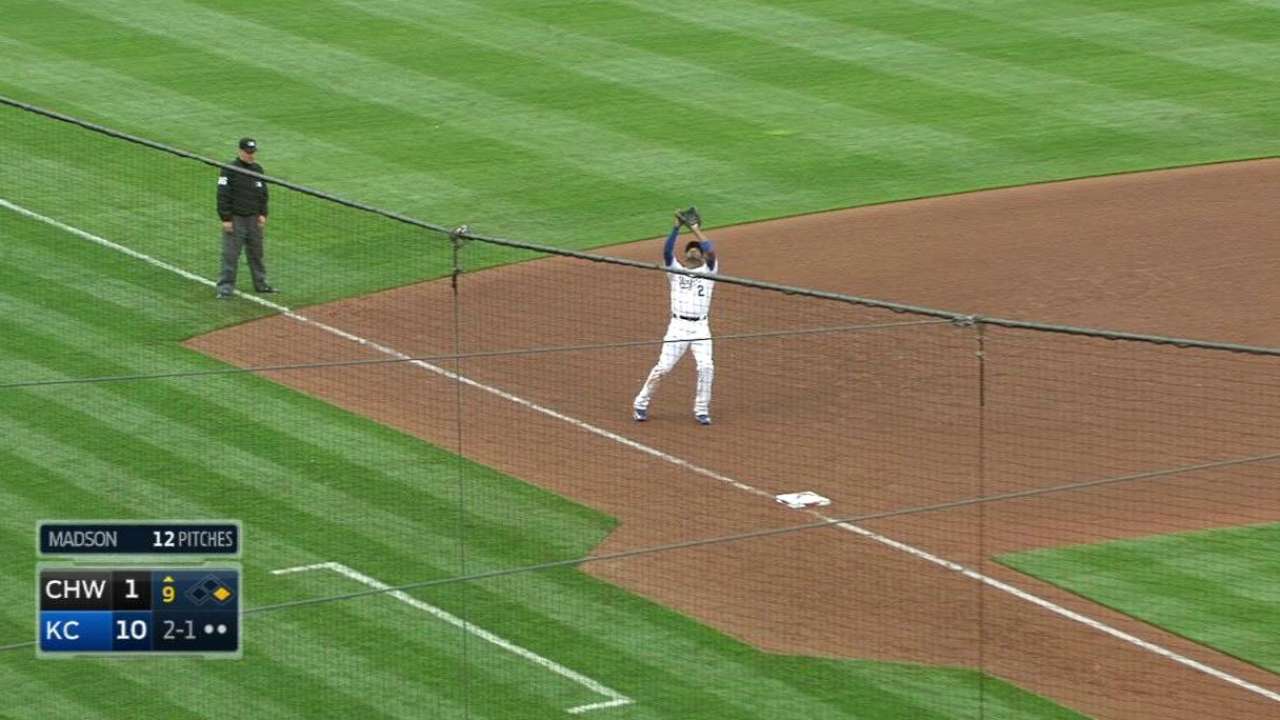 "He's a guy I would certainly trust in that role," Yost said.
As Madson, 34, looked around the clubhouse Tuesday afternoon, he, too, was amazed at the talented relief arms Kansas City boasts.
"The quality of the stuff is unbelievable," Madson said. "I've never seen that with all the guys that can throw upper 90s, all in one bullpen. We used to have some really good 'pens in Philly, and other teams would say if it gets to the seventh inning, they were in trouble.
"But here, it's even before the seventh. This bullpen can shut down teams longer than that."
But Madson, who has a 0.93 ERA, believes there's more to the success of the bullpen than just blazing fastballs. The attitude is right, he said.
"Our mentality is that we're going to give up runs once in a while, but not very often," he said. "And the thing is, we always seem to bounce right back.
"But what I really like is that there are no egos. That's really what makes it work. Everybody pulls for each other. That's what makes it so fun for me, for all of us."
Jeffrey Flanagan is a reporter for MLB.com. Follow him on Twitter at @FlannyMLB. This story was not subject to the approval of Major League Baseball or its clubs.