Padres seeking relief from the bullpen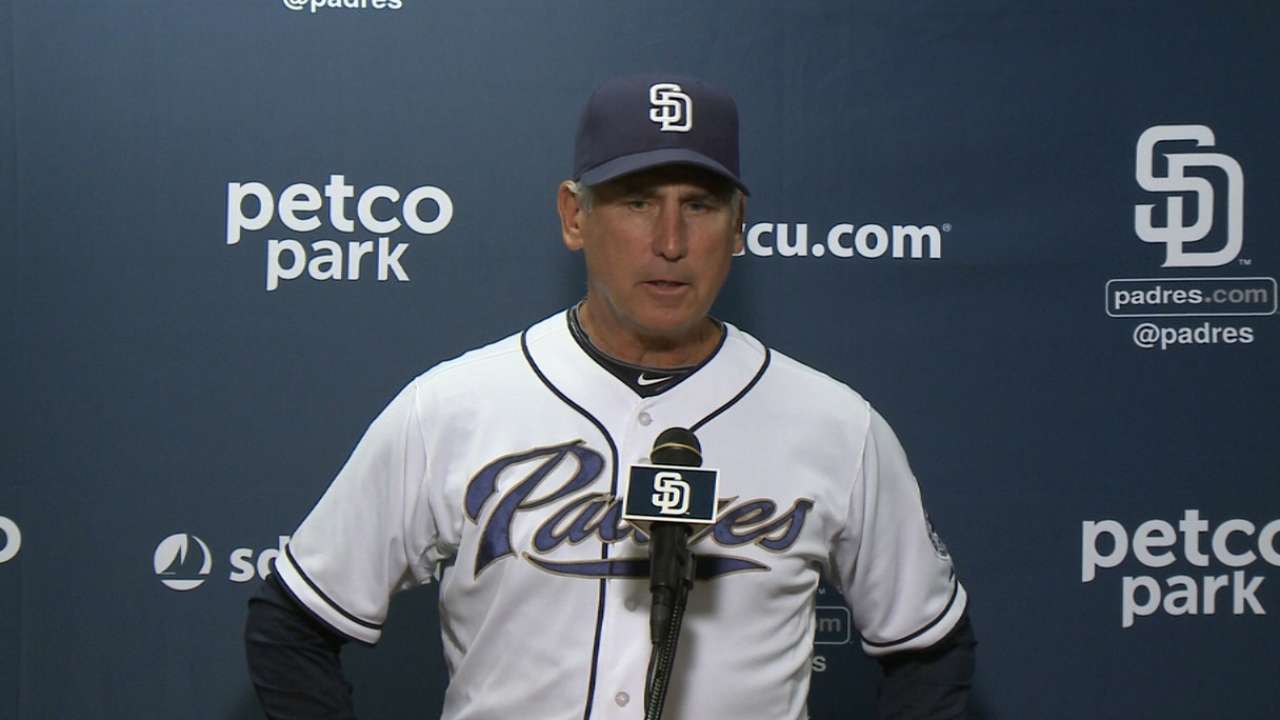 Bill Center, longtime sportswriter for U-T San Diego, is an employee of the Padres.
Bud Black admits the Padres' bullpen isn't where it needs to be.
Last year, the relief corps had a 2.73 ERA. After 21 games this season, the bullpen's ERA is 4.04. Padres relievers allowed six earned runs in three innings Monday's 9-4 loss to the Astros at Petco Park.
This can't continue if the Padres are to challenge for the National League West title. And Black is confident it won't -- because the track records of San Diego relievers say they are better than the current numbers.
"A hot streak turns it around," said Black.
And the Padres need the bullpen to get hot. Through the first four games (1-3) of this homestand, San Diego relievers have allowed seven runs on 10 hits and nine walks in 14 1/3 innings. Three of those hits were home runs. The bullpen ERA during this homestand is 4.40.
From the scorebook
• Infielder Yangervis Solarte was 3-for-4 with a double and two RBIs Monday night. He is hitting .326 as a starter (14-for-43), with four doubles, two homers and nine RBIs. Seven of those starts have come at second base against right-handed starting pitchers. The switch-hitter is hitting .350 (14-for-40) against left-handed pitching this season, with all four of his doubles and both homers for 10 RBIs. Second baseman Jedd Gyorko is hitting .054 (2-for-37) against right-handed pitchers, with nine strikeouts.
• The Padres lead the Major League in both hitting with runners in scoring position and hitting with runners in scoring position and two outs. San Diego is hitting .337 (57-for-169) in RISP situations and .318 (28-for-88) in two-out RISP situations.
• Right fielder Matt Kemp is 7-for-19 in his latest hitting streak. This one reached five games Monday night. He has two five-game hitting streaks and a four-game streak this season. Kemp has hit safely in 17 of the Padres' 21 games. This streak includes two doubles and four runs.
• First baseman Yonder Alonso is 1-for-14 in four games since going 3-for-3 at Colorado last Thursday. Alonso's first slump of the season has lowered his batting average to .333.