MLB.com Columnist
Anthony Castrovince
Lindor could help spark turnaround for Indians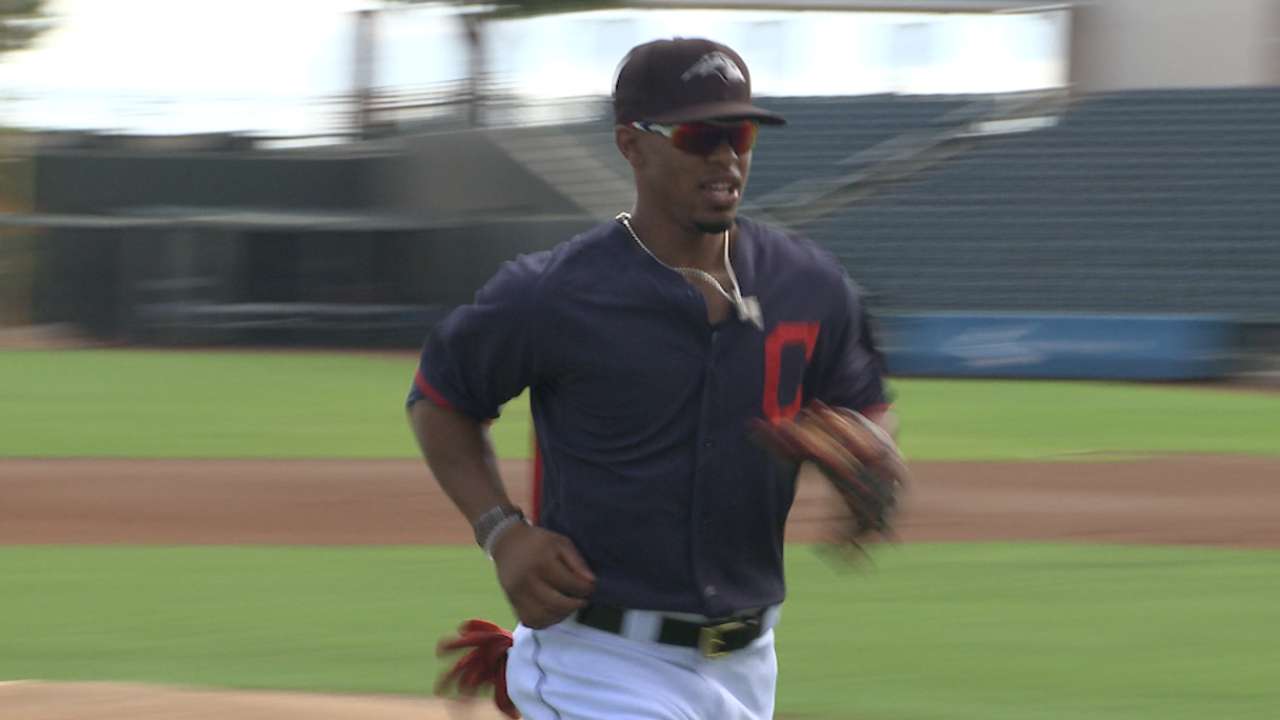 CLEVELAND -- The Indians are test-driving 6:10 p.m. ET start times at Progressive Field in this week's series with the Royals, gauging what impact, if any, the one-hour-earlier first pitch has in increasing the engagement of the fans. The Tribe evaluated an issue -- i.e., their tallying of frustrating attendance totals the past two seasons despite fielding a winning, watchable ballclub -- and acted upon it in an experimental fashion.
Alas, already at this early stage of the season, a roster with its own set of issues might be in need of experimentation.
It's time to test drive Francisco Lindor, too.
Because the Indians have the unfortunate geographical plight of playing in a division with the two best teams in the American League -- the Royals and Tigers -- their 6-12 start is even more ominous than it would ordinarily appear. Cleveland lost again on Monday night, with its winless AL Cy Young Award winner, Corey Kluber, on the mound. And that loss was like six others before it, in that the Tribe finished in the two-runs-or-less terrain that can make a ballclub look and feel flat.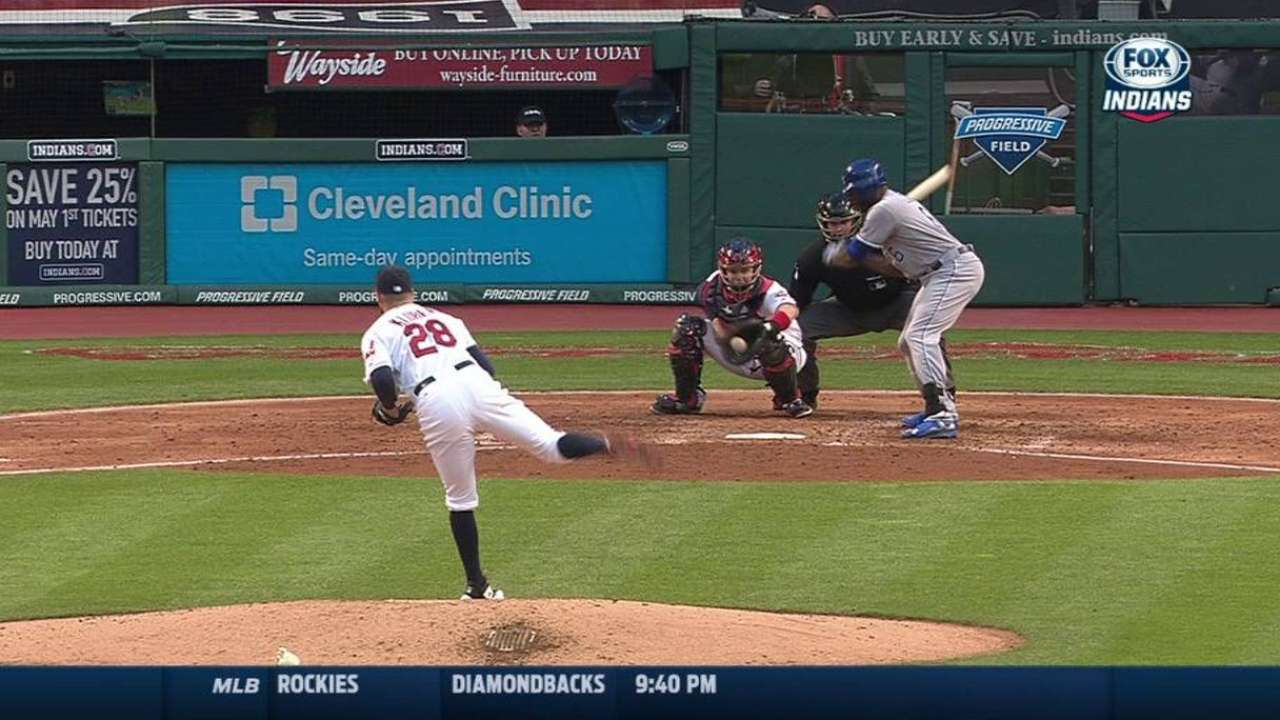 At a time like this, at a juncture as early as this, a team's only realistic solutions usually have to come in-house.
Nick Swisher was in town, on a brief break from his rehab assignment with Triple-A "Bro-lumbus" -- a stint that will continue for probably another week or so. Maybe, once activated, the switch-hitting Swisher will bring the lineup a boost and some needed balance ("I know what I bring to the table, and I know that I can help this team," he said), but I mean no personal offense to Swisher when I suggest we're in serious wait-and-see mode when it comes to a 34-year-old coming off a season in which he had a minus-1.0 WAR and 2.0 knee surgeries.
The Indians already made the most obvious of batting-order alterations, introducing Michael Bourn to the No. 9 hole. But just as those nine new uniform combination possibilities the Browns recently unveiled don't address who's under center, no pecking order unveiled by Terry Francona can instantly erase the fact that five Tribe regulars entered the week with OPS+ marks more than 30 percent below the league average.
Shortstop Jose Ramirez is one of the five. But even in the wake of another 0-for-3 night in which he was charged with another defensive miscue (Ramirez, surprisingly, is at minus-2 in defensive runs saved), this column isn't really intended to pick on him, specifically. He just so happens to play the only position in which the Indians have a highly touted prospect at the ready.
Sorry, Jose.
Lindor, as you know, is the highly touted prospect in question. And it's up to the Tribe to determine when and whether he's ready.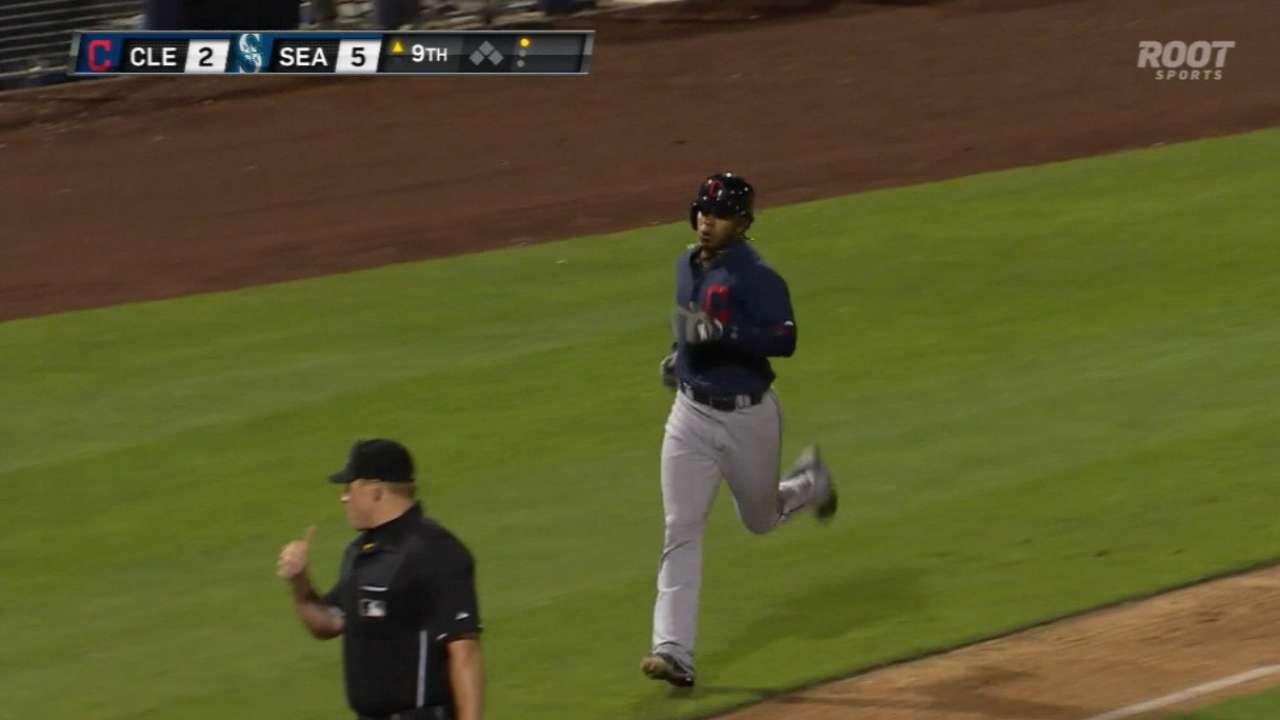 What does Lindor need to prove?
"There's a litany of things," said general manager Chris Antonetti. "Rather than getting into the specifics of those, because it's something that's really between the player and us, I can tell you that Francisco is committed to that plan and has worked extraordinarily hard to continue to improve and get better as a player."
Antonetti has to know that he could respond to questions about Lindor by reciting lines from "Paul Blart: Mall Cop 2" and all anybody will hear is, "We're delaying his callup until after the Super Two cutoff."
This is what you'd call a trained response. Fans can look at the active roster and note several instances in which a player identified as a top prospect made his Major League debut after that cutoff point:
Carlos Santana: June 11, 2010
Lonnie Chisenhall: June 27, 2011
Jason Kipnis: July 22, 2011
Danny Salazar: July 11, 2013
But the Indians have made special exceptions. They first called up Matt LaPorta, once perceived as the key acquisition in the 2008 CC Sabathia trade, in May 2009 because they were desperate for offense and felt they were in position to contend. They first called up Alex White, their No. 1 Draft pick from 2009, in May 2011 because they were desperate for starting help and felt they were in position to contend.
Desperation and contention have met head-on again here in 2015, especially with Yan Gomes on the pine. But the contention element is in danger if the Tribe doesn't start to more consistently and adequately back up the collective 3.19 ERA that Kluber, Trevor Bauer, Carlos Carrasco and Salazar have put together for them.
That neither LaPorta nor White panned out as planned in the big leagues is a reminder that nothing is a given when it comes to Lindor, no matter how much we might salivate about his flash and confidence. I'm not naïve enough to suggest Lindor is a savior. For all we know, he could rattle off a 10-for-54, just as Ramirez has. In fact, knowing how wide the performance gap between Triple-A and the bigs has become in this age of bullpen matchups and defensive shifts and advanced data, it's a much safer bet that Lindor will bumble than rumble in the early going of his Major League career.
Lindor, though, is the rare member of the upper reaches of the organization swinging something resembling a hot bat at the moment. He, like Ramirez, was oh-fer Monday night, but, unlike Ramirez, he was 13 for his previous 34.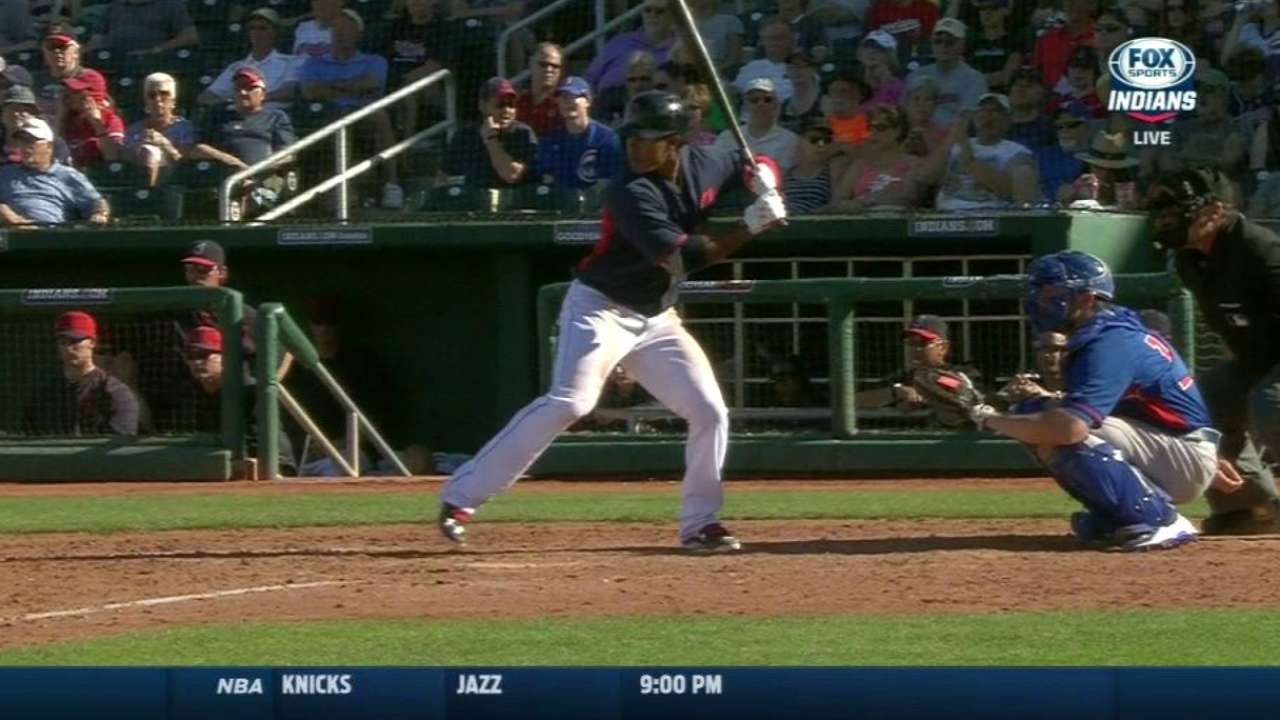 More to the point, Lindor showed a contagious cockiness on the admittedly non-binding Spring Training stage. That's his nature, and it's hard not to feel like the Indians could use some of that mojo right about now. After all, this is a ballclub in a serious funk that threatens to sabotage all the good vibes that came with preseason praise. In a division as deep and daunting as the AL Central, it can get late awfully early.
"How you think of yourself is how you are," Bourn said. "If you start thinking you're down in the doghouse, that's how you'll be."
The Indians don't think they're in the doghouse just yet. But the losses keep coming, the bats are still sagging, the defensive foibles in the middle infield are still glaring.
Lindor can't fix all of that. He'd merely be an experiment. But just like that 6:10 p.m. time listed on Tuesday's schedule, Lindor would be a start.
Anthony Castrovince is a reporter for MLB.com. Read his columns and follow him on Twitter at @Castrovince. This story was not subject to the approval of Major League Baseball or its clubs.