Sims a man of many hats in broadcasting business
Mariners broadcaster has enjoyed a plethora of roles in sports media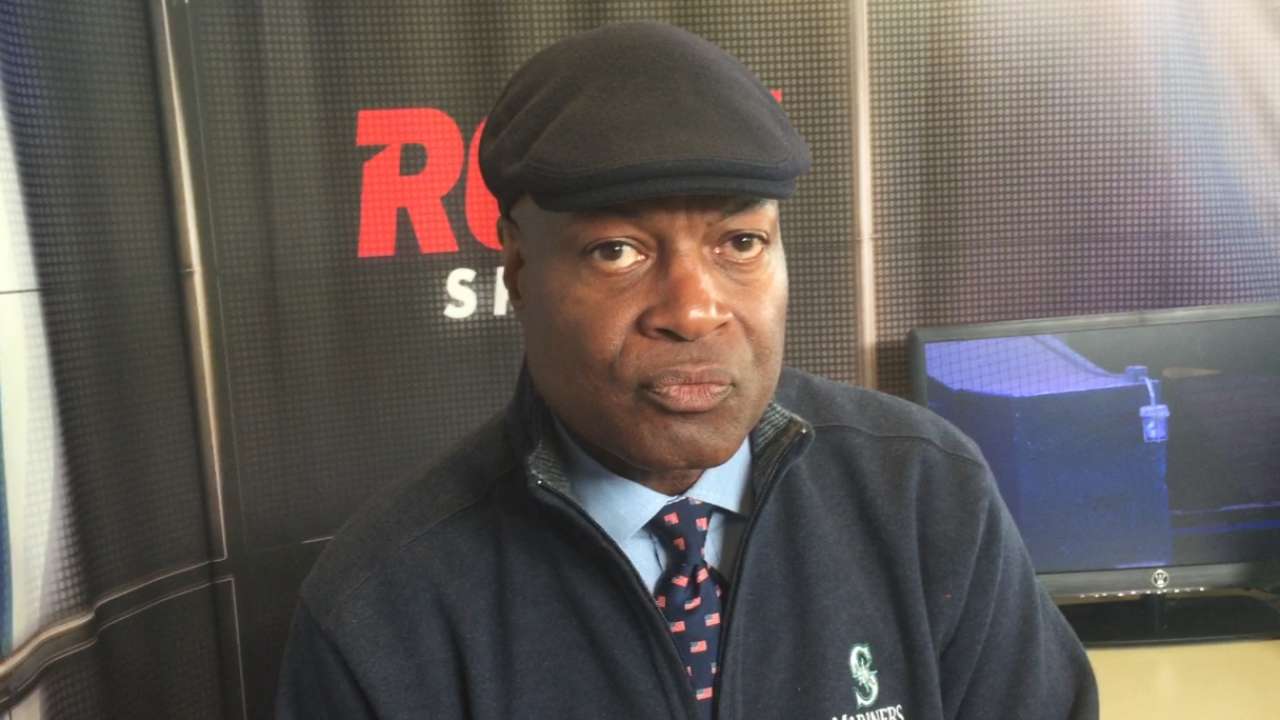 SEATTLE -- First, let's talk about the hats.
Dave Sims said he's got at least 30: Kangol vent caps, newsboy caps, golf caps, baseball caps, pork pies, Panamas and more. The veteran broadcaster, who is the television voice of the Seattle Mariners when he's not traveling across the country doing NFL football or college basketball, even has his own "D. Sims" hat line. In 2010, the Mariners, buoyed by fan interest, hosted Dave Sims Hat Club Night.
It's a signature look for a signature voice. It's also another feather in the fedora of a man who has done just about everything in sports media.
"I've been a huge sports fan all my life, and I have been able to parlay that passion into a career," Sims said. "I'm a very lucky guy."
Sims has worked to become that lucky.
Sims grew up in Philadelphia and couldn't stay away from sports. He played baseball and football all through high school at Chestnut Hill Academy, then he lettered one year of football and two years of baseball at Division III Bethany College in West Virginia.
When he wasn't crouched behind the plate, Sims was working as the sports director of the college radio station and the sports editor of the school newspaper. That led to an internship at the Philadelphia Inquirer in 1973 and a gig writing for the New York Daily News in '75. Sims covered St. John's baseball, which at the time featured future Mets greats Frank Viola and John Franco. He hung around Seton Hall, the Nets, the Knicks and hockey. Sims' eyes were opened to the possibilities of a career chronicling the athletes he idolized ... and to the rigors of beat work at a huge-market daily.
"I learned a lot from my newspaper training," Sims said. "I didn't go to grad school, and I was thrown face-first into the deep end. Now I feel like my seven years in papers taught me what I needed to know. I got my [tail] kicked, I got knocked down, I got up and it was just an unbelievable education. I continue to capitalize on it all the time."
The most important thing Sims learned was that the cultivation and maintenance of personal and professional relationships goes a long way in the tight-knit community of journalism and broadcasting. Those came in handy as the next few decades whirled by. First he was heading off to broaden his career at an ABC Westinghouse satellite news channel, then he was going back to Philadelphia to produce, anchor and report on radio, then he landed a gig in New York on WNBC's "SportsNight" in the 1980s. And soon after that, Sims was a midday fixture on WFAN in the '90s.
"I had my hand in pretty much everything," Sims said. "I still do."
Sims got his first taste of Major League Baseball for ESPN in 1993-94, and he did college basketball and football whenever he got the chance. He became the Mariners' play-by-play man for TV prior to the 2007 season, and he continues to do NFL Sundays on radio and the NCAA men's basketball tournament. Sims also still hosts a show with Duke basketball coach Mike Krzyzewski.
"He has one of the most fascinating careers, and I don't know if people in Seattle or around the country, for that matter, really know the full depth of it," Mariners radio man Aaron Goldsmith said. "Going from being a writer to a talk show host to radio to TV, I don't know of another guy who's done that. It's incredible.
"And he's done it in serious markets. You just don't see guys who can have success in all those different platforms."
Along the way, Sims has interviewed too many of his heroes to count, from Mickey Mantle to Willie Mays to Wilt Chamberlain to Kareem Abdul-Jabbar. He maintains friendships with countless athletes, making sure to stay in touch and trade stories.
"He's incredibly likeable, easy to get along with, very down to earth," Goldsmith said. "Just a good guy to have around. We're fortunate to have him up in the booth."
Right now, that booth is an optimistic one. Even though the Mariners are off to a bit of a slow start to the 2015 season, there are high expectations for a team that won 87 games last year and added 2014's Major League home run leader, slugger Nelson Cruz, to the lineup.
Sims has already seen a bit of history in Seattle, working alongside former Mariners third baseman Mike Blowers in 2012 and calling two perfect games (one by Philip Humber of the White Sox, one by Mariners ace Felix Hernandez) and a combined no-hitter in the course of a regular season.
Sims would like to see some more, as in the first postseason appearance by a Mariners team since 2001. Then he'd have another great story to tell his wife, Abby, their sons, Jarett and Jordan, and the growing list of friends and acquaintances he's amassed during all his years on the road and on the airwaves.
"Gary Cohen, the Mets' broadcaster, is a friend of mine," Sims said. "He told me when I got the Mariners job, 'Look, there's no more parachuting in. This is your team. These are your guys.' So, yeah, I want the Mariners to win. I'm not going to get overboard with it, but that's the gig.
"And they're close. It's the closest they've been in a while. That's the thing that's so exciting."
No matter what happens to the Mariners by the end of 2015, Sims will show up to work every day with a smile and soak it all in. That part will never change.
"It's a way of life, a day-to-day routine, a grind and so much fun," Sims said.
"How can you not love it?"
Doug Miller is a reporter for MLB.com. Follow him on Twitter @DougMillerMLB. This story was not subject to the approval of Major League Baseball or its clubs.