Syndergaard, Schwarber, Urias shine on Monday in Minors
Mets right-hander strikes out nine in two-hitter for Triple-A Las Vegas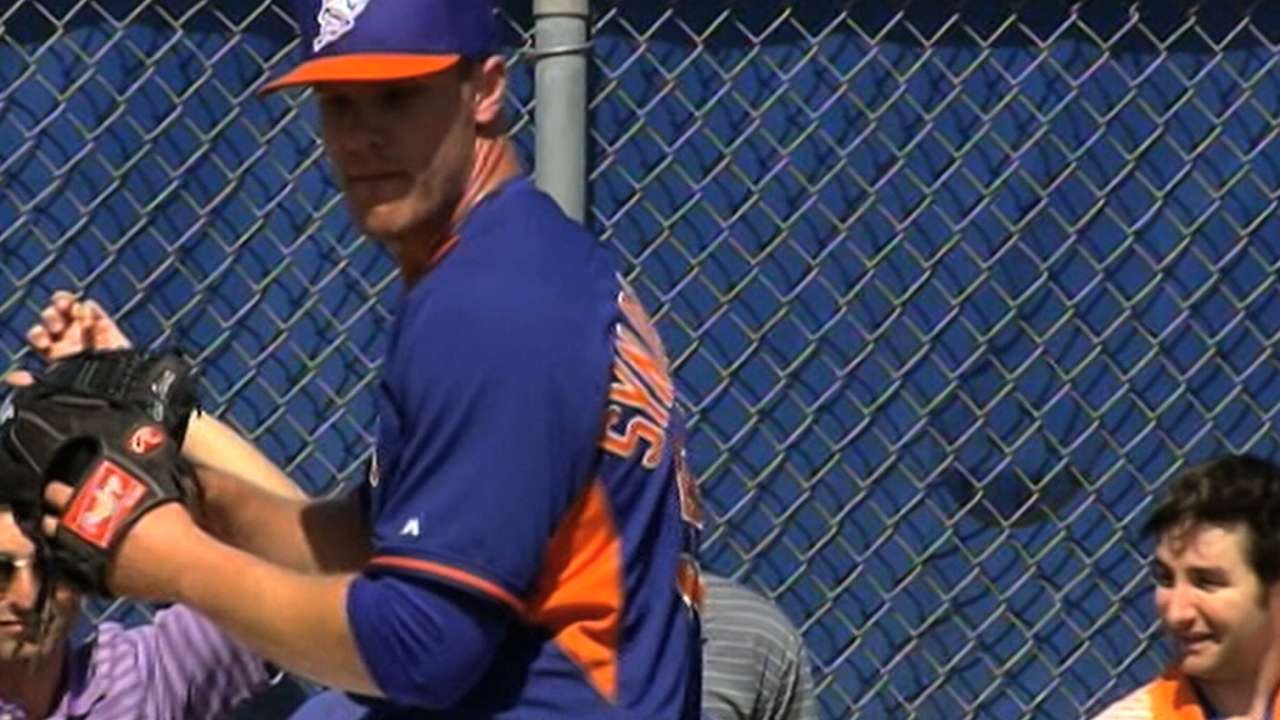 Mets No. 1 prospect Noah Syndergaard and Rockies No. 1 prospect Jon Gray squared off in a matchup of two of baseball's up-and-coming right-handers on Monday night, but the showdown didn't live up to expectations, as Syndergaard dominated and Gray faded.
Syndergaard, MLB's No. 11 overall prospect, struck out nine in a seven-inning two hitter as Las Vegas topped Albuquerque, 8-0, in the first game of the teams' doubleheader. Gray, the No. 17 overall prospect, surrendered 10 hits and seven earned runs in just 3 2/3 innings. The 2013 third-overall Draft pick fell to 0-3 and his ERA ballooned to 10.72.
There was plenty of drama in Double-A Chattanooga's 5-3 win over Tennessee on Monday night, with Twins No. 4 prospect Jose Berrios facing off against Cubs No. 4 prospect Kyle Schwarber. The young players put on a show in a game that also featured No. 1 overall prospect Byron Buxton, who went 2-for-4 with a stolen base for Minnesota's Double-A affiliate.
Berrios asserted himself early, allowing just one hit through his first five innings. But Schwarber came to life after getting popped in the head by the follow through of Heiker Meneses' swing in the top of the sixth.
The Smokies' catcher refused to leave the game and led off the bottom of the sixth inning with a solo home run that had Cubs fans breathing a big sigh of relief. Still, Schwarber's heroics weren't enough to top Berrios, Buxton and the rest of a talented Chattanooga squad.
More standout performances from Top 100 Prospects on Monday
• Dodgers No. 2 prospect (No. 8 overall) Julio Urias dominated in his start for Double-A Tulsa on Monday night.
The 18-year-old lefty gave up just one hit while striking out 10 batters in six shutout innings and atoned for an April 21 start in which he gave up five earned runs in just four innings. Monday's game was also his third of the season in which he allowed zero runs. Last week's five-spot remains the only time he's let runners cross the plate this year.
• Pirates No. 3 prospect (No. 34 overall) Josh Bell went 4-for-5 with two runs and two RBIs in Double-A Altoona's 9-4 win over Akron. The Curve have now won five straight.
• Cardinals No. 3 prospect (No. 100 overall) Alex Reyes tossed his third straight start with zero runs, three hits and seven-plus strikeouts. His Monday-night performance (5 1/3 innings, three hits, zero earned runs) bring his numbers over his past three starts to 15 2/3 innings, zero runs, nine hits and 25 strikeouts.
• Athletics No. 1 prospect (No. 72 overall) Matt Olson hit his Double A-leading sixth home run for Midland, and then added a game-winning sacrifice fly in the RockHounds' 9-8 victory over Corpus Christi.
• With Double-A Frisco nursing a one-run lead in the ninth, Rangers No. 1 prospect (No. 10 overall) Joey Gallo knocked a two-run triple off the center-field wall to help secure an 8-6 victory over San Antonio. The third baseman was activated on Saturday for the first time this season after undergoing left ankle surgery on April 3.
Other notable performances from around the Minor Leagues
• Astros No. 15 prospect Preston Tucker hit his MiLB-leading eighth home run during Triple-A Fresno's 4-2 victory over Reno on Monday night.
Tucker has been terrorizing pitchers all April, and he now has 26 RBI after adding two more against Reno. His batting average also jumped up to .338 after a 3-for-4 night.
• Phillies No. 7 prospect Ben Lively allowed six hits in seven shutout innings for Double-A Reading. Monday marked the second straight start in which Lively kept the opposing team off the board.
• Rockies No. 13 prospect Trevor Story had a huge night, knocking out two home runs and plating five runs in Double-A New Britain's 13-6 win over Harrisburg.
• Brewers No. 23 prospect Yadiel Rivera extended his on-base streak to 17 games with a 2-for-4 night in Double-A Biloxi's 8-2 win over Pensacola.
• Twins No. 18 prospect Taylor Rogers had a big night for Triple-A Rochester, giving up one earned run on just two hits over eight innings of work in a 6-1 win over Columbus.
• Orioles No. 17 prospect Parker Bridwell was impressive in Double-A Bowie's 4-0 win over Erie. The righty picked up his first victory of the season by allowing just three hits over six shutout innings.
Alex M. Smith is a reporter for MLB.com. This story was not subject to the approval of Major League Baseball or its clubs.