Stults confident after strong outing vs. Nats
Left-hander fans three over 6 1/3 innings to earn first win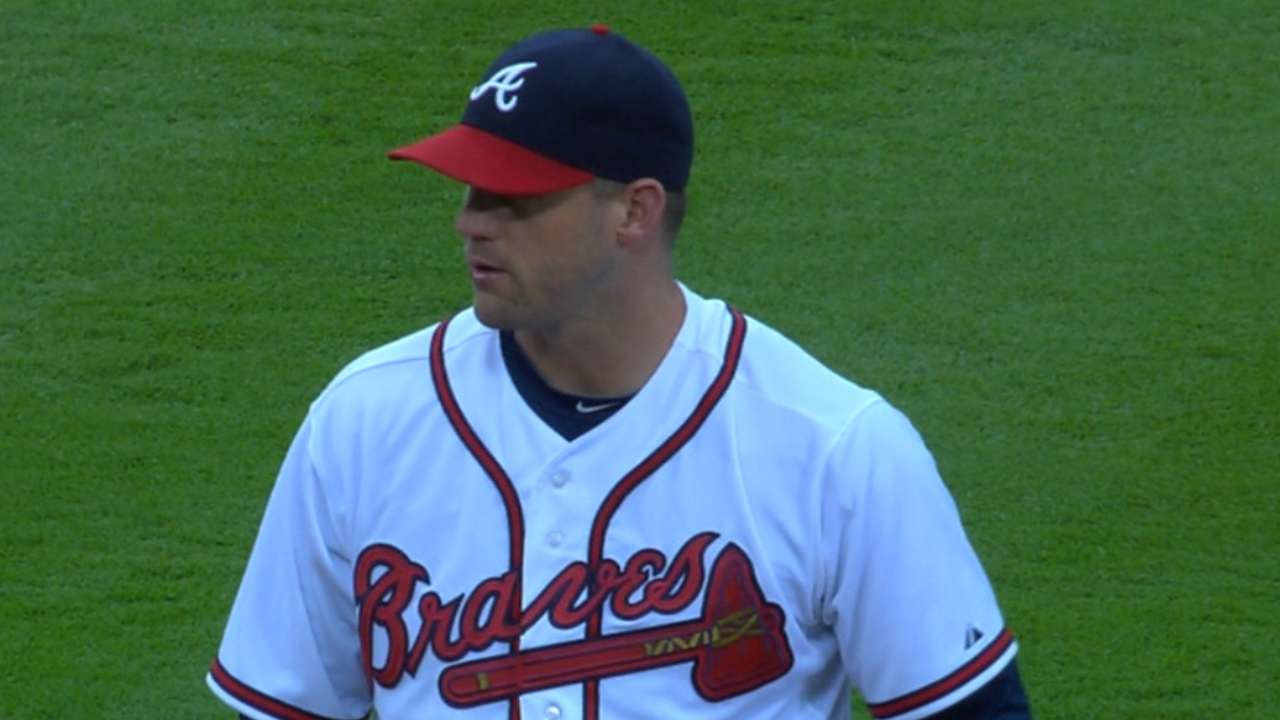 ATLANTA -- Eric Stults will be a lot more relaxed when he takes the ball his next time out. That's because he's right where he's supposed to be, knows where he is and knows what's coming next.
The 35-year-old lefty handcuffed the Nats, allowing two runs on four hits, in a season-high 6 1/3 innings in Monday's 8-4 win. He struck out three and walked three, while throwing 59 of his 96 pitches for strikes.
"For me, it's just going out and throwing strikes and trying to keep guys off balance," said Stults, who evened his record at 1-1 on the season. "That's something I've been able to do a little bit better, is keep guys off balance, kind of keep them in-between pitches, whereas the first couple of starts they were jumping on some fastballs because I was maybe throwing a lot more fastballs. So that's probably the biggest change. Trying to get them out front and then speed them up when they're looking soft. I think that's really the only thing I can tell you as far as a difference."
It's a huge difference from his first two starts, when he allowed seven earned runs and 12 hits, including three home runs, in 10 innings.
"I think the last two outings I've been able to get kind of close to that 100-pitch range," said Stults, who threw 103 at New York on April 22. "Your goal as a starter is to go as deep as you can and keep your team in the game. That's all you can ask for."
He's doing everything the Braves can ask of him and on Monday night did just about everything they expected.
"That's what he can do for us," said manager Fredi Gonzalez. "I see a guy, you look at the back of his baseball card and he's a guy that's cranked up 200 innings the last couple of years, quality starts all over the board. That's good for him to go out there and give you a good chance to win every fifth day."
Against the Nats, he only recorded only two 1-2-3 innings, yet was never really in stressful situations, as in four of the innings in which he allowed runners, none got farther than first base and in another he only got as far as second.
When Washington did get runners in scoring position, Stults made pitches. The Nats stranded five and went 1-for-5 against him with runners in scoring position. He even got a hit of his own, a single to left that chased his counterpart, Doug Fister.
"I feel like, as a pitcher, you have to take some pride in [hitting]," he said. "As a staff we take pride in it, in trying to get better all around. Part of the game is offense. I know a lot of people don't think that pitchers should hit but I'm one of those who love the National League. I love to hit. It's one of those things where, if you take pride in it, you can go out there and be a difficult out."
Monday night it was difficult to get Stults out or out of the game. He went further than he'd gone in any start with the Braves. But he's not satisfied with just getting to the seventh inning.
"As a starter, you want to complete the game," he said. "You want to go as deep as you can. So, obviously, I would have liked to get through that seventh inning. It just didn't work out that way."
There wasn't disappointment in his voice. There was determination.
"You just try to keep going. It's a long season, so obviously, coming into today and getting a win to open up the series is big, especially against a team that's in your division," he said. "We have to continue doing the little things. We had a couple games where we started making a few errors, and weren't pitching quite as good. And [now] we're doing the little things. We've just got to focus on doing the small things."
Worth noting
It's almost impossible to keep veteran catcher A.J. Pierzynski off the field because opponents can't keep him off the basepaths.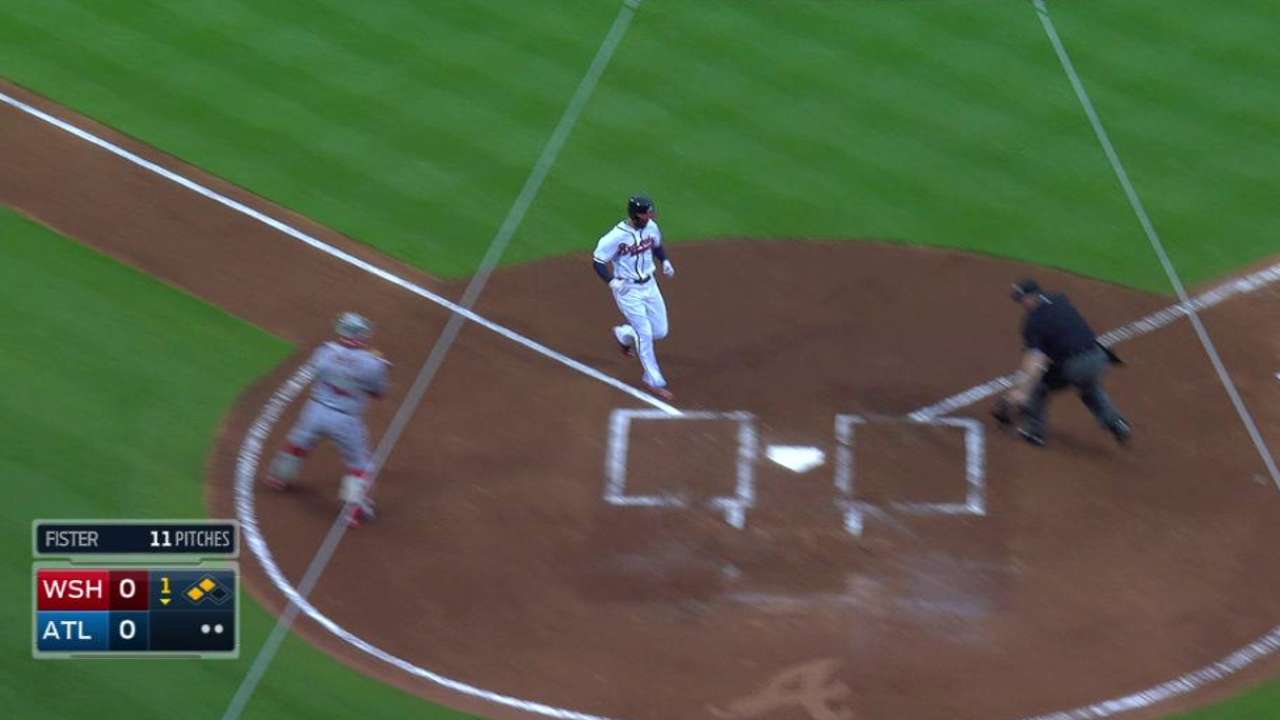 Pierzynski singled to right in the sixth inning Monday to continue his streak of hitting safely in all 10 games in which he's played this season.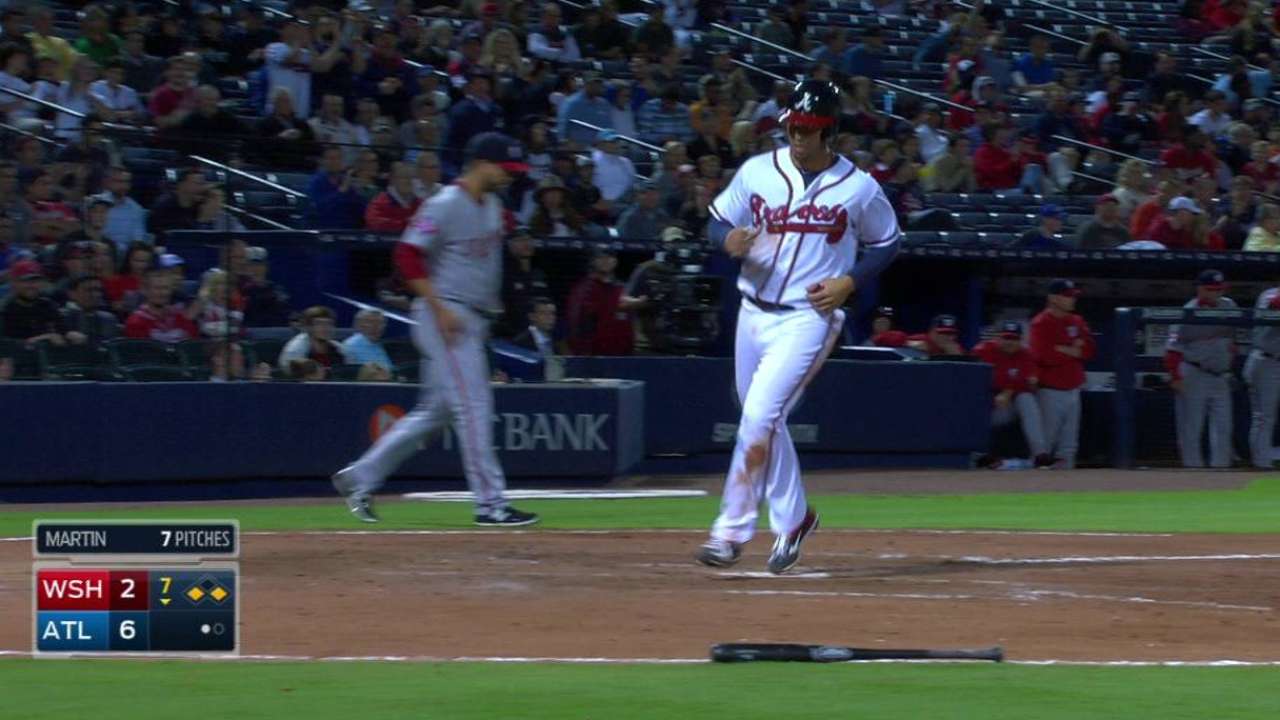 The streak is his personal long to start a season, is the longest by a Braves player to start a year since Martin Prado put together a 10-game streak to begin 2010, and is his longest since a 10-game run from last May 21-31.
Jon Cooper is a contributor to MLB.com. This story was not subject to the approval of Major League Baseball or its clubs.