MLB.com Columnist
Phil Rogers
Confident Castro blossoming for Cubs
Sixth-year shortstop enjoying resurgence under new manager Maddon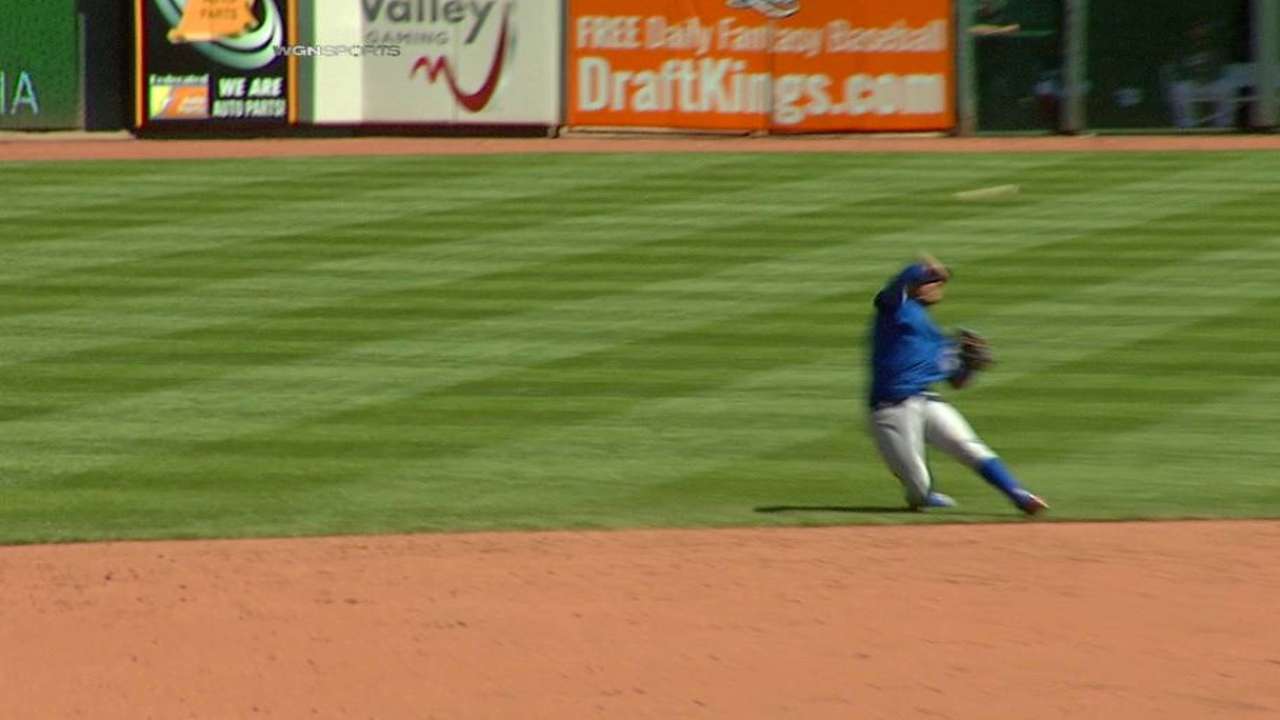 CHICAGO -- As always, Starlin Castro was at shortstop for the Cubs on Monday, and he almost surely will be there Tuesday, Wednesday and beyond.
Perhaps even through the end of this season, and maybe for five after that, given the terms of his contract and the way he is playing. Castro did nothing special in Monday night's 4-0 victory over the Pirates, but the beauty of his resurgence is that he didn't need any pyrotechnics to draw attention to how he's been right in the middle of the Cubs' fast start.
"He looks like he's all in,'' Pirates manager Clint Hurdle said. "He looks like the plug's in the wall and the electricity's flowing.''
At 25, the baby-faced man who was barely 20 when he made his Major League debut is the old hand in the Cubs' remarkable youth movement. Castro was supposed to be a trade chip to land some pitching later this summer, but he is looking more like a fixture, given a .324 batting average, solid play in the field and, according to manager Joe Maddon, a leadership role in the clubhouse.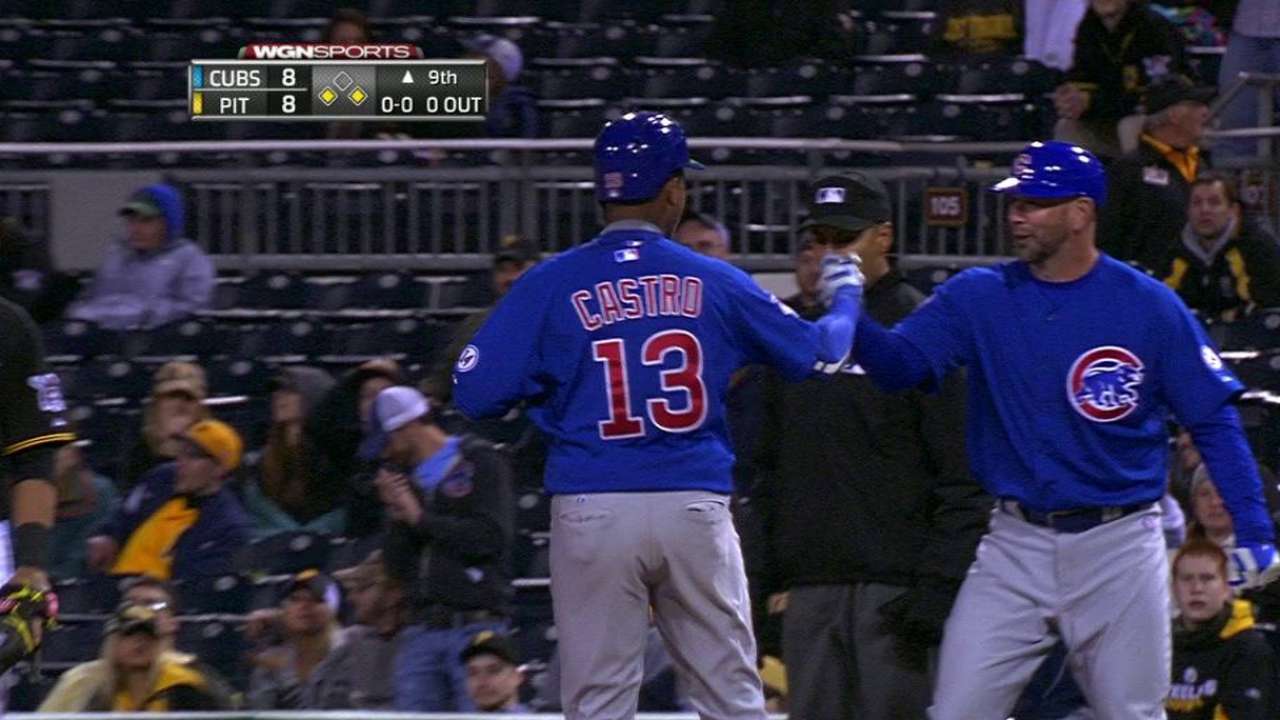 One of Theo Epstein's early moves in Chicago was to negotiate a seven-year, $60 million contract with Castro, who had led the National League with 207 hits in 2011, his first full season. That seemingly signaled how he would be one of the guys the Cubs would construct a contender around, but Epstein and his scouts have kept collecting shortstops, with Addison Russell and Javier Baez leading the collection.
Castro, meanwhile, challenged management's patience with some regression on the field and a series of incidents in the Dominican Republic, where it seemed he was too often in the wrong place at the wrong time. Before Monday's game, Epstein offered a ringing endorsement, however.
"I've always thought Starlin was a really, really good player,'' Epstein said. "His defense took a big step forward last year, and he's carried it over into this year. He gets a little chance to hide in the lineup now. He doesn't have to be the focal point for the opposition. He's playing really good baseball on both sides. I'm proud of him.''
It hasn't helped Castro's development that Maddon is the fifth manager he's played for in his six seasons. Maddon had heard all sorts of theories about him before he actually worked with him, but he said this spring he would view him with an open mind.
Maddon has enjoyed the view.
"He's been really good,'' Maddon said. "I mean really good.''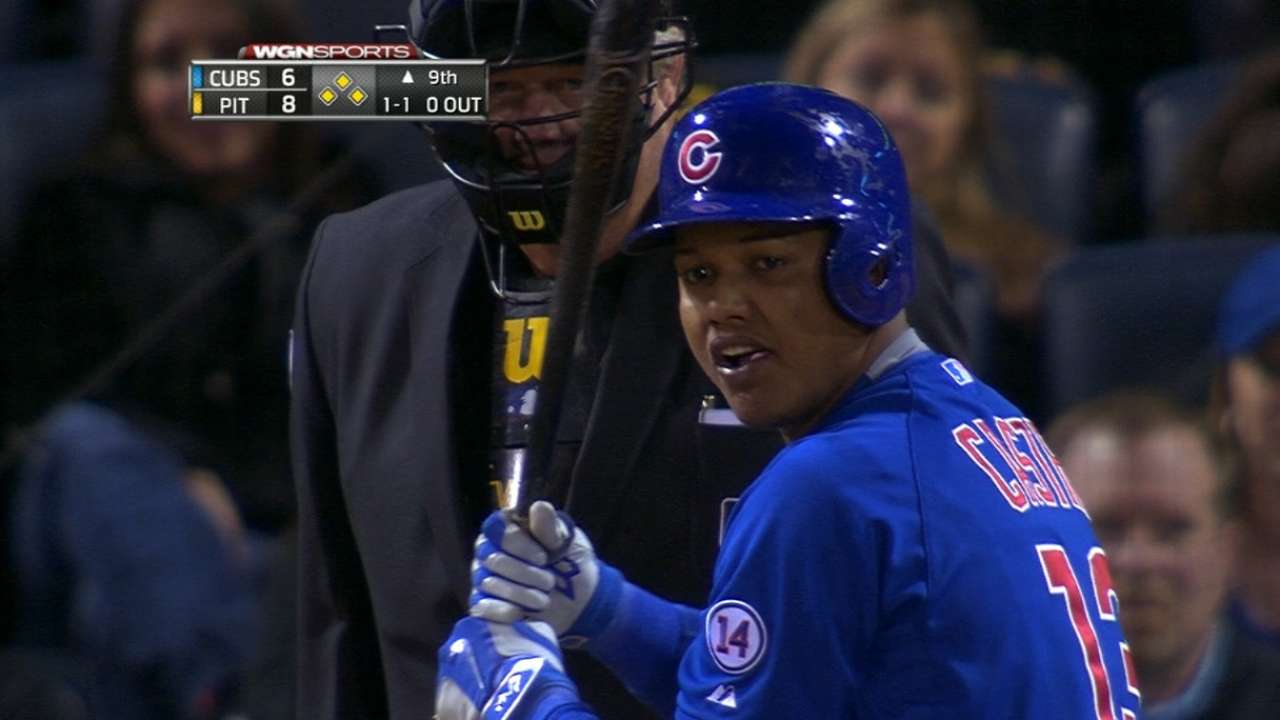 Castro batted eighth in his unforgettable debut in Cincinnati (homer, triple and six RBIs), and before this season, he had hit mostly in one of the top three spots in the order. Maddon batted him fourth on Opening Night against the Cardinals, and he had him at sixth against the Pirates.
Castro has responded with some tough at-bats while also fielding his position. He has only two errors in 18 games and hasn't experienced the mental lapses that damaged his reputation in previous seasons.
Last week in Pittsburgh, Castro told reporters in no uncertain terms that he was tired of having his concentration and fielding skills questioned.
"I have good talent to be a good shortstop,'' he said. "I don't want to be no joke anymore.''
While Castro loves playing for Maddon -- "He has big confidence [in me],'' he said -- Hurdle says he first noticed a change for the better last season, when Rick Renteria was the manager.
"This is a kid who lit everybody's eyes up his rookie season,'' Hurdle said. "Then, for whatever reason, the spirited play, there was a disconnect, or seemed to be [watching] from the other dugout. That's all I know. He wasn't the same player, the tool set didn't show up the same way. We saw that player start coming back last year. He played with energy, more sure-handed in the field, the bat showed up again.''
Castro was promoted from Double-A to the big leagues under Lou Piniella, when the Cubs were trying to extend the success they had experienced in 2007 and '08. That proved a losing effort, of course, and the team did a whole lot of losing before this year. Now, the pendulum has swung the other way, finally, and it's an understatement to say Castro has enjoyed the 11-7 start.
"Big time, big-time fun,'' Castro said. "We're having fun every day. We come in here every day, have fun and have one goal -- to win the game. That's the most important thing. We're having fun, and we play with heart. We give everything on the field.''
On Sunday in Cincinnati, Castro backhanded a ball that seemed headed for left field and threw off his knees across the infield, getting the ball to first ahead of the Reds' Brennan Boesch. He sure didn't look like a punchline on that play.
Maddon, who challenged Castro to win a Gold Glove early in Spring Training, believes Castro is becoming a better fielder, thanks to the work he's doing with coach Gary Jones.
"He and Jonesy have been working really hard at simplifying his approach, coming to get the ball, not laying back, taking charge of reading hops and playing through the ball better,'' Maddon said. "Simple stuff, but if you're not doing it, the residue's not any good. Beyond that, his offense has been outstanding, and how about his baserunning and everything else? It's really been fun to watch. … He's really holding himself up to a high level of accountability personally.''
Maddon credits Castro for making Jorge Soler and the Cubs' other young Latin players feel welcome at Wrigley Field and elsewhere.
"His interaction with them is really taking on the form of a veteran leadership kind of thing,'' Maddon said. "Right now, I can't say enough good things about the guy. I've been really impressed.''
Castro listened to trade rumors all last winter before reporting to Arizona in early February, happy to still be a Cub. He knows all about the Cubs' options at shortstop, but he is trying to hang onto the positon.
"I appreciate the whole thing, keeping me here, believing in me,'' Castro said. "That's the most important thing. They believe in me, and I come here every day to play hard. … That's all a player wants -- a [manager] who trusts us, who believes in us, who knows we give 100 percent every day.''
How long will the ride last?
Epstein traded Nomar Garciaparra when he was the Red Sox's general manager, so a Castro trade would be no big deal, if he ever concludes the Cubs will function better with Russell, Baez or, a few years down the road, Gleyber Torres, at shortstop. But given the way Castro is playing and how the Cubs are winning, he's going to have more shelf life than you probably thought. Maybe even years and years of shelf life.
Phil Rogers is a columnist for MLB.com. This story was not subject to the approval of Major League Baseball or its clubs.