Tough night on defense costs Nationals in Atlanta
Washington makes four errors in Monday night's loss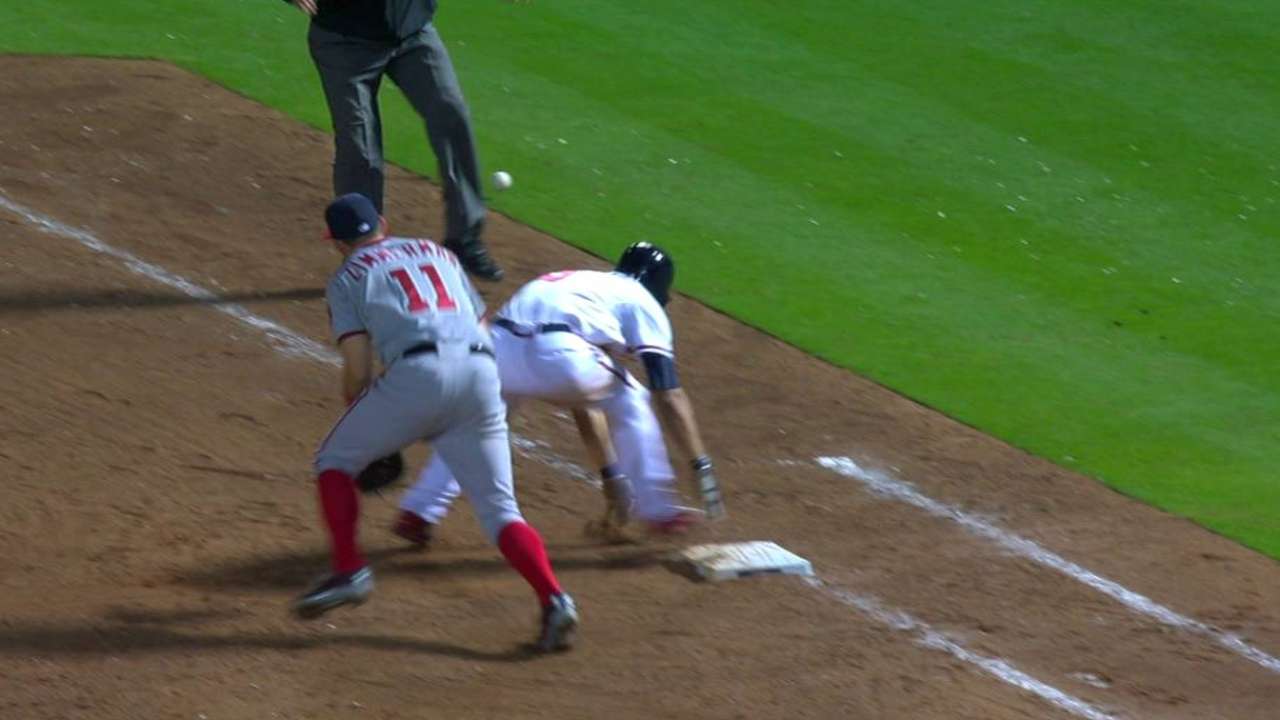 ATLANTA -- The Washington Nationals have had a little trouble with their offense in a tough start to this still-young season. But if their defense keeps playing like it did Monday, then it's really going to hurt.
The Nationals lost their sixth straight game, an 8-4 setback on Monday to the Atlanta Braves at Turner Field, thanks largely to their still-slumping offense and a defense that committed four errors. The four errors were a season high for the Nationals, who came into the game tied for the National League lead in errors (18, with Milwaukee).
One of the miscues, an uncharacteristic flubbed pickoff attempt by starter Doug Fister, was doubly painful. It led to an injury to third baseman Yunel Escobar, who was not only the team's hottest hitter but one of the team's steadiest gloves. It was one of two bad pickoff throws on the night from Fister, who threw 104 pitches in 5 2/3 innings in taking the loss.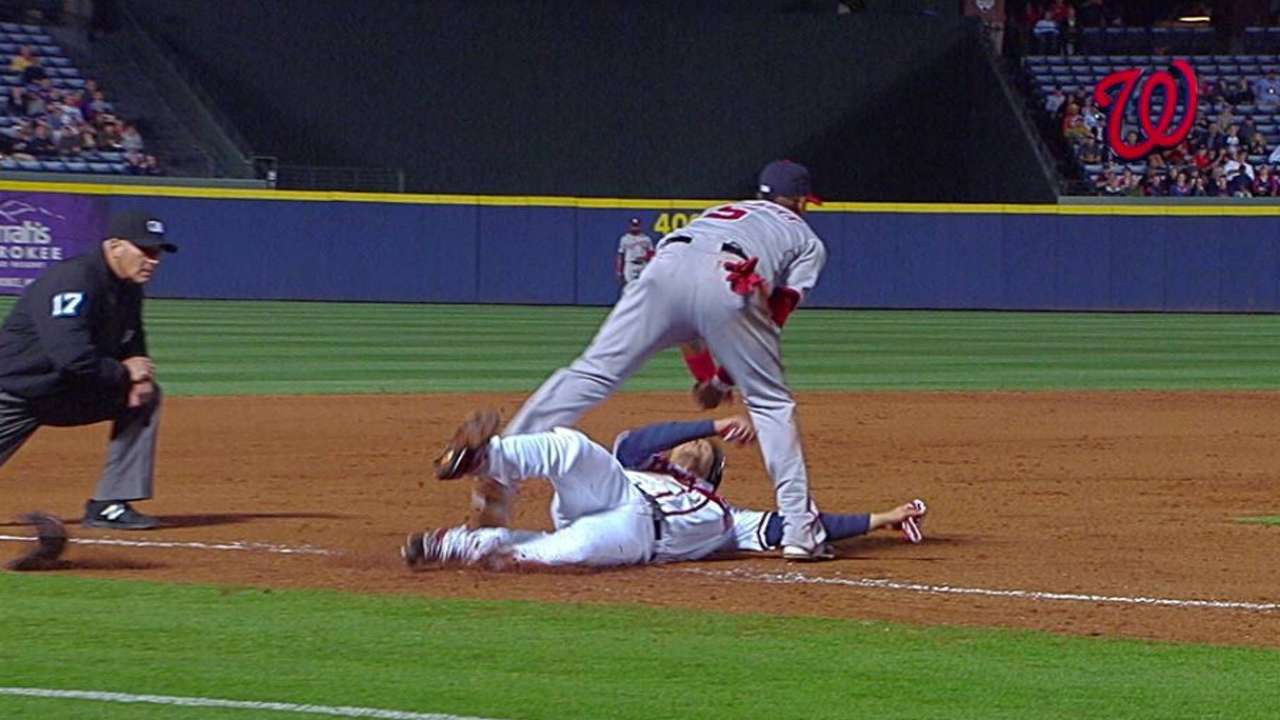 "I'm sure I got around it a little and threw a little sinker at [first baseman Ryan Zimmerman]," Fister explained after the game. "Unfortunately it went underneath him. So, I'll obviously be better at that in the future."
Fister's pickoff attempt of the Braves' Andrelton Simmons in the fifth inning sailed to the outfield side of first base, skidding past Zimmerman. Second baseman Danny Espinosa chased it down and threw to Escobar in plenty of time. But Simmons went in hard -- the Nationals considered it way too hard -- ripping the glove off Escobar and sending the third baseman out of the game.
Espinosa moved to third after the Escobar injury and Dan Uggla entered at second base, which is likely to be the Nationals' defensive infield for at least a couple games.
Manager Matt Williams said it's unlikely that Escobar will play Tuesday, and Escobar said through a translator that he likely will miss some time. Escobar, normally a middle infielder, was fourth among Major League shortstops with a .979 fielding percentage over the past four years. He's been pressed into service at third because of the injury to Anthony Rendon, out with a knee sprain. Escobar entered the game with one error at third in 33 chances.
Fister wasn't the only one who had a hard time with the glove on Monday. Bryce Harper muffed a pickup in right field in the first inning, and shortstop Ian Desmond let a hot ground ball get under him in the seventh.
Washington errors accounted for three unearned runs. Harper's miscue was his first this year, and Fister's two bad pickoffs marked his first two errors of the season. Desmond has committed nine.
The defensive meltdown came on top of another game in which the Nationals struggled to score. They managed four runs, which is more than they have in four of their six losses in this streak. But they had only five hits, too, although three of them went for extra bases, including Uggla's eighth-inning triple.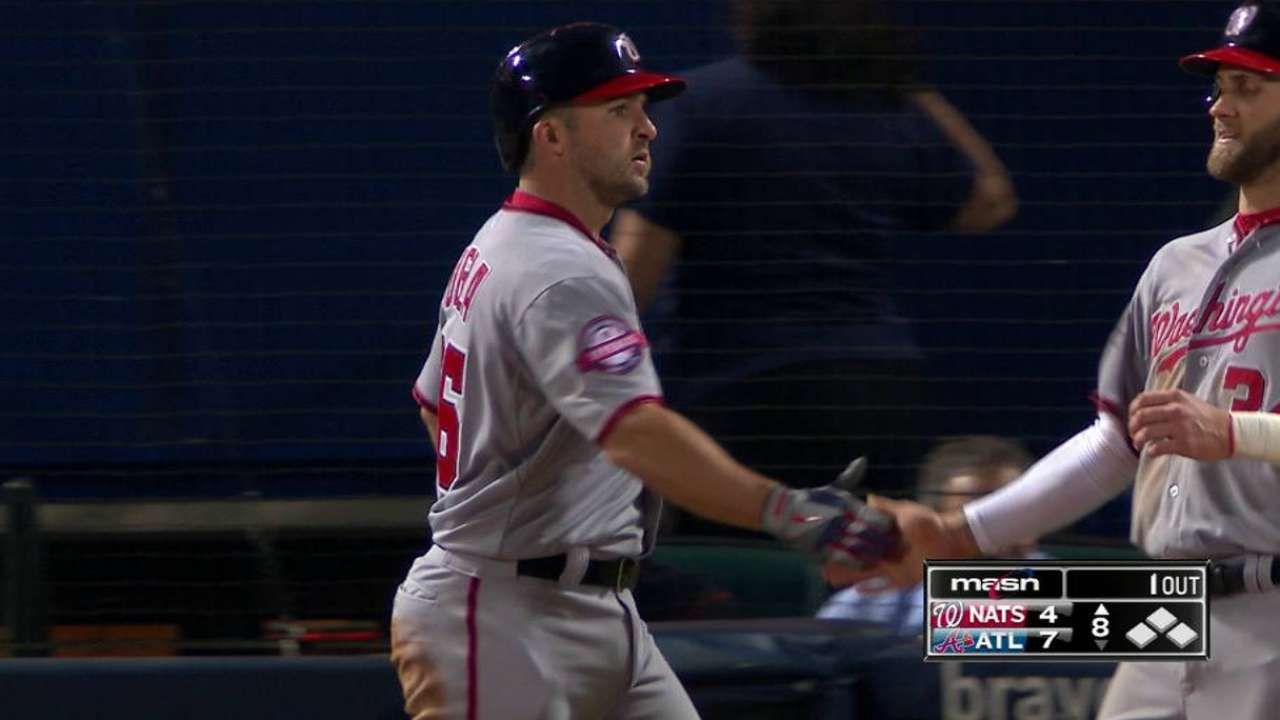 The Nationals are hitting .215, with an on-base percentage of .289.
"It was a rough game for us all around," Williams said. "We haven't had much positive so far … we got some hits, we scored some runs. But not enough tonight. So we'll regroup, be back here at the same time tomorrow and see if we can get that 'W.'"
John Donovan is a contributor to MLB.com. This story was not subject to the approval of Major League Baseball or its clubs.