Betts ends rough stretch with three hits, first walk-off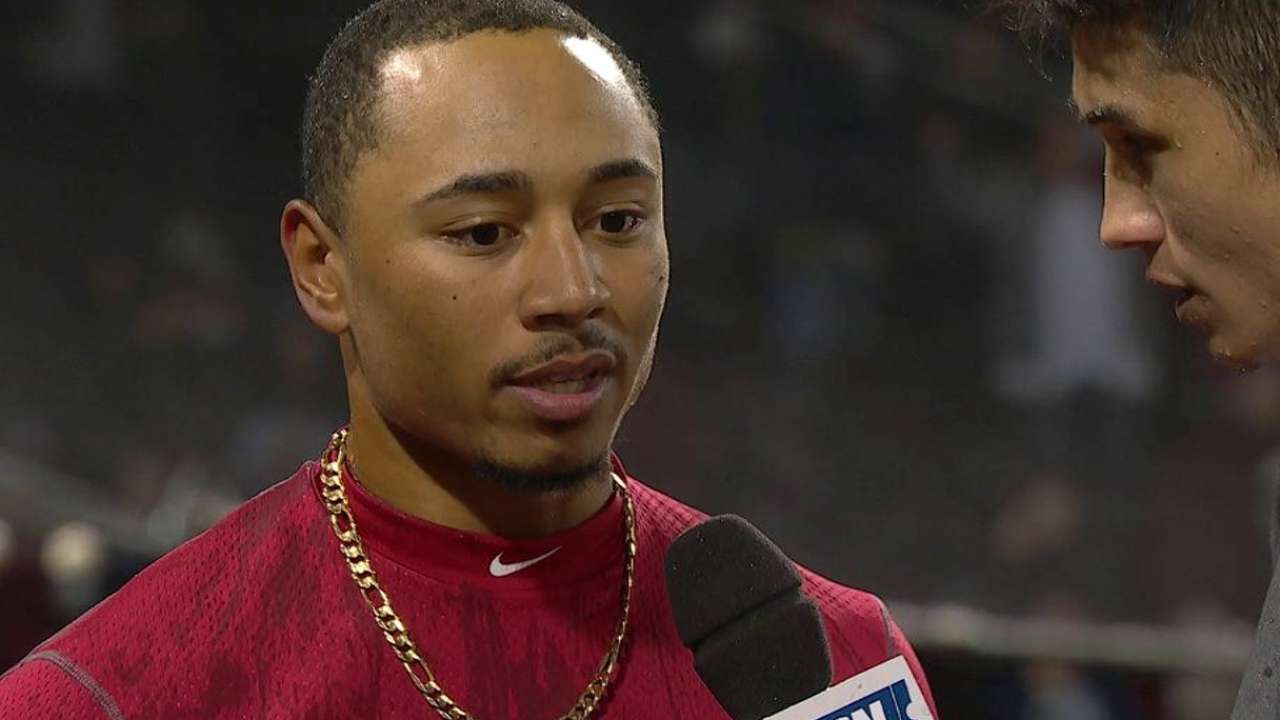 BOSTON -- With two men on base in a tied-up game at Fenway Park, the spotlight once again found Mookie Betts as he stepped to the plate with one out in the ninth inning. For a young player in a slump, doubts would have been natural, but the Red Sox outfielder's body language betrayed none as he braced for the moment.
"I thought for a minute I put a little extra pressure on myself," Betts said, "but I got to breathe a little, and it went away."
With one stroke, the deadlock went away, too, as Betts swept a low fastball into center field and lifted Boston to a 6-5 walk-off win over the Blue Jays on Monday. Soon, the rest of the Red Sox had surrounded Betts, embracing the youngster in the aftermath of his first career walk-off hit.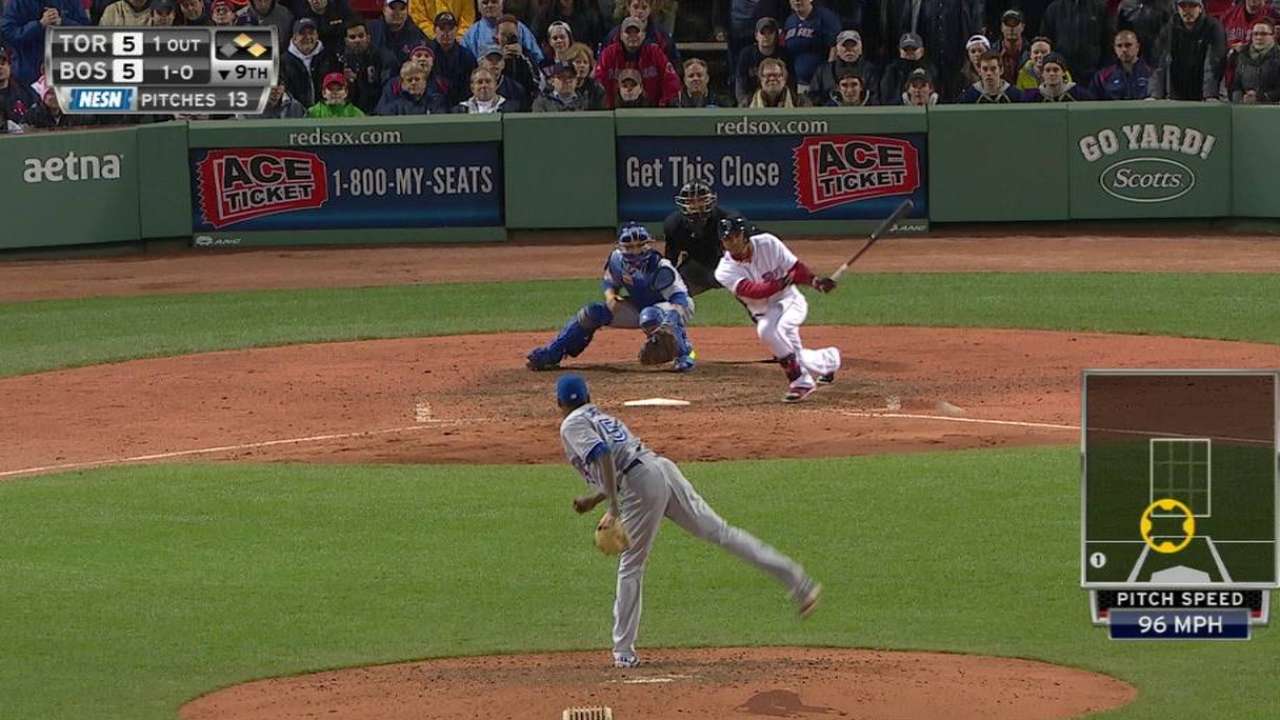 "It was short-lived," said Betts, smiling but reluctant to boast. "It was fun. I kind of knew how the process went."
The final pitch -- a 96 mph heater from hard-throwing reliever Miguel Castro -- was one Betts felt prepared to square up after a passed ball advanced Xander Bogaerts and Ryan Hanigan to second and third base, respectively.
"I wasn't expecting slider," Betts said. "I was stuck on 100 [mph]. He threw it, I recognized it, saw it in the dirt. Good job by Bogey and Hanny to move up. He didn't want to throw another one in the dirt. I was just ready for a fastball."
The walk-off proved a fitting exclamation mark to Betts' day, which saw him record three hits, score two runs and draw a leadoff walk. The performance vaulted his season average up to .218 and was warmly welcomed following a recent skid at the plate.
Since recording at least one hit in seven of his first eight games, the 22-year-old went 5-for-34 with no extra-base hits and one RBI in the next 10. A fifth-inning double on Monday was his first extra-base hit since April 14.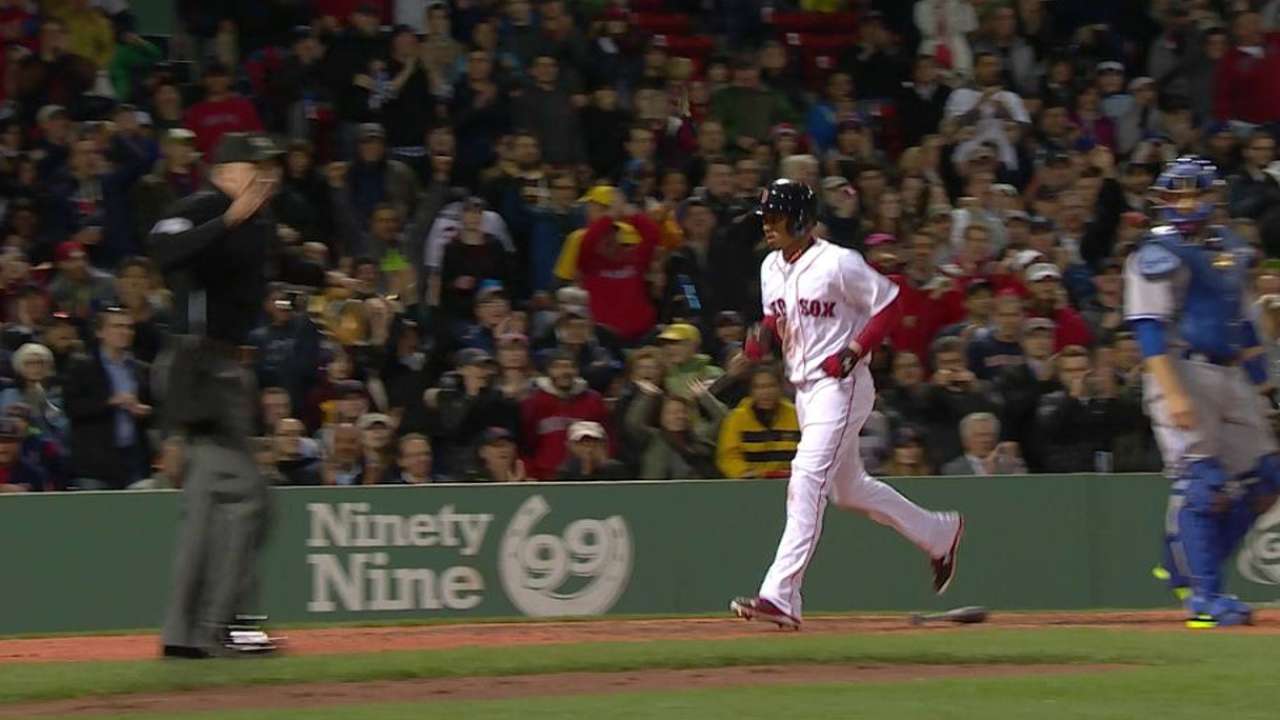 "You know, you see the looseness in his hands, and when he generates that rhythm, the bat speed is there," Red Sox manager John Farrell said. "He didn't miss a couple of fastballs [down the] middle of the plate. The one thing we're seeing in the early going here is after a tough day, he's able to put it behind him."
Bogaerts, who scored the winning run and has a locker next to Betts' in the clubhouse, empathized with his teammate's bat going cold after a hot start. But the shortstop said he repeated to Betts the mantra of many a Major Leaguer: The season is long, and talented players tend to rediscover their rhythm.
"I talk to Mookie a lot," Bogaerts said. "I've kind of been through whatever he's going through now, probably a bit more. I just pass on my advice and experience to him for sure.
"He's a really good player. He'll get back."
Alec Shirkey is an associate reporter for MLB.com. This story was not subject to the approval of Major League Baseball or its clubs.