Ruggiano delivers in rare leadoff opportunity
Center fielder walks twice and tallies key stolen base in victory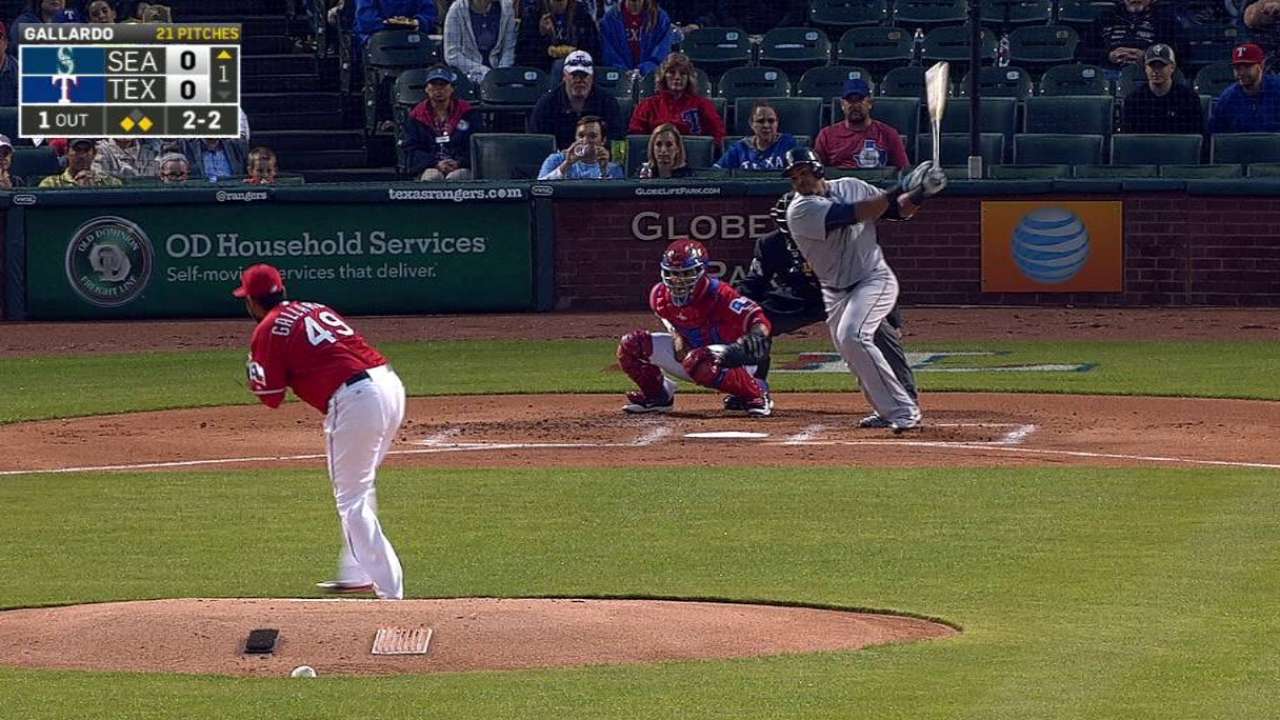 ARLINGTON -- Justin Ruggiano understands what it means to be a role player on a Major League team. And yeah, the veteran outfielder loves it when his role is called for and he's able to deliver as he did with a pair of walks, a key stolen base and two runs scored in Seattle's 3-1 victory over the Rangers on Monday.
Hitting leadoff for the first time this year and starting just his fourth game after being acquired from the Cubs in an offseason trade, Ruggiano made the most of his opportunity as the Mariners opened a 10-game road trip with a much-needed win that hiked their record to 8-11.
"It's nice to be able to go out there and do something," said the 33-year-old Texan. "Just go out there and get on base for the guys behind me to drive me in."
Ruggiano has only hit leadoff 18 times in his career, but manager Lloyd McClendon penciled him in atop the lineup while giving Austin Jackson a day off on Monday. He's played almost exclusively against left-handed pitchers in a platoon role, but McClendon wanted to give Jackson, Logan Morrison and Dustin Ackley a day off and allow a couple of his right-handed bench players -- Ruggiano, Willie Bloomquist and Rickie Weeks -- to get some at-bats and timing before Seattle faces left-handed starters the next two games.
"He's a veteran," McClendon said. "He knows what he's doing. He's got good knowledge of the strike zone and he gave us a nice spark tonight."
Ruggiano appreciated the opportunity to face right-hander Yovani Gallardo and get some timing at the plate.
"Really the whole season I've got to play against C.J. Wilson the second game and Drew Pomeranz in Oakland and both times, two at-bats with the walks," he said. "So it was nice to get in there, get some consecutive at-bats. And it's nice to see righties. Really, right-handed pitchers can change my approach for a lefty. It definitely helps me when I face left-handed pitchers down the road."
Ruggiano is 3-for-16 (.188) on the season, but has drawn five walks and boasts a .381 on-base percentage in his limited duty. And he stole a huge base Monday with his fifth-inning bag that set up Seth Smith's RBI single that gave Seattle a 3-1 lead.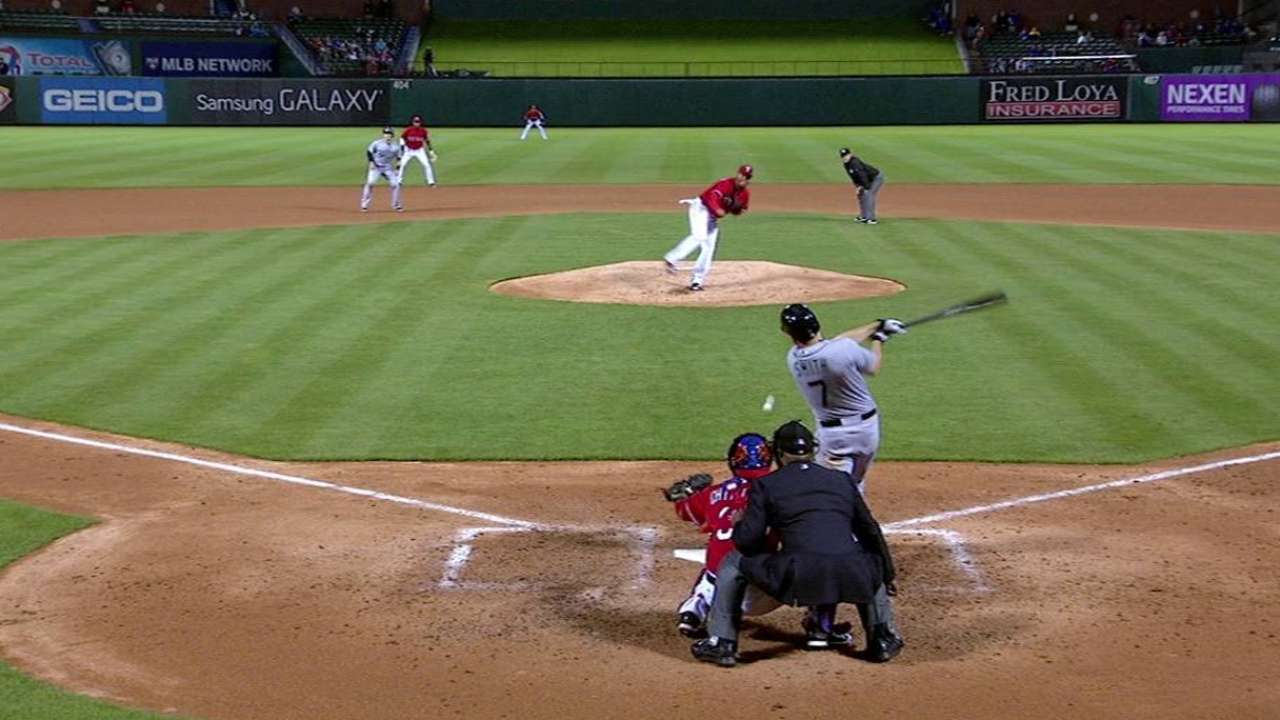 "That was big," Ruggiano said. "Luckily I was in there and Seth was able to deliver. That let everyone breathe a little easier, going into the later innings."
Ruggiano now has 35 stolen bases in his seven seasons in the Majors.
"I'm very capable of stealing bases in the right situations where it's necessary," he said. "But I'm not Billy Hamilton. I'm not even close. Or Austin Jackson."
But he was Johnny On the Spot on Monday for the Mariners, which is a good thing for a guy looking to contribute any way he can.
Greg Johns is a reporter for MLB.com. Follow him on Twitter @GregJohnsMLB as well as his Mariners Musings blog. This story was not subject to the approval of Major League Baseball or its clubs.