Price rebounds, battles way to win vs. Twins
Lefty still searching for consistency as season's first month draws to a close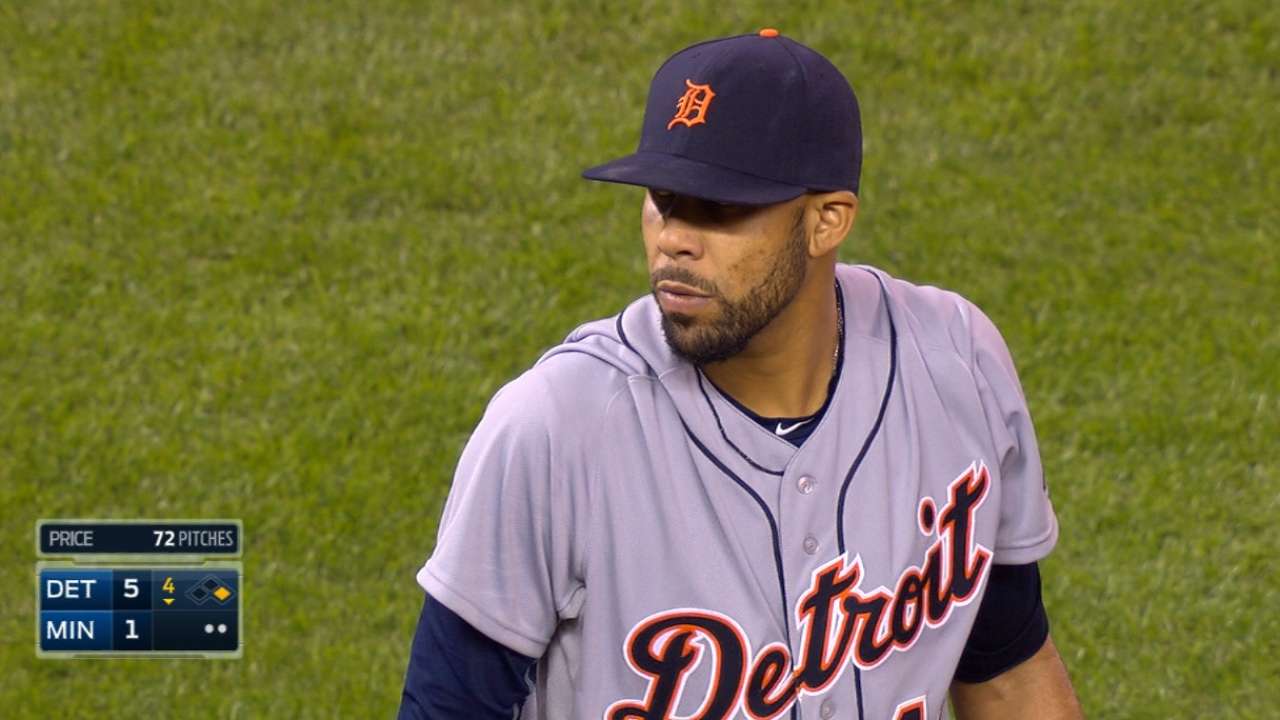 MINNEAPOLIS -- Last time out against the Yankees, David Price was far from great. On Monday against the Twins, he wasn't exactly back to his old self, but he was good enough.
Price pitched effectively into the seventh inning, bouncing back from last week's shellacking, as the Tigers beat the Twins, 5-4.
Price threw 6 1/3 innings, giving up three runs on six hits with two walks while striking out seven. He started the seventh inning having thrown 102 pitches, then retired the leadoff man before back-to-back hits sent him to the showers.
"A jam shot and a ground ball through the infield," Price said about Jordan Schafer's double and Danny Santana's single in the seventh. "That's baseball."
Still, even though he was better than last time, it wasn't a flawless outing. Price gave up leadoff doubles to Brian Dozier in the first and Santana in the fifth, and both runners came around to score. He also had to pitch out of a two-on, one-out jam in the second, but he struck out Santana and Dozier to end that threat.
"He battled his tail off. He didn't have the command that he normally has, but he kept finding a way to get outs," Tigers manager Brad Ausmus said. "He ended up making it into the seventh inning. It was touch and go for awhile in terms of his pitch count, but he never gives in. He battled his tail off and gave us a chance to win."
Price gave up eight runs in 2 1/3 innings against the Yankees last Wednesday, but Ausmus said frigid weather had more to do with that outing than any other factor.
"I talked to him after he came out of the game there, and he said he couldn't feel his fingers or toes," Ausmus said. "For a guy who generally has very good command, not being able to feel your fingertips is a huge issue."
After Monday's game, Price said that he was more concerned with his consistency, which makes sense for a pitcher who has three quality starts in five outings but not two in a row yet. He ends April with a 2-1 record and 3.48 ERA, with both victories coming against the Twins, a team predicted by many to finish in the cellar of the American League Central.
"I pitched good enough to get by, but I've got to get better," said Price, who has weathered his share of ups and downs in his eight Major League seasons.
"I've pitched better and I've lost, and I've pitched a lot worse and I've won. So that's baseball."
Next time out at Kansas City, he'll hope to find that consistency and his old self against the defending AL champion Royals.
Patrick Donnelly is a contributor to MLB.com. This story was not subject to the approval of Major League Baseball or its clubs.