Without best fastball, Walker deals best start
Right-hander maintains control despite not having top velocity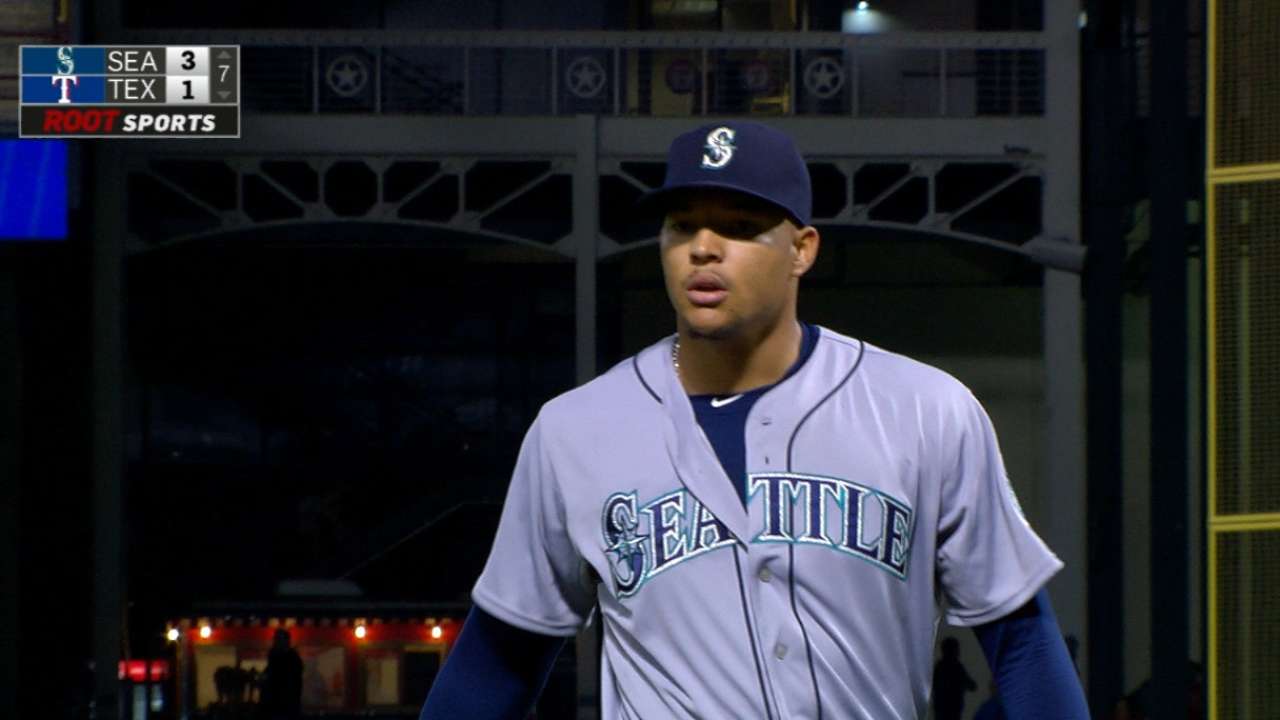 ARLINGTON -- Taijuan Walker's turnaround continued Monday as the 22-year-old right-hander shut down the Rangers for seven innings in a 3-1 victory. And this time he was rewarded with his first win of the season as Seattle's starting pitching continued taking positive strides.
The win was Walker's first against a Major League team not named the Astros as he'd gone 3-0 with a 2.67 ERA against Houston and 0-5 with a 5.59 ERA against the rest of baseball prior to Monday.
So beating somebody else? Yeah, that was big for a youngster looking to build his resume in his first full season as a starter.
"It definitely feels good," Walker said after allowing six hits and just one unearned run. "The Texas Rangers have a good lineup, some good hitters in there. I felt today was pretty solid."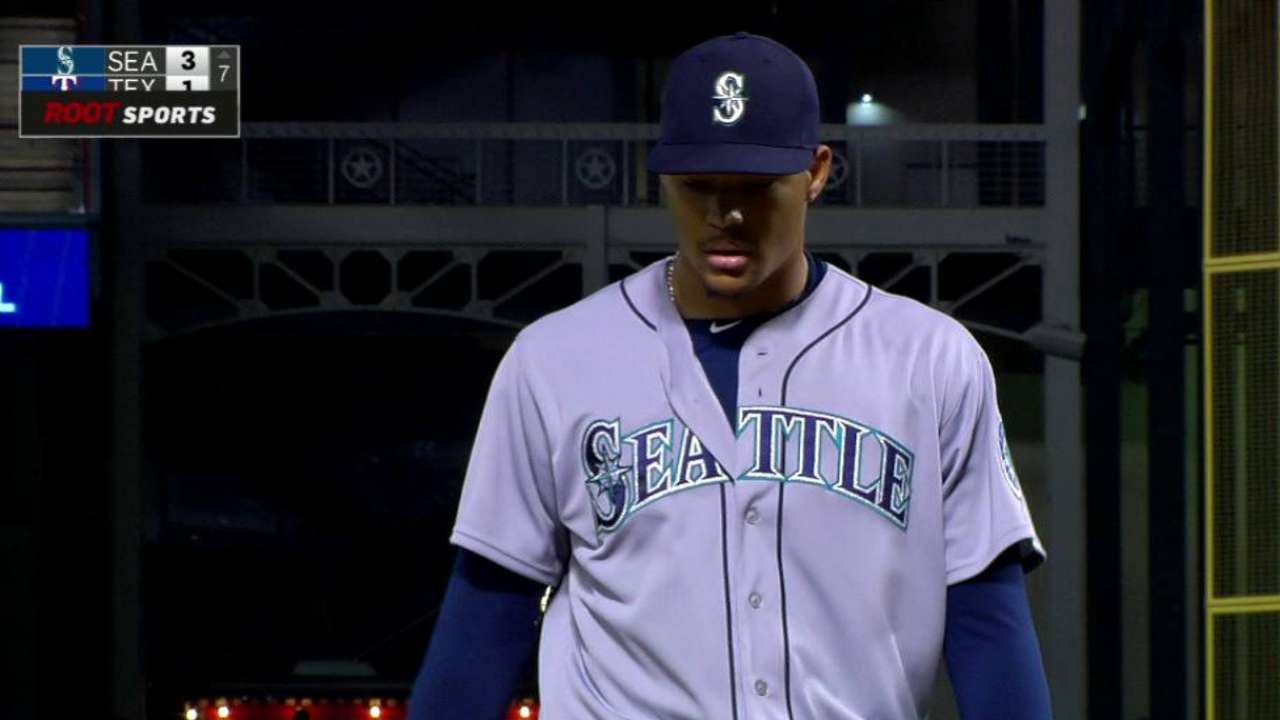 After two initial outings in which he allowed 14 earned runs in 7 1/3 innings, Walker has given up just one earned run in 12 1/3 frames over his last two starts to lower his ERA from an unseemly 17.18 to 6.86. This is the sort of rhythm he expected after earning a rotation berth with a sterling spring.
"I think so," Walker said. "Today we stuck with a game plan. Attack with the fastball early, establish that and work off that."
Walker said he didn't have his best fastball in this one, but his command was better as he walked just one after issuing 10 free passes his first three starts. There was a lesson to be learned there as while his velocity was down a tick or two, his control was better. And, voila, the results were impressive.
"I had to make sure I located and kept the ball down," Walker said. "It's definitely encouraging, knowing I don't have my best fastball, but if I locate I can still get outs."
That message brought a smile when relayed to catcher Mike Zunino.
"I guess when you throw 97 or 98, then 94 or 95 isn't your best fastball," Zunino said, shaking his head. "But I'll take the 93-95 located like he did today any day of the week. Just seeing him down like that and how it plays, he did a great job and I think it's going to show that his fastball command is really the key."
Walker gave up only an unearned run in the fourth on a throwing error by shortstop Brad Miller after his lone walk to leadoff hitter Carlos Peguero. He gave up a pair of singles in the seventh, but after manager Lloyd McClendon visited the mound while two relievers were warming in the bullpen, he retired Robinson Chirinos on a fly ball to center on his next pitch to escape that jam and complete his seven-inning stint with the 3-1 lead.
"That was big," said Walker. "I knew that was my last hitter, so I wanted to give him everything I've got. He swung at the first pitch and it was a quick out."
Equally big was McClendon's faith in staying with his young starter in that situation.
"There's a couple things that went into play there," McClendon said. "The pitch count was relatively low. His stuff was still good. And those type of moments can build character in a pitcher. We just said, 'Look, it's his ballgame right now.' The only way you learn how to deal with that type of adversity and tight situations is to go through it. He did a nice job."
Greg Johns is a reporter for MLB.com. Follow him on Twitter @GregJohnsMLB as well as his Mariners Musings blog. This story was not subject to the approval of Major League Baseball or its clubs.