Bruce breaks out, gets scoring going for Reds
Right fielder hits two-run homer, has three RBIs vs. Brewers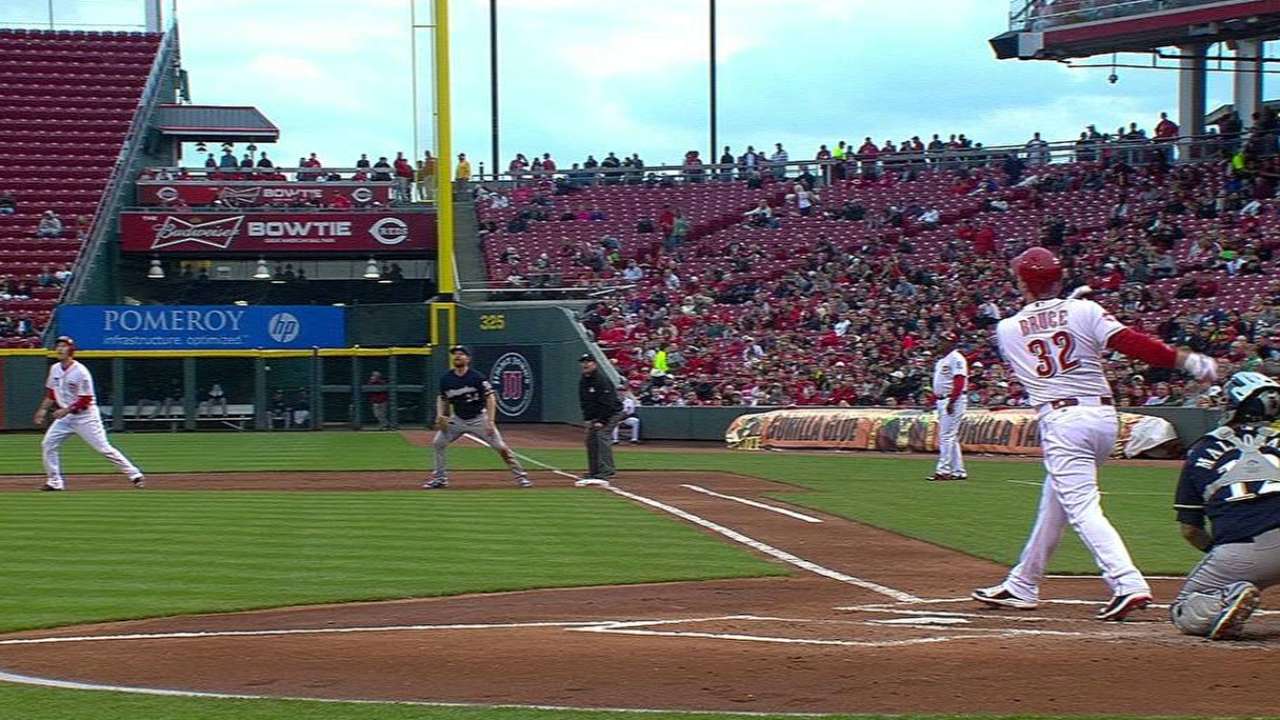 CINCINNATI -- Jay Bruce certainly needed a game like the one he had on Monday, and so did the Reds. Both emerged from a hitting quagmire during a 9-6 victory over the Brewers.
Bruce hit a two-run home run with three walks, a sacrifice fly and three RBIs. Since hitting a grand slam last Tuesday at Miller Park, he had been in an 0-for-14 stretch with nine strikeouts that ended in the second inning. After falling into an 0-2 hole, Bruce lifted a 1-2 pitch high into the sky for the homer to right field off Jimmy Nelson.
"My slider was pretty good overall, but I left one in the middle for Bruce," said Nelson, who had 21 innings this season before he allowed his first homer.
Cincinnati would send nine to the plate and score two more runs in the inning. Bruce drew a five-pitch walk in the third inning and scored and worked a walk in the fourth inning following a 1-2 count. In the sixth inning against lefty Neal Cotts, he drove a 3-1 pitch for a sacrifice fly to center field.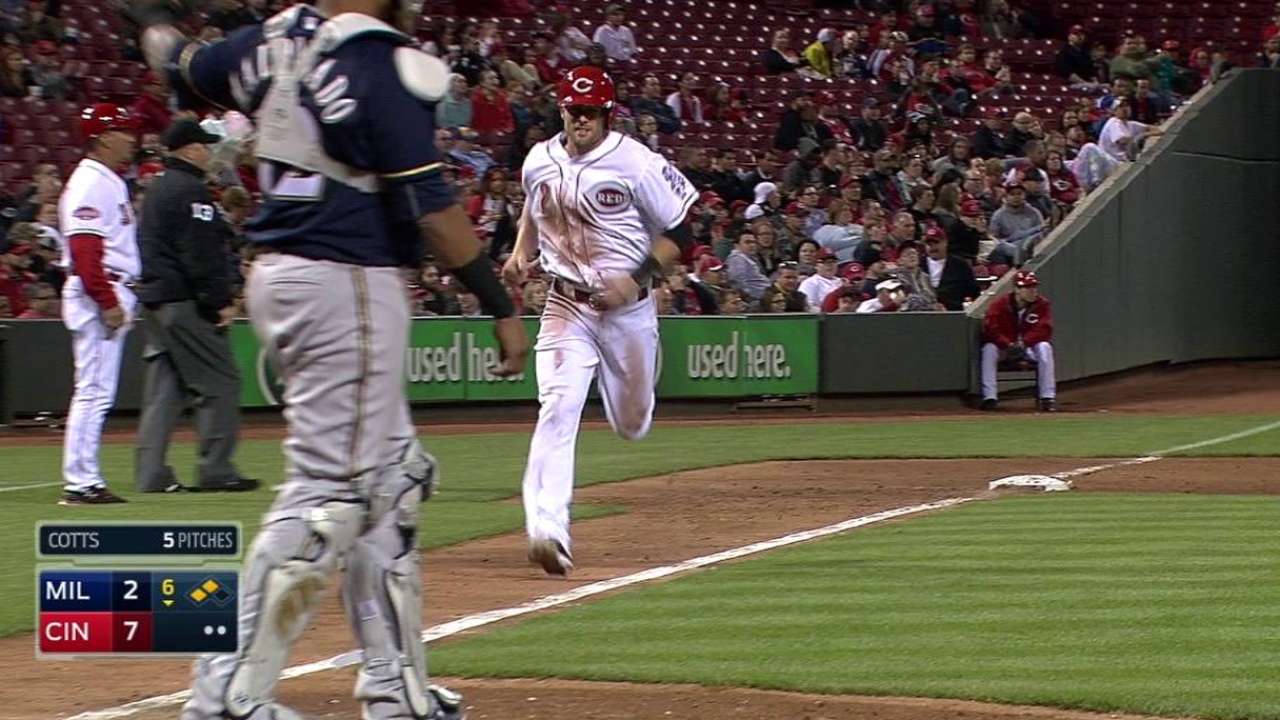 "You try just to allow yourself time to make the right decision on swinging. Things get out of whack from time to time," Bruce said. "You have to go back and hit your checkpoints and make sure you're doing everything you can to get into that good position. I figured I wouldn't hit .160 all year."
Bruce is hitting .175 with four homers and 12 RBIs after 19 games this season, following a rough 2014. Last season, he batted .217 with 18 homers and 66 RBIs.
"It's nice for Jay to have such good at-bats," Reds manager Bryan Price said. "He took some tough pitches too. He had the big sacrifice fly for the third RBI and just looked very comfortable at the plate, not expanding early and making those guys earn it by throwing the ball over the plate."
Bruce, who tied Vada Pinson for 10th in franchise history with his 186th career homer, acknowledged there was still work to be done with his swing.
"I felt like I got myself in a good position to make the right move on the ball," Bruce said. "That's all I can control. I can't control hits. I can't control results. But I like to try and control the amount of times I put myself in position to be successful. Tonight was one of those nights. … It's not ever something you have figured out or down."
Mark Sheldon is a reporter for MLB.com. Read his blog, Mark My Word, and follow him on Twitter @m_sheldon. This story was not subject to the approval of Major League Baseball or its clubs.