Gee quick to prove himself in 1:58 Mets win
Righty continues to cement place in rotation, throws 70 pitches in 7 2/3 frames of one-run ball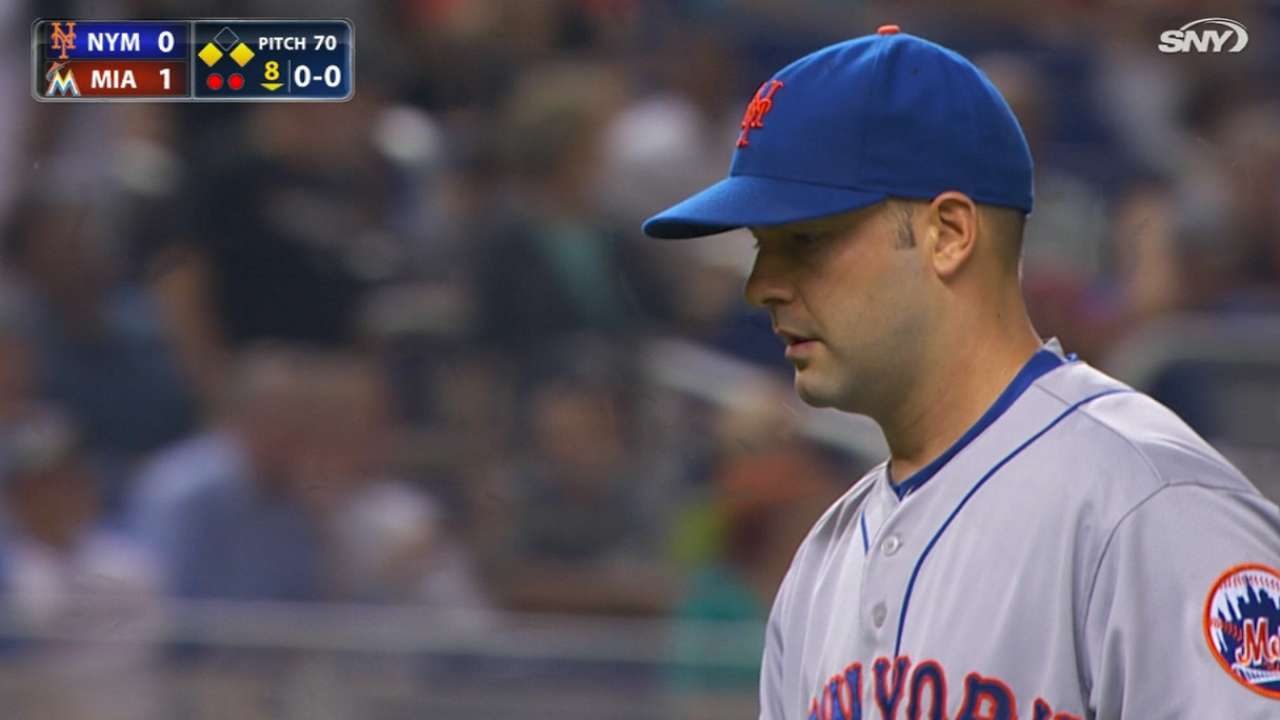 MIAMI -- It was less than two weeks ago that Dillon Gee grew frustrated enough with his own pitching performances and the Mets' apparent lack of faith in him -- trade rumors throughout the winter, Rafael Montero looming in the bullpen, those sorts of things -- to initiate a private meeting with manager Terry Collins. Gee vented. He felt better.
In the end, of course, only one thing could save Gee's job: pitching well. And just as he did two years ago, when his rotation spot was equally in jeopardy, Gee has pitched well. His ultra-efficient 7 2/3 innings of one-run ball in Monday's 3-1 Mets win over the Marlins left no doubt in Collins' mind as to his fifth starter's status.
"We can put to rest that Dillon Gee can't pitch at this level," Collins said. "There's been a lot of talk and I feel terrible for him. But I think he went out there tonight and showed everybody that he can do what he's done in the past, and he's still got it in him."
For much of the evening, Gee's night had a chance to be historic. Attacking the Marlins with strike after strike, Gee took advantage of a lineup full of hitters swinging almost exclusively at first and second pitches. In the sixth inning, he retired three batters on a total of five pitches. In the seventh, he needed seven, bringing his total to 59 at that point.
The Mets, however, were doing next to nothing against Marlins starter Jarred Cosart, making Gee vulnerable when he gave up consecutive two-out hits in the eighth. The next batter, Martin Prado, lashed an RBI single to center, ending the righty's night on the hook for a loss.
Then Gee watched from the dugout as Daniel Murphy hit a three-run homer in the top of the ninth, propelling the Mets to victory in one hour and 58 minutes. The swing of emotions might have been unbearable if Gee had not spent the past seven months dealing with similar swings on a weekly basis.
"I was upset about giving up that run," Gee said. "But you can't say enough about these guys battling back and getting us a win."
If Gee downplayed how significant the night was for him personally, perhaps it's because he's used to this sort of thing. Two years ago, Gee arrived at Yankee Stadium in late May with a 6.34 ERA over his first 10 starts, amid speculation that he was ticketed for the bullpen or perhaps even Triple-A. He struck out a dozen over 7 1/3 innings of one-run ball that night, sparking an 18-start run in which he went 9-3 with a 2.40 ERA. Over that half-season, he transformed into one of the best pitchers in baseball.
Battling injuries last year and enduring trade rumors this winter, Gee never quite recaptured that magic. He reported to Spring Training as a member of the bullpen, before Zack Wheeler tore an elbow ligament and Collins almost immediately christened Gee his fifth starter. But then Montero caught fire, the Mets hemmed and hawed, and Gee grew frustrated enough to call a meeting with his manager.
"He's a human being," Collins said. "We can say a lot of things, and yet we've got emotion. Dillon Gee's a pro. He's done it at this level, and when people say you can't do it anymore, you take it as a personal challenge sometimes."
Montero is with the Mets once again, set to start Tuesday's game against the Marlins. But for once, Gee can feel secure. Even before Gee's latest strong outing, Collins insisted that Montero's presence is "not a threat to anybody."
In a performance business, Gee has demonstrated a knack for performing best when it matters most. As long as he continues doing so, he'll be here to stay.
"It's about making pitches," Collins said, "and Dillon made pitch after pitch tonight against a team that was red-hot."
Anthony DiComo is a reporter for MLB.com. Follow him on Twitter @AnthonyDiComo and Facebook. This story was not subject to the approval of Major League Baseball or its clubs.