Kelly uneven, but records career-high 10 K's
Red Sox right-hander gives up five runs in six innings for no-decision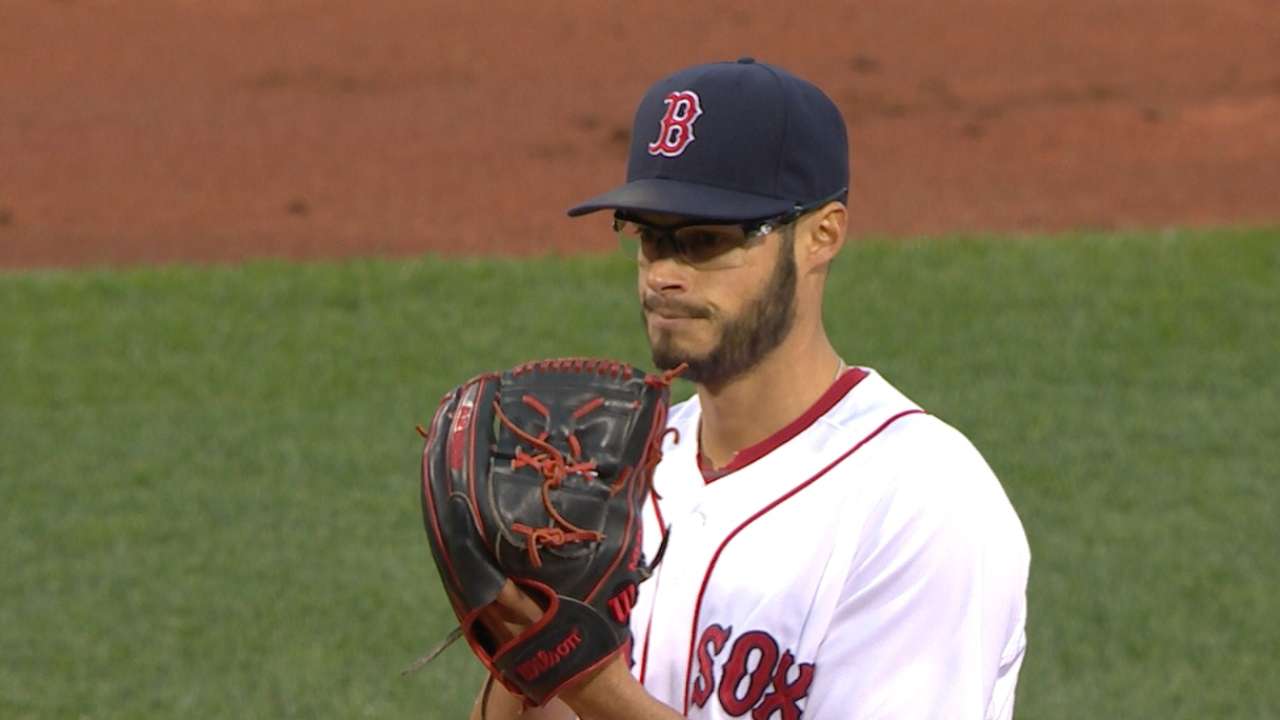 BOSTON -- At the outset, Joe Kelly's night looked destined for dangerous waters after the Blue Jays struck for three runs in a shaky first frame. By the time he completed six innings, however, the right-hander had kept the Red Sox within one run of their division foes and recorded a career-high 10 strikeouts.
That proved to be enough in Boston's 6-5 walk-off win at Fenway Park on Monday. Kelly, who took a no-decision, allowed five runs on five hits. However, he settled into a comfortable pace as the game progressed, retiring the final eight batters he faced.
"[The Blue Jays] are a very good-hitting baseball team," said Kelly, who allowed lone runs in the third and fourth innings, including a solo shot by Devon Travis. "When you don't make pitches, they make you pay for them in that first inning. I left some pitches up, got to two strikes. Made a good pitch to Travis. He's just a very good, hot hitter right now."
Promising -- or perhaps puzzling, considering the runs he surrendered -- were the flashes of brilliance Kelly displayed in the outing. Besides his 10 strikeouts, his fastball scraped as high as the triple digits, and he threw 68 of his 104 pitches for strikes.
After struggling to locate his fastball early on, he wound up relying on his secondary pitches to keep Toronto's talented hitters off-balance.
Kelly only threw 24 of his 39 four-seamers for strikes, according to Brooks Baseball. But he threaded nearly all of his sliders (24 of 27) for strikes while inducing five whiffs with the pitch.
"I was shaky all night with my fastball command," Kelly said. "We would call fastball away, down and away to a righty. Something I was missing over the middle or missing in. From then on, I basically had to go to my offspeed, which was basically what kept me in the game."
Part of what affected his late-game velocity, he added, had to do with the game's 33-minute rain delay leading up to first pitch.
"My arm felt good," Kelly said. "Different start time tonight. I didn't throw that many pitches in the bullpen, so I had some extra juice to save it in the game."
Alec Shirkey is an associate reporter for MLB.com. This story was not subject to the approval of Major League Baseball or its clubs.