Freeman ejected for arguing checked swing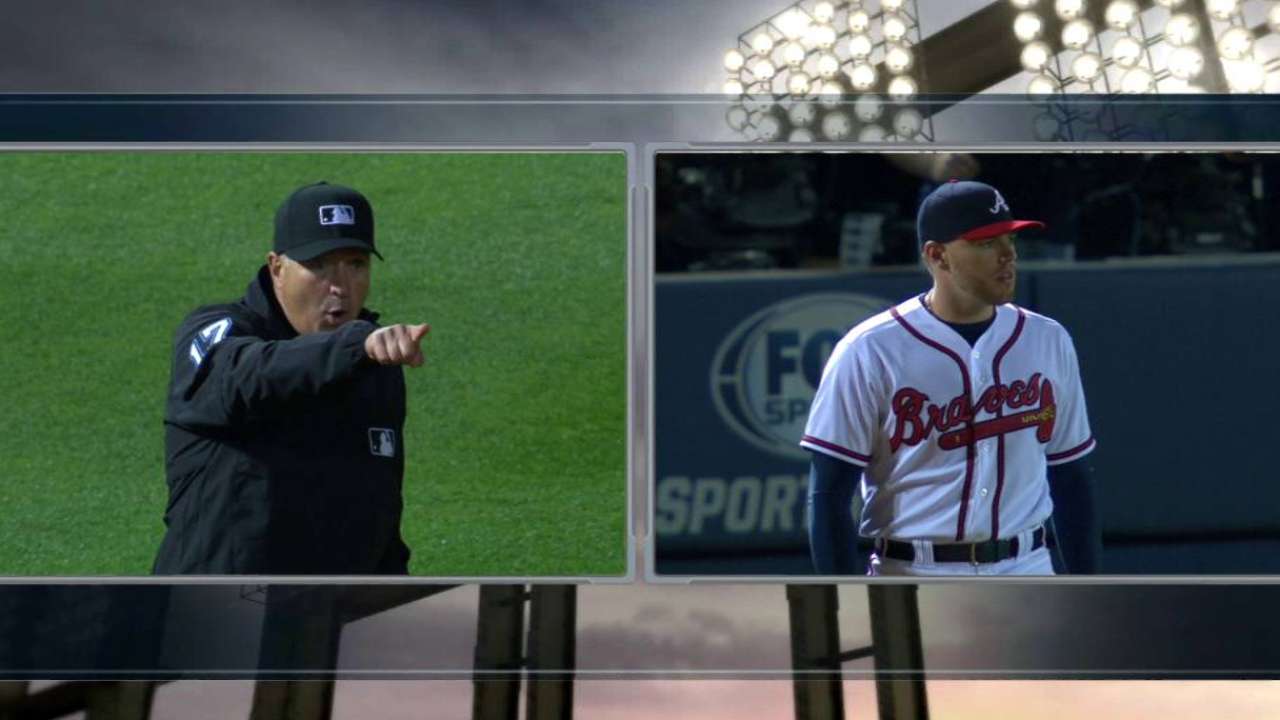 ATLANTA -- Freddie Freeman claims it all was a misunderstanding, and that it wasn't so much what he said but his reaction to what third-base umpire John Hirschbeck called and later said.
Regardless, the result was that the Atlanta Braves first baseman was ejected following his strikeout to end the fifth inning of Monday night's 8-4 series-opening victory over Washington.
With Atlanta leading, 2-1, Freeman, who already had two hits in the game, started toward first base believing he had checked his swing and drawn a walk on a 3-2 pitch from Nationals starter Doug Fister. But home-plate umpire Bill Welke appealed to Hirschbeck, who ruled Freeman had gone too far, ending the inning and stranding runner Andrelton Simmons at third.
That signal from Hirschbeck on the appeal is about all that was clear for the next couple of minutes.
Freeman stood in the basepaths with both hands on his helmet for several seconds, staring down at Hirschbeck. Freeman then dropped his helmet in disgust and was ejected. But that wasn't the end of it. Actually, things were just heating up.
"I just felt the call wasn't right and I was just walking down to first base. I didn't say, 'You're bad.' I said, 'That's bad' a few times and then he started pointing at me," said Freeman. "I kind of looked in the dugout and then I heard him say, 'Shut your mouth.' So that's when I kind of looked at him and waved him off and I was like, 'I'm good.' Once I raised my hands that's when he kicked me out."
Freeman said such a reaction is very much the exception to the rule.
"It's something I haven't been a part of," he said. "I didn't personalize anything. I just said, 'That's bad' a few times."
Braves manager Fredi Gonzalez, who admitted he didn't actually see the events escalate, was surprised, considering the principles in the argument.
"I really couldn't tell you what happened, but John Hirschbeck is a pretty respected guy around baseball for a long time. So something must have gotten him fired up for him to throw Freeman out of the game," he said. "I couldn't tell because I had my back turned and I was concerned about Simmons sliding to third base; I thought he had hurt himself. So I couldn't tell what transpired that John threw him out of the game."
Freeman was willing to let bygones by bygones afterward. He even found a bright side to it all.
"Once I got kicked out some good things started happening," he said, with a laugh.
Jon Cooper is a contributor to MLB.com. This story was not subject to the approval of Major League Baseball or its clubs.