Simmons slide injures Yunel; Nats take exception
Third baseman exits loss to Braves with injured left hand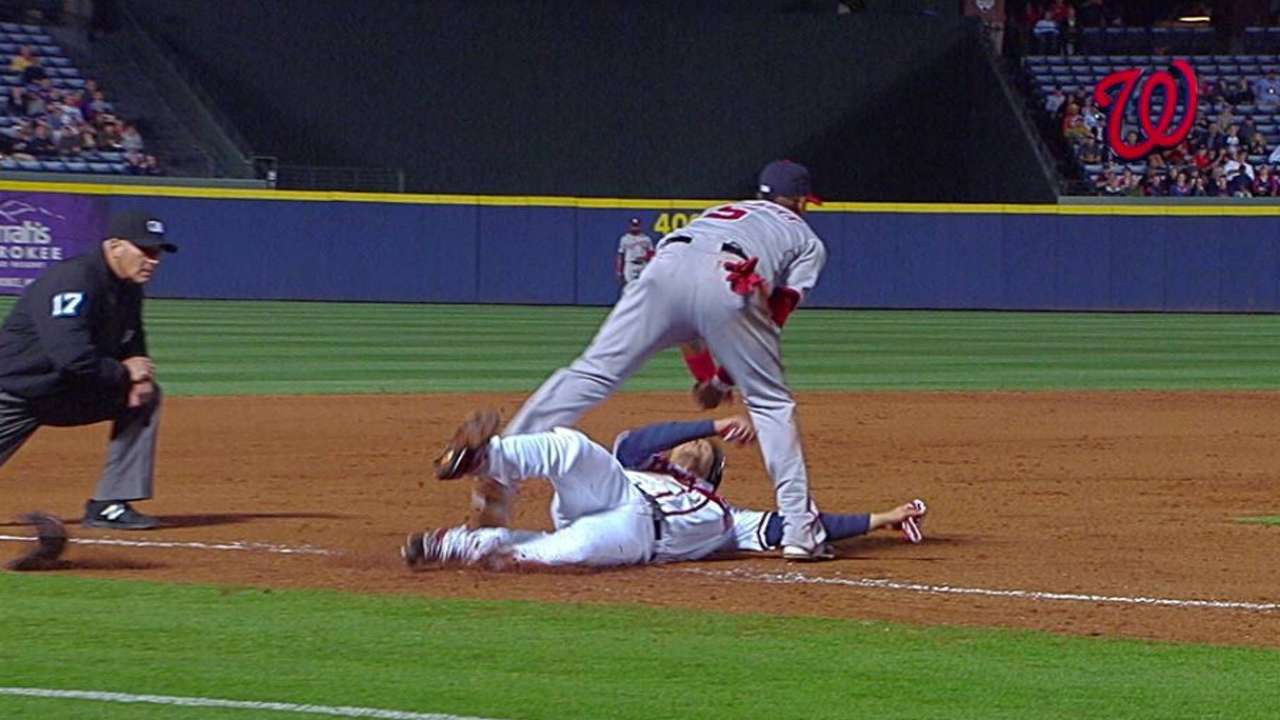 ATLANTA -- What began with a harmless throwing error in the fifth inning of Monday's 8-4 Braves win over the Nationals snowballed into a hard slide, an injury, a pitch behind the slider two innings later, an ejection of someone not even in the game and plenty of harsh words after the game.
The reason for the hard feelings in the Nationals clubhouse is the left hand injury to third baseman Yunel Escobar, the hottest hitter on a slumping Washington team, who was hurt on a play at third in the fifth inning and had to leave the game.
Escobar, who was riding an eight-game hitting streak and an on-base streak of 16 games, was hurt when Atlanta shortstop Andrelton Simmons slid hard into third.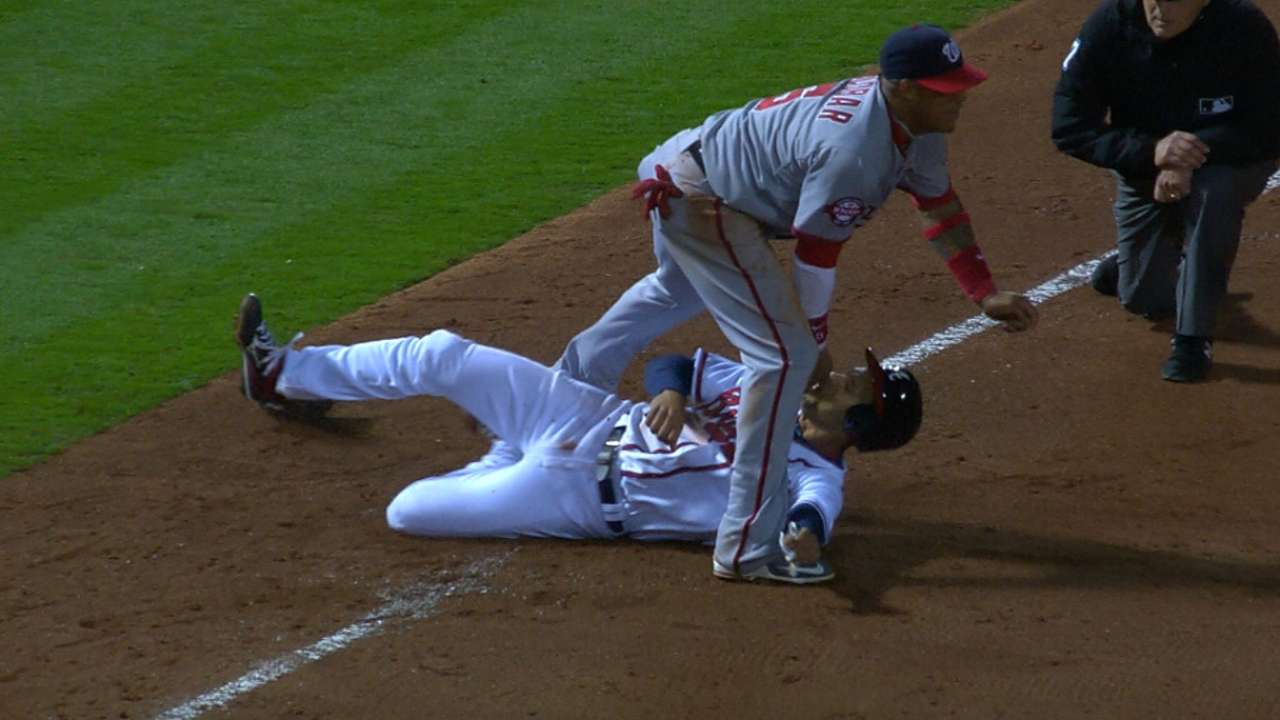 Simmons, who started the play at first base, raced around from first when pitcher Doug Fister's pickoff attempt went awry. Second baseman Danny Espinosa chased down the throw and fired across the diamond, in plenty of time to cut down Simmons. But Simmons slid in hard and his spikes caught Escobar's glove, ripping it off his hand.
Escobar stayed down for several moments, then left the field. Espinosa moved from second base to third to take over Escobar's spot. Former Brave Dan Uggla came in for Espinosa at second.
"I was going hard. Just going hard and trying to go right for the bag," said Simmons. "It's bad that somebody got hurt. Hopefully it's not that bad, but I was just trying to to play hard."
While no one doubted Simmons' fervor, there was some question about his execution and the feeling that he may have gone to excess.
"He didn't slide, basically, at all," said Washington shortstop Ian Desmond. "There's a right way to play the game and a wrong way, and that was … that was not right.
"That kid's a good player, he plays with lot of energy, but you've got to be way smarter than that," Desmond added. "I went back and looked at the video and saw that it was a pretty ugly slide. Obviously, at that point, you get mad."
"You can't slide like that," added Nats right fielder Bryce Harper. "[He] really plays with a lot of energy, so you kind of expect something like that. But that slide was definitely uncalled for."
When asked about the slide, Washington manager Matt Williams offered little.
"I'm not going to comment on that," he said, clearly perturbed.
Atlanta manager Fredi Gonzalez was about as forthcoming about the slide and his feelings on the retribution two innings later, when Washington reliever Rafael Martin hit Simmons with a pitch.
"I don't even want to get to that. He just slid a little late to third base, that's all," said Gonzalez. "Sometimes you slide a little crazy. There was nothing malicious about it. I'm surprised, really at how they reacted, but maybe I shouldn't be surprised."
Simmons said he expected retribution. He also was glad to have teammate Jonny Gomes on his side. Gomes, who was not in the game, was ejected after he left the dugout and walked onto the field.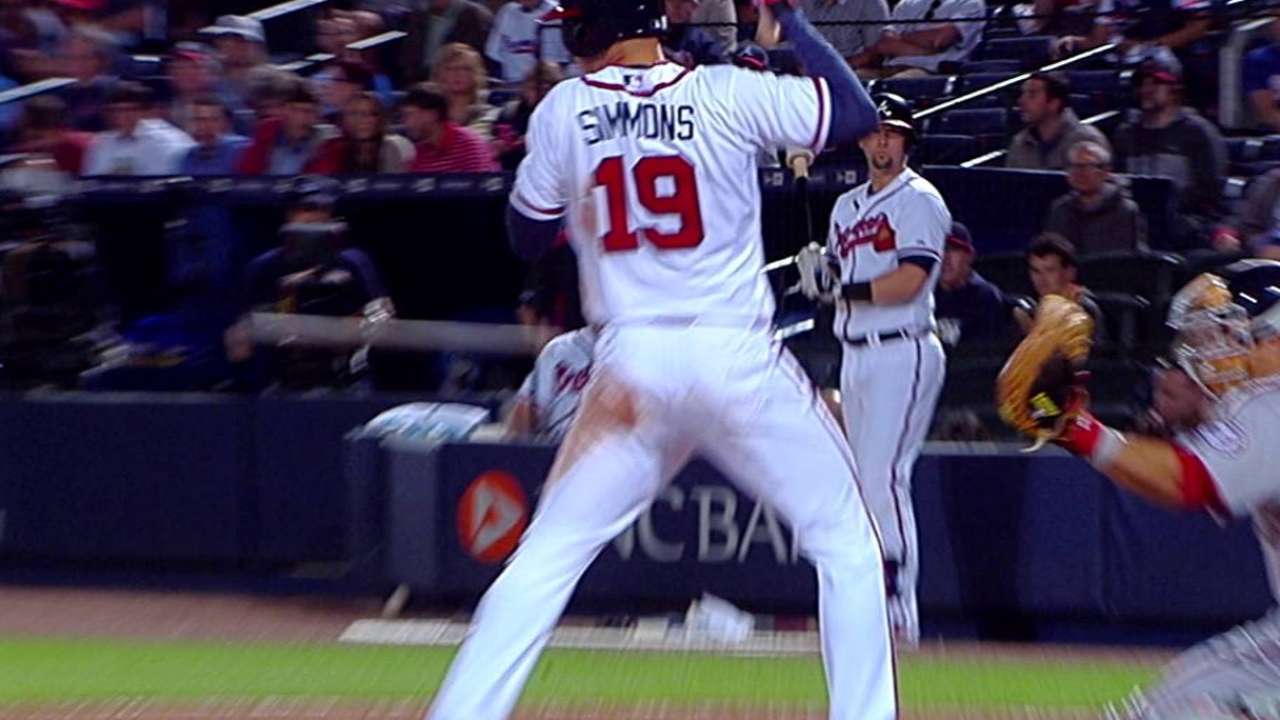 As far as when Escobar will return is in question. He didn't require stitches, but his left hand was scratched up and swollen and his hand and wrist were bandaged up. Williams said his third baseman almost certainly would not be in the lineup on Tuesday. With Anthony Rendon not quite ready to return from injury, on a play that also occurred against the Braves, the Nats are especially short at third. Escobar will certainly be missed.
Although he was hitless in two at-bats when he left the game, Escobar leads the light-hitting Nationals with a .284 average. He has two homers and five RBIs this season, and he is second on the team in OBP, at .351. Harper leads the team, which entered Monday hitting just .218, with a .424 OBP.
Jon Cooper is a contributor to MLB.com. John Donovan is a contributor to MLB.com. This story was not subject to the approval of Major League Baseball or its clubs.