Hamilton receives warm welcome from Rangers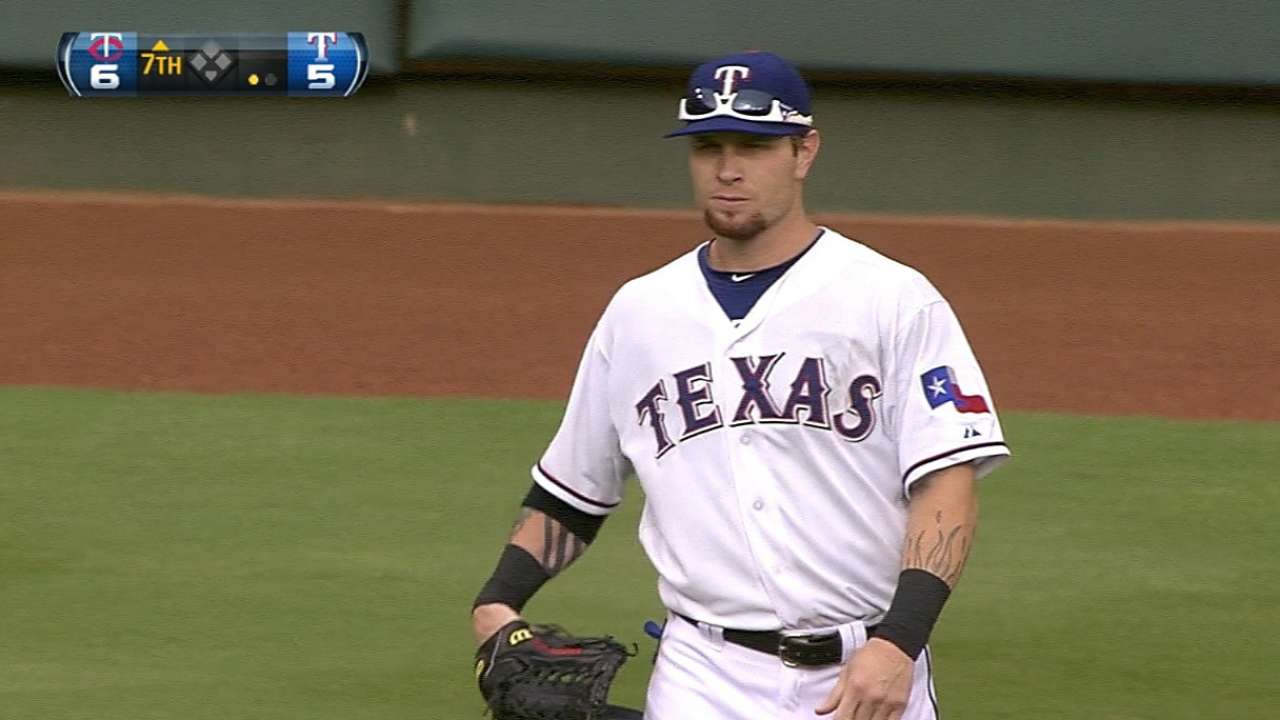 ARLINGTON -- The Rangers welcomed back Josh Hamilton with open arms on Monday. That was the resounding message coming from his old, and new, teammates.
Hamilton, returning to the team that he helped reach consecutive World Series appearances in 2010 and 2011, isn't expected to play his first game back with the Rangers until mid-to-late May. He talked to a few of his teammates, including All-Star third baseman Adrian Beltre, before the news conference to announce he had been acquired from the Angels for a player to be named later or cash considerations.
Hamilton expected to talk to more of his teammates before leaving for Arizona to begin workouts at extended spring training on Tuesday morning.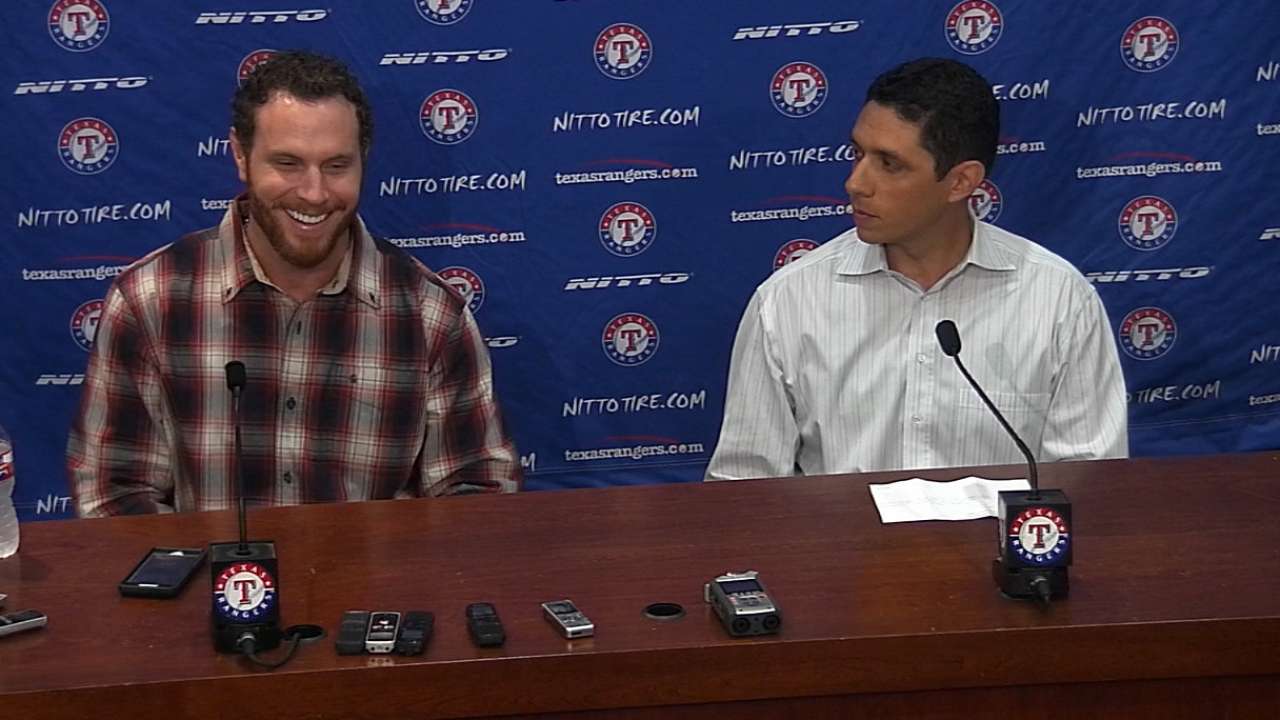 "It's awesome," said pitcher Derek Holland, Hamilton's teammate on both American League pennant teams. "He's been a big part of our team when we won championships. He's a key member of our organization. We welcome him back with open arms."
Hamilton will have to get acclimated to a new manager -- he was close with former Rangers manager Ron Washington. The outfielder said Monday he liked the look in first-year skipper Jeff Banister's eyes.
Banister was guarded when asked about his new outfielder. Hamilton brings star power to the Rangers -- he was the 2010 AL MVP Award winner and an All-Star each of his five seasons with Texas (2008-12). He also gets a lot of attention because of his story, which includes the latest relapse in his recovery from drug and alcohol addiction this past offseason.
"He will be one of 25 in that clubhouse," Banister said. "There are expectations that we as a coaching staff put on every single player. How you show up matters, how you show up counts, how you prepare is paramount, and then how you contribute as a teammate is paramount.
"It's not going to change for him. It's not going to change how we work within the 25 that we put on the field any given night in uniform."
Hamilton said he talked to a few of his Rangers' teammates during the weeks leading up to the trade, including Beltre. Hamilton also spoke with former teammate Michael Young, now a special assistant to Rangers general manager Jon Daniels.
Hamilton's conversations with Beltre centered on his state of mind and how he's doing physically -- Hamilton is recovering from offseason shoulder surgery.
"He wants to show people he's good to play," Beltre said. "He sounds like he can't wait."
Young said he didn't play a significant role in Hamilton's return -- other than one as his friend as Hamilton's time with the Angels appeared to be ending and the rumors swirled that he was returning to the Rangers.
"I know how much baseball means to Josh," Young said. "I know that Josh loves the game. When you've been playing this game for a very long time, there is something where it burns inside of you. You want it to come out. He's really burning for an opportunity to show exactly what he's made of."
That's also the sense that Prince Fielder got during his brief interaction with Hamilton on Monday. Fielder, an All-Star player who has had to get acclimated to two new clubhouses in Detroit and Texas after beginning his career in Milwaukee, said this transition will be smoother for Hamilton.
"It's home for him," Fielder said. "He's had so much success here. It will be easy for him. It's nice and comfortable."
Hamilton was brought to Texas to help win games, Daniels said Monday. Shortstop Elvis Andrus said if Hamilton is 100 percent, he can help make that happen.
"We know if he's healthy, his head is in the game, is in the right place, we know what he's capable of doing," Andrus said. "He's one of the best players for me when he's right." And while fans and some talk radio and local columnists still hold on to the opinion that Hamilton didn't give his full effort in the final month in 2012 when the season fell apart for him and the Rangers -- the exclamation point being his dropped fly ball in Oakland in Game 162 -- his teammates scoff at that notion.
"Did you hear that from us?" Beltre said.
Todd Wills is a contributor to MLB.com. This story was not subject to the approval of Major League Baseball or its clubs.