Verlander's MRI shows less inflammation in right triceps
Long road ahead remains for ailing veteran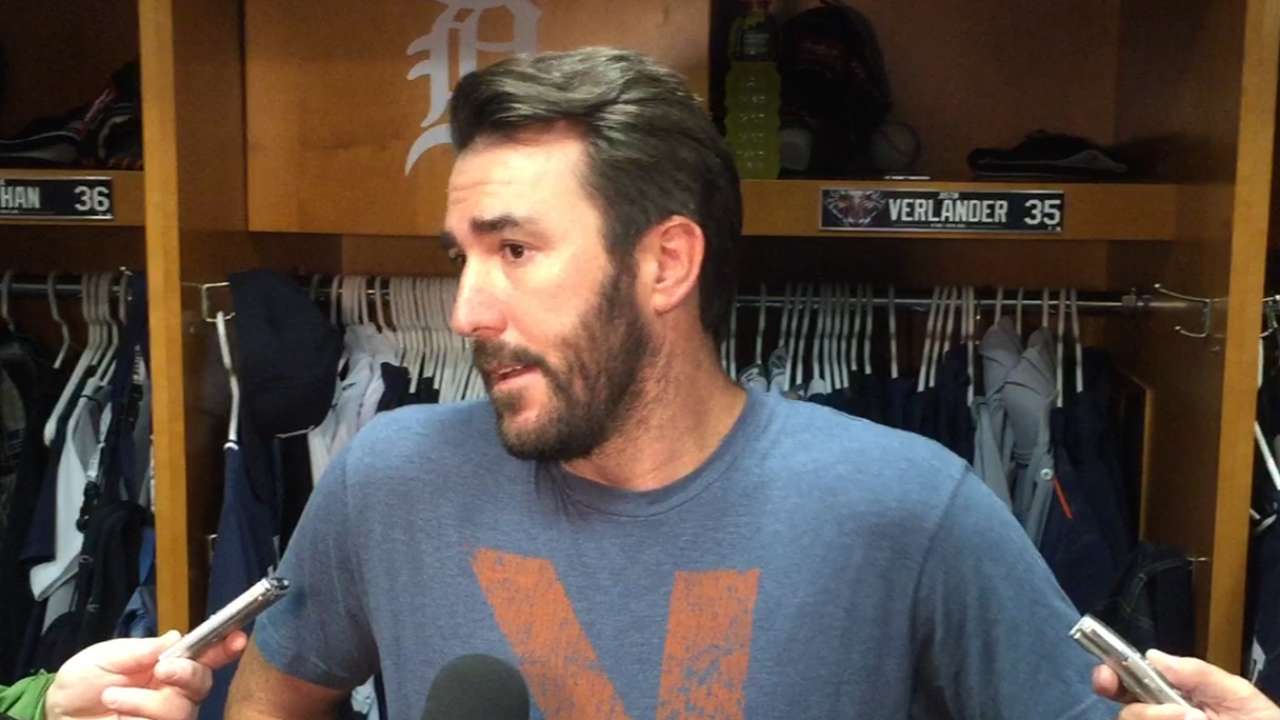 MINNEAPOLIS -- Justin Verlander's rehabilitation from a strained triceps muscle in his pitching arm continues to take baby steps forward.
The Tigers confirmed on Monday that Verlander, who started the season on the disabled list and has not thrown a ball since April 15, had a second MRI on Friday, and the results showed less inflammation in his right triceps.
"[There's] a little less fluid, which means it's healing," Tigers manager Brad Ausmus said.
The veteran right-hander won't pick up a ball until the inflammation is gone. He has a third MRI scheduled for next week, according to Ausmus.
That schedule indicates that Verlander's return is anything but imminent. He acknowledged that even when he's cleared to start throwing, he's not sure how much time he'll need to build up his arm strength.
"That's to be determined," Verlander said. "I wouldn't imagine taking forever. I don't think it's going to take a Spring Training-type buildup. But I've never been through anything like this."
It's put Verlander in an unusual spot, because he's not accustomed to being patient as his body recuperates from an injury.
"I talked with the trainers and they told me this is probably going to be hardest thing I've ever had to do because this does not mesh well with my personality," Verlander said. "I want to be going out there. And historically in the past I've pitched through some stuff.
"I've pitched through a lot of stuff in my career. This is just one of those things you can't try to force your way through, which is hard because everything I've done in the past is, 'Alright, let's attack this. Let's work through it. Let's go throw.' And this is just not one of those things you can do that with."
• The Tigers got better news on outfielder Rajai Davis, who was removed from Sunday's game against Cleveland in the eighth inning with a groin injury. Ausmus said Davis felt no pain and was available to play on Monday, but would be given the day off as a precaution to avoid a recurrence of the symptoms.
"It was tightness -- he didn't pull or strain anything, but he felt it tightening up, so he was concerned that if he tried to run hard, something would give," Ausmus said. "So it was probably wise that he came out of the game, because he feels good today."
• Third baseman Nick Castellanos was not in the starting lineup Monday against Minnesota left-hander Tommy Milone. Castellanos is in an 0-for-11 slump that has dropped his average to .227. His manager didn't seen too concerned, however.
"He's just in a little bit of a funk swinging," Ausmus said. "He's chasing some pitches that he can't hit. I don't know if he's not picking up the ball or not seeing the ball out of the pitcher's hand. But he'll be fine. He took some extra batting practice today and … Nick can hit."
Patrick Donnelly is a contributor to MLB.com. This story was not subject to the approval of Major League Baseball or its clubs.