Stults, Johnson lead Braves past Nationals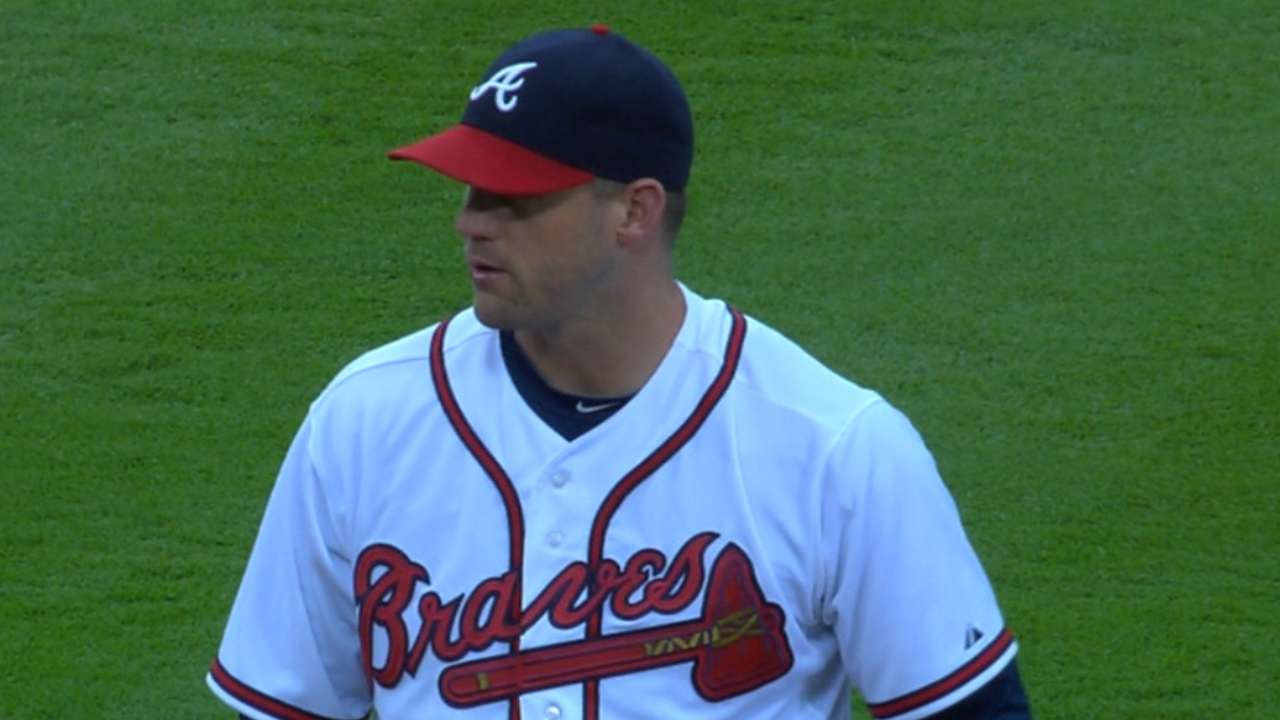 ATLANTA -- Kelly Johnson went 3-for-4, with three RBIs, including a two-run homer that fueled a three-run sixth, and the Atlanta Braves took advantage of sloppy defense by the Washington Nationals, who committed four errors, to take the first game of a three-game series, 8-4, Monday night at Turner Field.
Starter Eric Stults (1-1) got the win for the Braves, who had lost five of six, limiting the Nationals to two runs and four hits in a season-high 6 1/3 innings. Stults threw 59 of his 96 pitches for strikes. In the seventh, reliever Cody Martin got out of a bases-loaded, one-out jam by inducing a sacrifice fly from Denard Span then catching Ryan Zimmerman looking at a fastball down the middle to end the inning.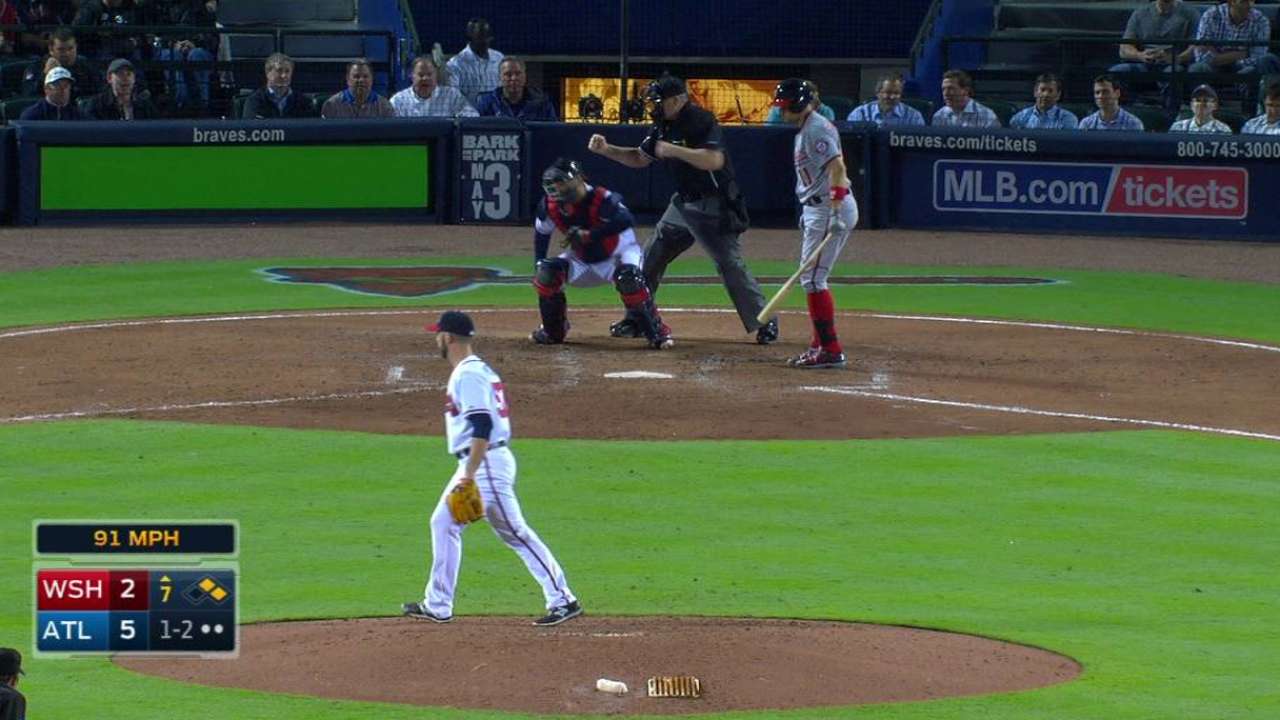 "It's huge to come home and get on track with a win, especially having Eric pitch the way he pitched; it was phenomenal," said Johnson, who had his first three-hit game of the season, which included his third homer of the year. "I thought our defense and baserunning, we played almost a complete game. A couple of little miscues at the end but all in all I thought we played well and took advantage of some stuff."
The Braves, who had been held below five runs in five of the last six games of their recently completed road trip, erupted for five runs in two innings to break open what had been a 2-1 pitchers' duel through five.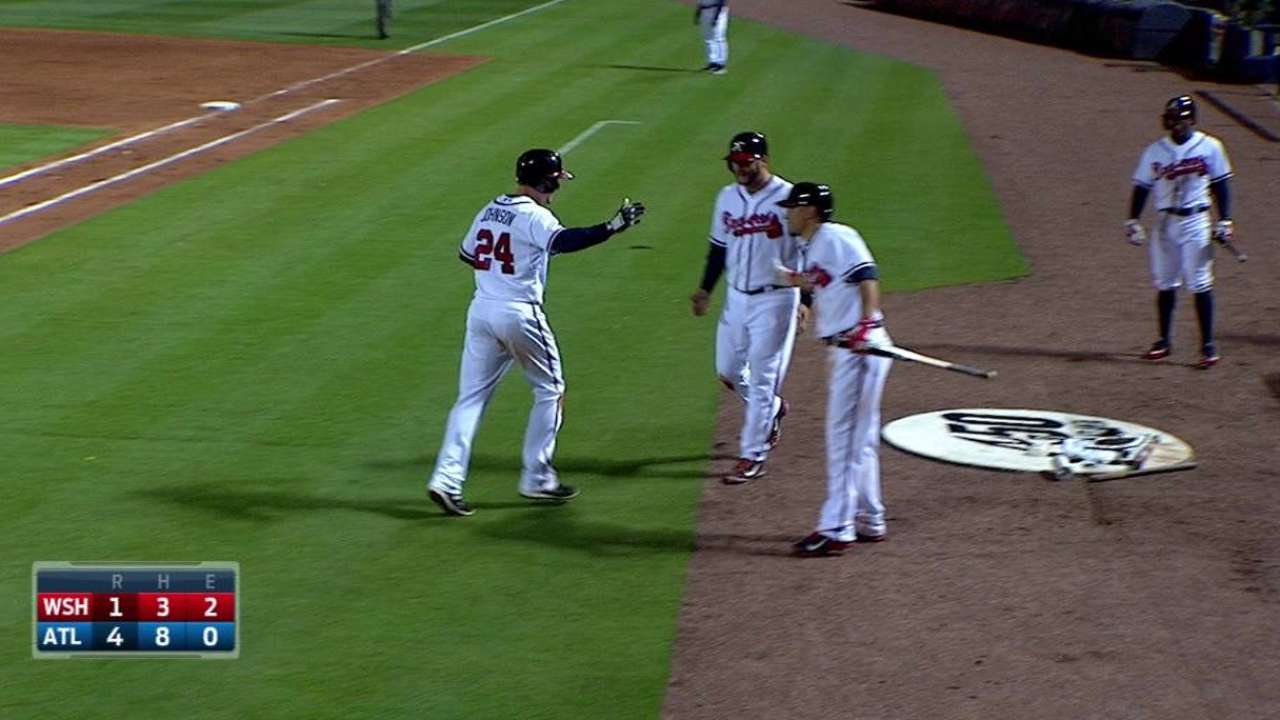 "We got [13] hits, did a nice job scoring runs with people on third base and kept adding on because that's a team that isn't going to lay down," said Braves manager Fredi Gonzalez. "You have to keep adding on runs."
Doug Fister (1-1) took the loss for the Nationals, who fell to 2-8 on the road this season and have dropped six straight games overall. Washington, which was swept in Miami over the weekend, has scored a total of 14 runs in those six losses, and only seven in its last five games.
MOMENTS THAT MATTERED
Jace erased: With two outs in the second and leading 1-0, Atlanta threatened to add more with right fielder Nick Markakis at the plate and second baseman Jace Peterson running at second. But Fister got himself out of trouble by whirling and firing to shortstop Ian Desmond to pick off Peterson for the final out of the inning. The pickoff came right after Nats catcher Wilson Ramos threw down to second trying to pick Peterson off. Washington would come back to tie the game in the top of the third. Fister would have less success picking off runners at first, as he'd make errors in back-to-back innings trying to do so.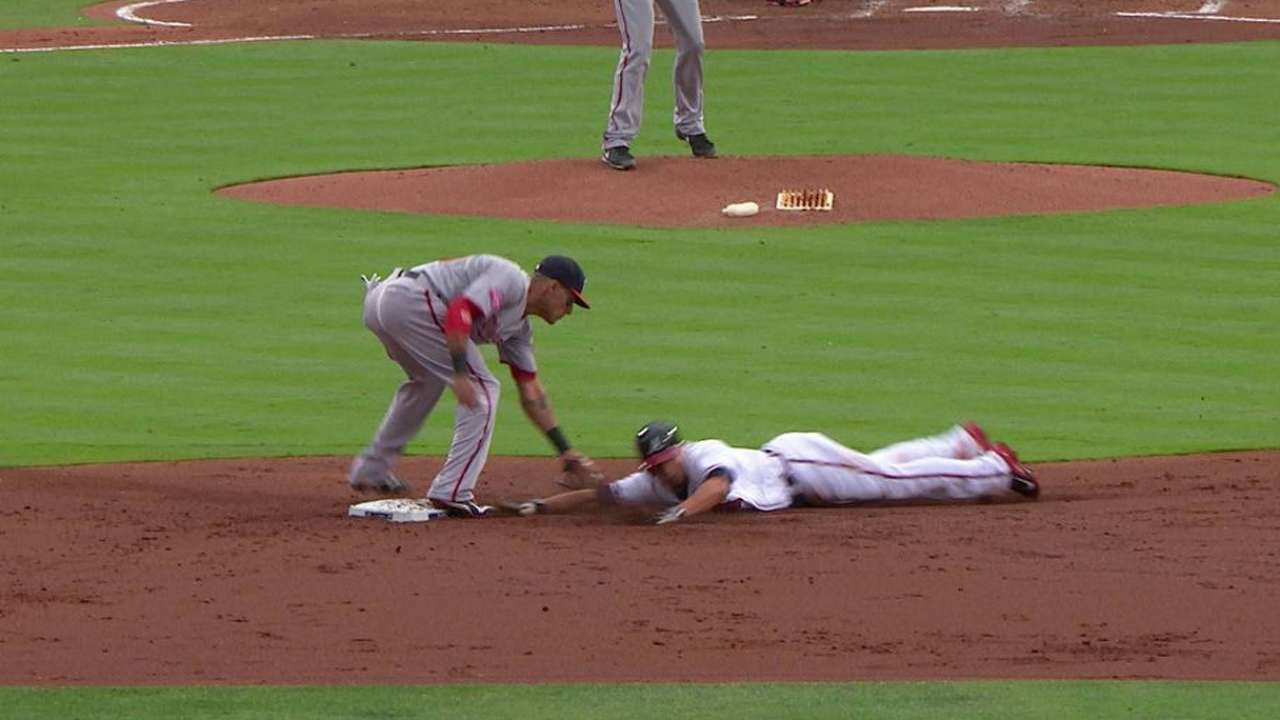 Freddie's ready: Atlanta first baseman Freddie Freeman may be ready to break out. Freeman came into Monday night's game hitting .136 at Turner Field, (3-for-22) including 1 for his last 17 at The Ted and was coming off a 2-for-11 weekend in Philadelphia. But he lined two hits to right in his first two trips to the plate off Fister, starting with a key first-inning single to set up Atlanta's first run. However, Freeman was ejected for arguing a checked swing after a fifth-inning strikeout. More >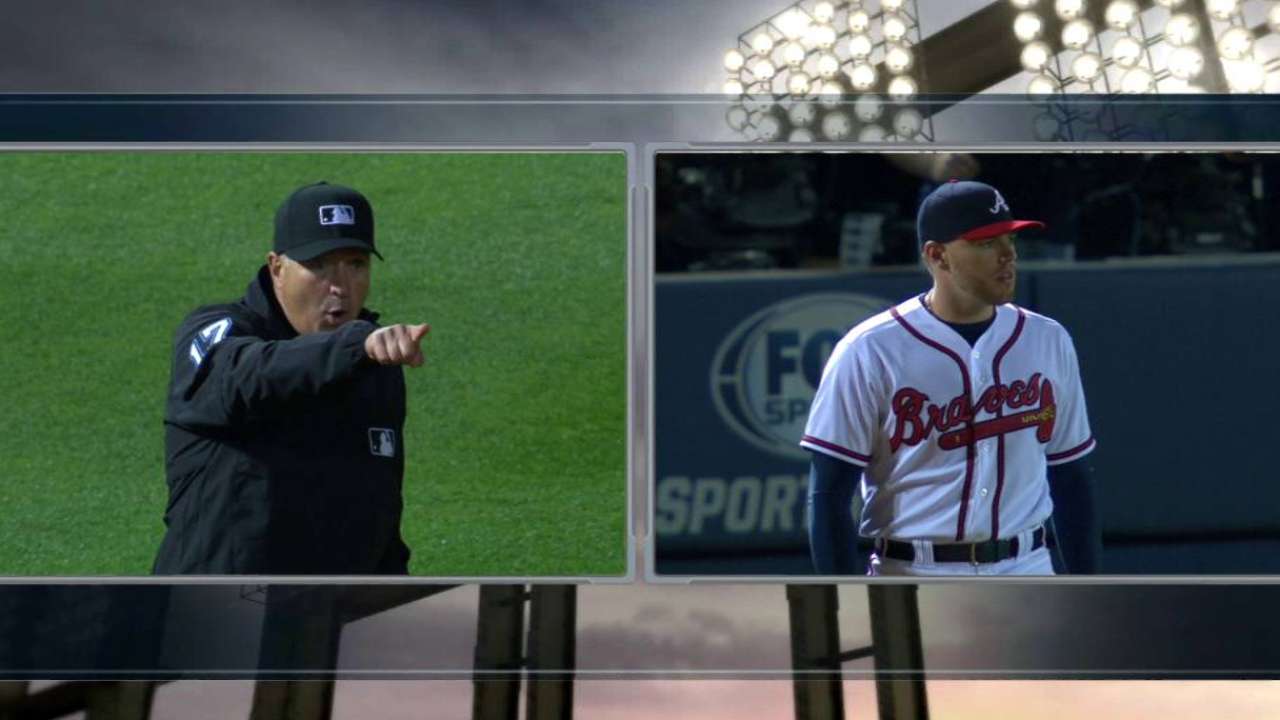 First To Worst: In back-to-back innings Atlanta baserunners went from first to third on errant throws by Fister. It didn't hurt in the fifth inning, as Fister got out of trouble by striking out Freeman. But in the sixth, the Braves cashed in, as Peterson raced from corner to corner on another low throw that got away from Zimmerman, then came in to score on a perfect squeeze bunt by Young to extend Atlanta's lead to 5-1. More >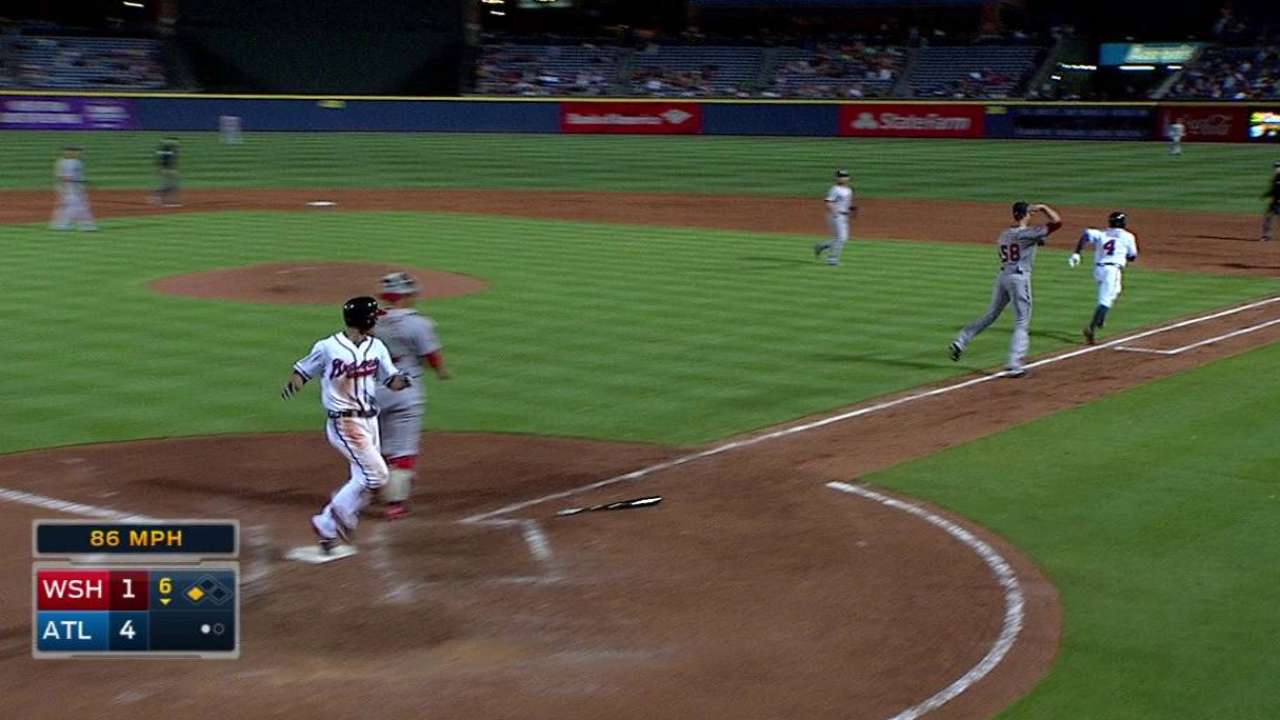 Yunel out: When Washington third baseman Yunel Escobar left the game in the bottom of the fifth Monday, after a hard slide from the Braves' Andrelton Simmons at third, the offensively-challenged Nationals lost their hottest hitter. Escobar was in the midst of a 16-game on-base streak and an eight-game hitting streak. He was hitting .292 before the game, the highest mark on the team. He went 0-for-2 in the game without a walk. More >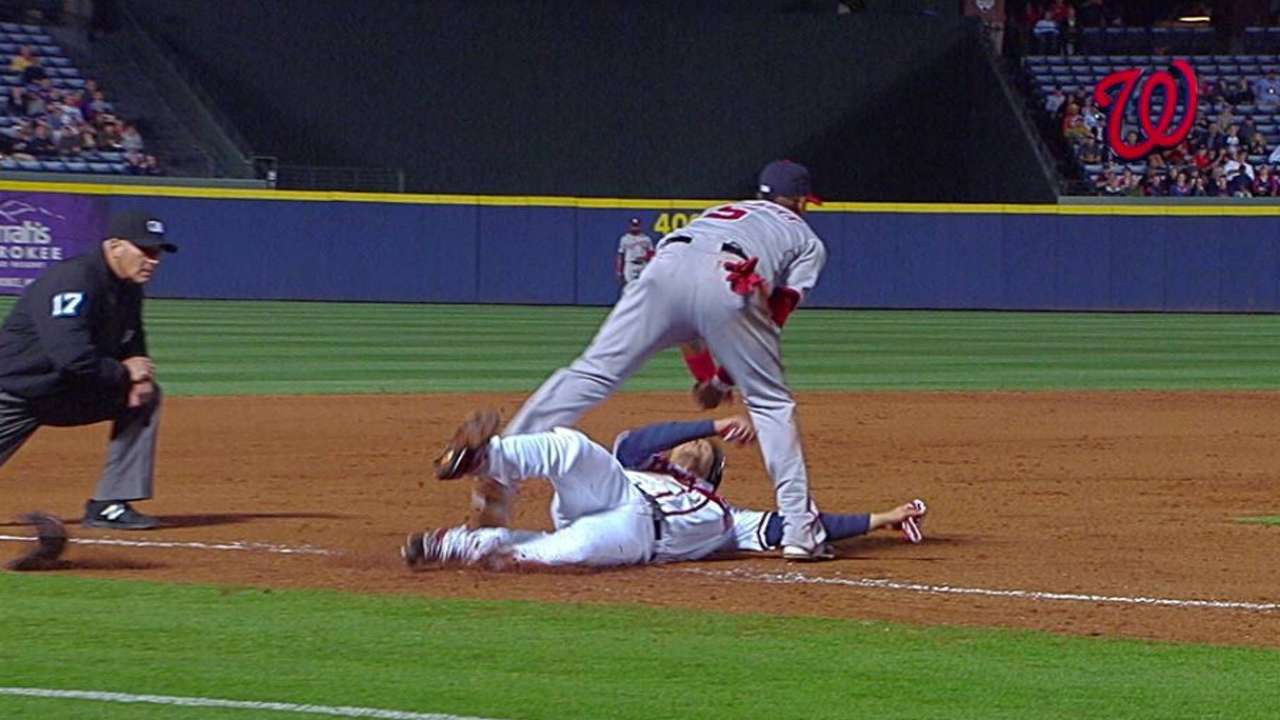 QUOTABLE
"We won't see that all year again, probably." -- Nationals manager Matt Williams, on the control problems of Fister, who gave up two early walks in losing to the Braves. Fister entered the game with the lowest career walk rate (1.76 walks per nine) of any active pitcher with at least 1,000 innings pitched. It was Fister's first loss to the Braves
"I like that he has my back. It's good to know that your teammates are behind you no matter what. I love the support." -- Simmons, on teammate Jonny Gomes' ejection for leaving the dugout after Washington pitcher Rafael Martin hit Simmons with a pitch in the seventh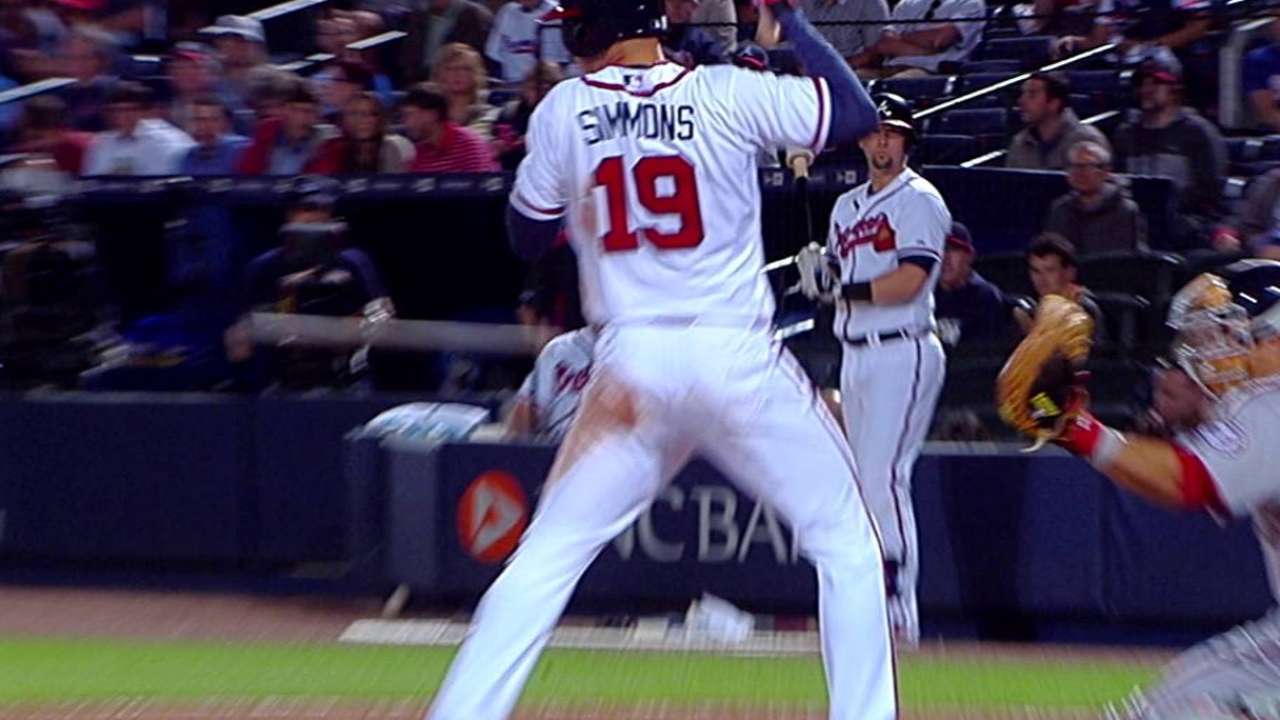 REPLAY REVIEW
Washington Nationals pinch-hitter Reed Johnson was awarded first base following an instant replay review in the top of the seventh inning. The inside pitch from Martin hit Johnson, the former Brave, loading the bases. The review took approximately one minute, 30 seconds.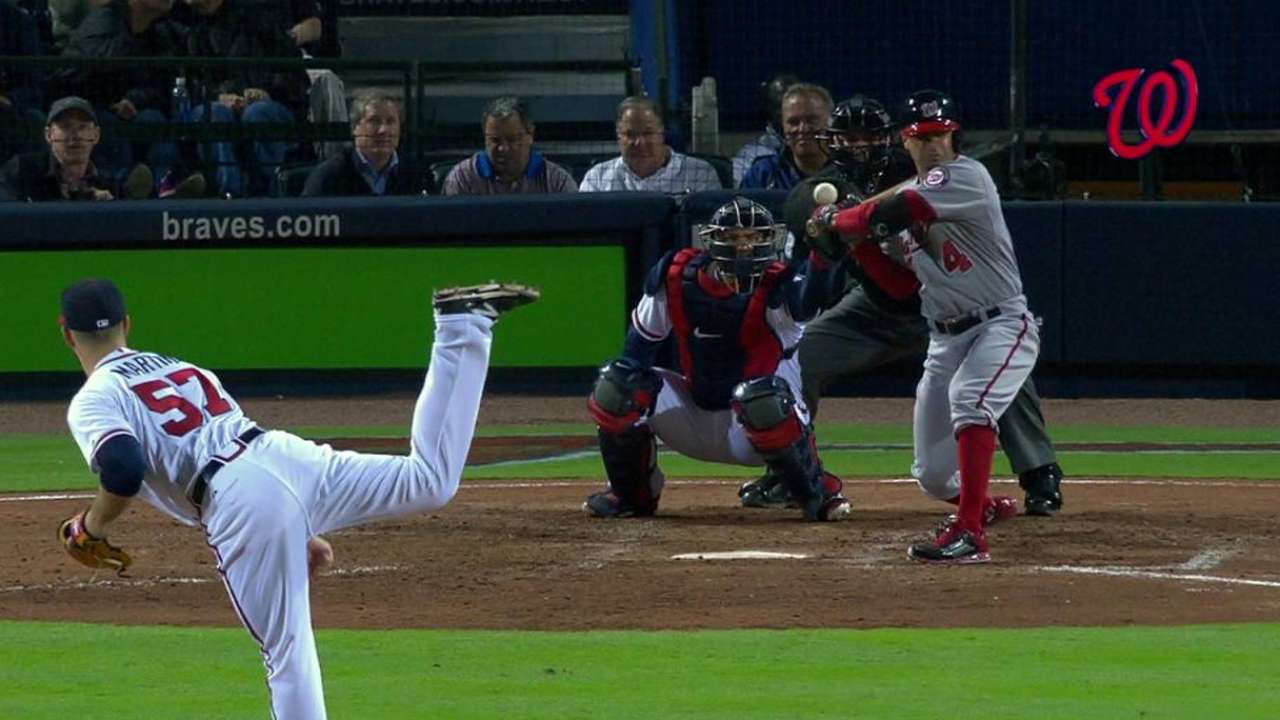 WHAT'S NEXT
Nationals: The Nationals were scheduled to send right-hander Max Scherzer (1-2, 1.26 ERA) against the Braves, but Williams confirmed after Monday's game that Scherzer will not make the start because of a strained thumb on his pitching hand. Instead, the Nationals will start A.J. Cole, who will be making his Major League debut. Cole, the Nationals' No. 3 ranked prospect according to MLB.com, was 0-0 with a 2.40 ERA in three starts with Triple-A Syracuse this season.
Braves: The Braves will send ace Julio Teheran (2-1, 4.64) to the mound Tuesday night. Teheran will look to reverse recent fortunes, as he's struggled his last two times out, allowing nine earned runs in 9 1/3 innings. Four of those runs came on home runs on April 17 at Toronto, while his last time out, he matched his career high by walking five in 4 1/3 innings in a 6-3 loss against the Mets in New York.
Watch every out-of-market regular season game live on MLB.TV.
Jon Cooper is a contributor to MLB.com. John Donovan is a contributor to MLB.com. This story was not subject to the approval of Major League Baseball or its clubs.