Pirates stepping up during McCutchen's slump
Walker, others carrying the early load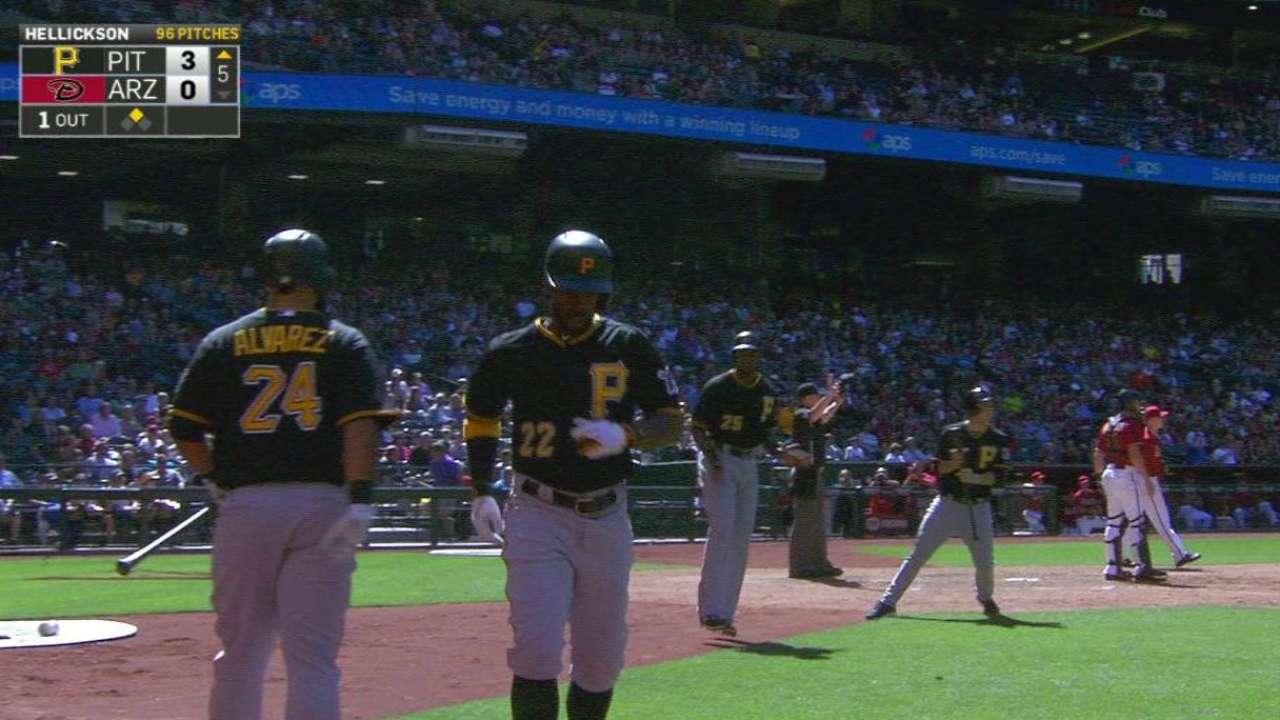 CHICAGO -- Andrew McCutchen began Monday's series opener at Wrigley Field with only one hit in his last 17 at-bats. He owned the lowest batting average -- which sank to .175 after going 0-for-4 in a 4-0 loss -- of the Pirates' eight everyday players.
And in a weird way, the Pirates have found solace in those numbers.
That's because the Bucs ended Monday two games above .500 (11-9) after winning eight of their last 11 games. In other words, the Pirates have put together their best stretch of this young season without McCutchen at his best.
In years past, the Pirates might not have been able to survive this kind of slump from their star, much less reel off five straight wins.
"There's been years in the past where if he doesn't show up -- if he can't drive in runs or doesn't drive in runs, score runs -- we're really on the downside of things," Pirates manager Clint Hurdle said before Monday's setback. "But we're no longer that team. We're a team that can help him. We've got his back."
Lately, the Pirates' pitching staff has led the way. The rotation entered Monday with the second-lowest ERA and second-most strikeouts in the National League.
"Our starting pitching has been the anchor, for the most part," Hurdle said. "Our bullpen has been able to keep leads in place."
Neil Walker has shouldered the offensive load lately. Gregory Polanco has done his part, too. The Pirates have had a number of different heroes at the plate over the first three weeks of the season.
Hurdle described McCutchen's skid -- and his .175/.299/.302 slash line -- as "just one of those stretches." It's not that opposing pitchers are attacking him differently, Hurdle said, because they've tried to do that in the past and McCutchen has adjusted just fine.
"He's diligent," Hurdle said, noting that McCutchen took early batting practice Monday at Wrigley Field. "He's being very professional about his approach, trying to be stubborn with it, and I think he's getting very, very close."
At some point, McCutchen will get hot and carry the Pirates like he's done in the past. He's proven his ability to do that before, as his numbers in March and April are well below his career averages.
For now, though, the Pirates are showing they can get by without their best player at his best.
"He's going to produce. He's going to hit. He's going to drive in runs and score runs," Hurdle said. "That being said, right now, there's been other guys that have picked up.
"This is kind of the way we do things. When people are down, the next-man-up mentality, we try to fight, scratch, claw and score one more run than the other team. We've done it three more times than we haven't done it."
Adam Berry is a reporter for MLB.com. Follow him on Twitter at @adamdberry. This story was not subject to the approval of Major League Baseball or its clubs.