Blazek notches first big league win vs. Cardinals
Manager Roenicke impressed with righty's improved command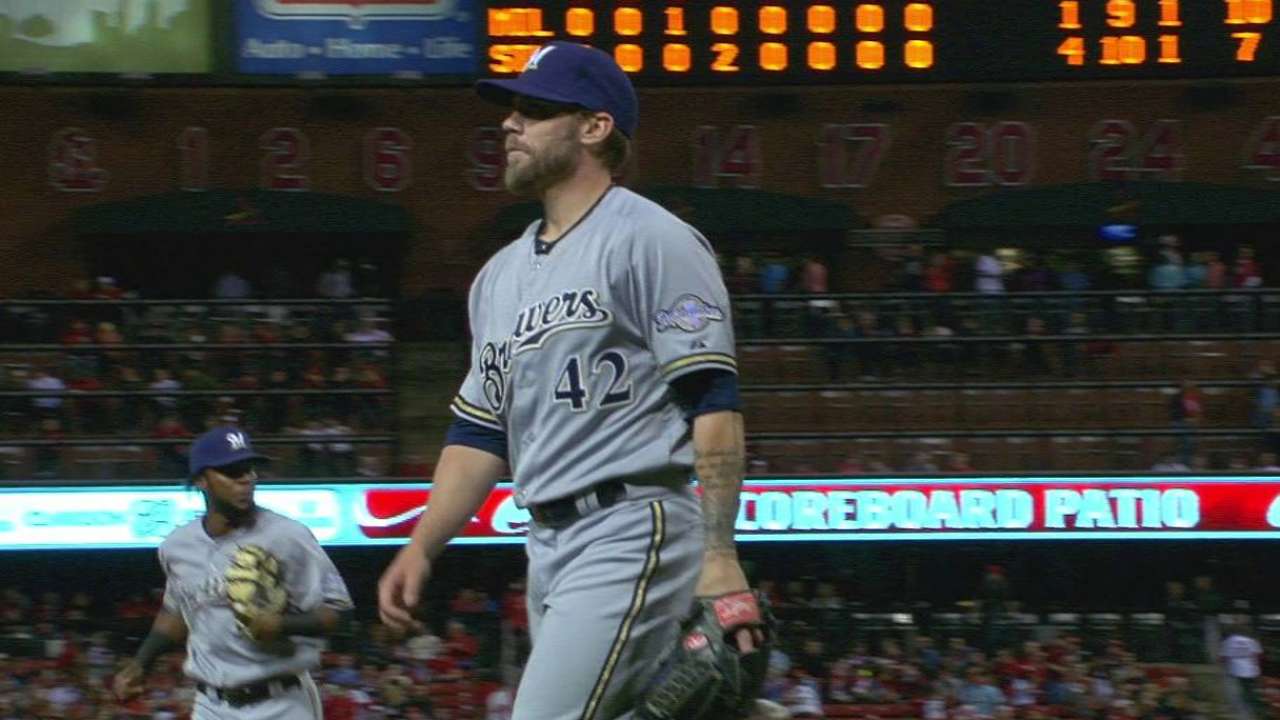 CINCINNATI -- Maybe it's time for Michael Blazek to settle down and get a nice house with a "man cave" or a trophy room, or at least a mantle.
"I've got three game balls, and I live in an apartment with no place to set them," Blazek lamented Monday, a day after recording his first big league victory via two innings of scoreless relief work in a 6-3 victory over St. Louis. "I got two balls from the game, then Frankie [Francisco Rodriguez] gave me the ball from his 351st save. That was pretty special. I think I'll give them to my parents. That way I won't lose them."
The 26-year-old right-hander picked up his first win at the expense of the Cardinals, who traded Blazek to Milwaukee on Sept. 1, 2013, to complete the deal that sent closer John Axford to St. Louis.
The Cardinals didn't have any better luck figuring out Blazek than anyone else has recently. He had worked 8 1/3 consecutive scoreless innings over seven appearances entering Monday night's game at Cincinnati, limiting opponents to 1-for-26 batting (.038) in that span.
"He has been throwing strikes, getting his breaking ball over and showing good life on his fastball," Brewers manager Ron Roenicke said. "But the biggest thing for him has been better command of his pitches."
"Some of the guys in the bullpen noticed a few things during Spring Training," Blazek said. "One thing was that I wasn't keeping my head still and my eyes on the target. It was something I knew about, but wasn't really noticing. When someone else says something to you about it, you notice it more."
Blazek admitted he didn't always keep his eye on the target last summer, in an emotional sense. He spent all of 2014 at Triple-A Nashville after having pitched 18 Major League games for the Cardinals and Brewers in 2013.
"We were hoping he could make the team out of Spring Training last year," Roenicke said, "but he struggled with his command."
"I wasn't bitter, but I was frustrated," Blazek said. "I thought I had to be perfect, and I never got there. You have to realize at some point that it's the process that gets you to the big leagues, not the results."
Blazek said the kind of results he has experienced so far (1-0, 0.90 ERA overall, .167 opponents average) sure don't hurt.
"When you can go out there and get the best hitters in the game out, it has to give you more confidence" Blazek said.
Andy Call is a contributor to MLB.com. This story was not subject to the approval of Major League Baseball or its clubs.