Perez opts out of Minors contract, becomes free agent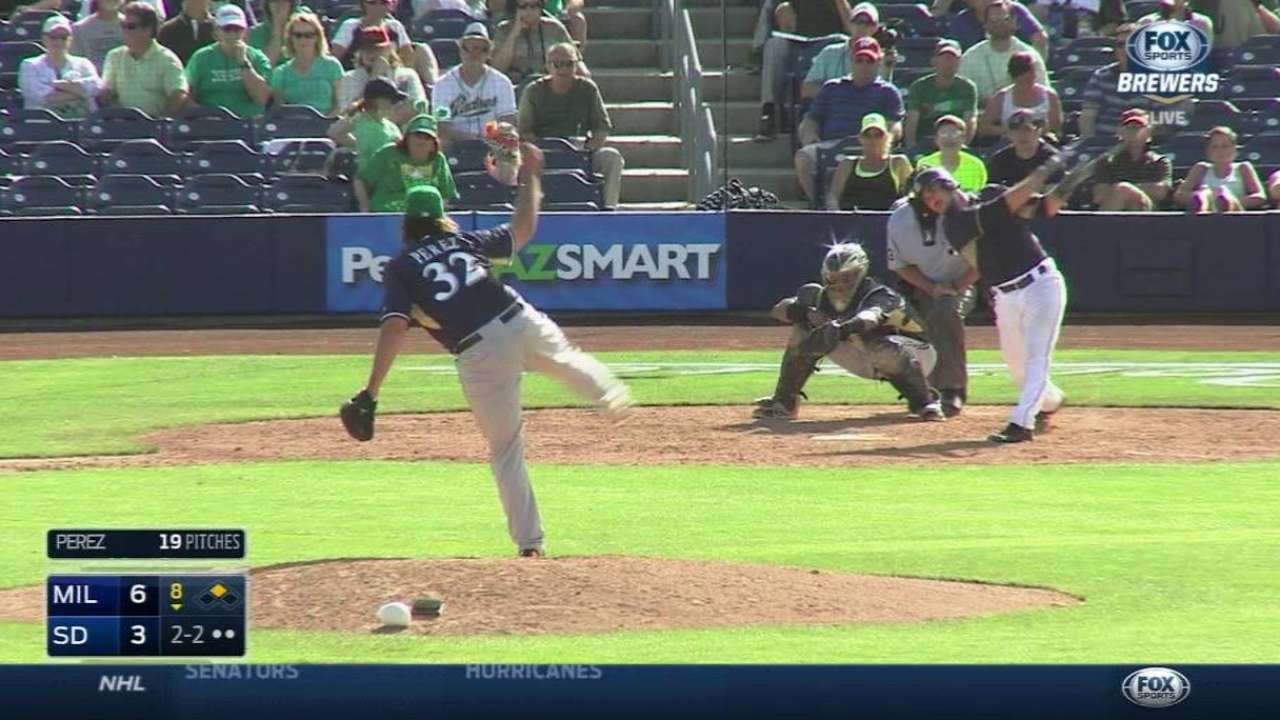 CINCINNATI -- Former All-Star closer Chris Perez opted out of his Minor League contract with Milwaukee on Monday and became a free agent.
The 29-year-old Perez signed with the Brewers on Feb. 4. He recorded a 2.70 ERA during 10 Spring Training appearances, but he was reassigned at the end of camp.
"He threw the ball pretty well for us in Spring Training but was a little inconsistent with his command," Brewers manager Ron Roenicke said. "We had other guys who were already on the [40-man] roster. If you're not on the roster, you really need to show we're better than what we have."
He struggled at Triple-A Colorado Springs, compiling a 9.39 ERA in six appearances and allowing 18 baserunners in 7 2/3 innings. He was released from his contract, allowing him to pursue other Major League opportunities.
Perez racked up 123 saves for Cleveland from 2010 to 2013 and was an American League All-Star in 2011 and 2012. He made 49 appearances in middle relief for the Los Angeles Dodgers in 2014, allowing 68 baserunners in 46 1/3 innings.
Worth noting
• Right fielder Ryan Braun was left out of Monday's starting lineup, as he had been Sunday. Braun said he is not sidelined due to either his right thumb or sore right side, issues earlier this season.
"I'm fine physically," Braun said. "I'm 100 percent available. Everybody has some bumps and bruises."
Brewers manager Ron Roenicke said Gerardo Parra was in right field Monday because the Brewers won with him there Sunday.
"I liked what I saw [Sunday]," Roenicke said. "We need to try something different. When guys are performing, you try to keep them in there."
Andy Call is a contributor to MLB.com. This story was not subject to the approval of Major League Baseball or its clubs.