Rockies place Ottavino on disabled list; Axford to close
PHOENIX -- The Rockies placed Adam Ottavino on the disabled list on Monday and replaced him for the time being with veteran John Axford in the closer's role, manager Walt Weiss said prior to his club's 5-4 victory over the D-backs at Chase Field.
Axford came on in the ninth to protect the one-run lead and worked out of two-out, first-and-third jam as Mark Trumbo grounded to third baseman Nolan Arenado to complete Axford's third save of the season.
Ottavino is nursing triceps inflammation in his right arm. In a corresponding move, the Rockies recalled right-hander Jorge Rondon from Triple-A Albuquerque.
"He's been pitching around that triceps issue the last three or four times out," Weiss said about Ottavino, who last pitched on Friday night throwing a scoreless inning at home against the Giants and earning his third save. "I just felt like a few days here or there wasn't going to do the trick. We want to let that thing calm down for a couple of weeks. That's the best way to approach it."
Ottavino hadn't allowed an earned run this season in 10 1/3 innings over the course of 10 appearances. His WHIP is a minuscule 0.48 (three hits, one walk) and opponents are only batting .094 against him. He was awaiting results of an MRI taken on Monday, but did Weiss said he didn't have an update about that before the game.
Axford, who has previously closed with some success in Cleveland and Milwaukee -- saving 105 games for the Brewers from 2010-12 -- will be Weiss's first choice in the ninth, with Rafael Betancourt as another option. Most days, though, Betancourt will set up in the eighth, and that's exactly the way it happened Monday night.
Axford has made five appearances this season and also hasn't allowed an earned run, although he made it interesting by allowing singles to Ender Inciarte and Paul Goldschmidt in the ninth before closing the D-backs out.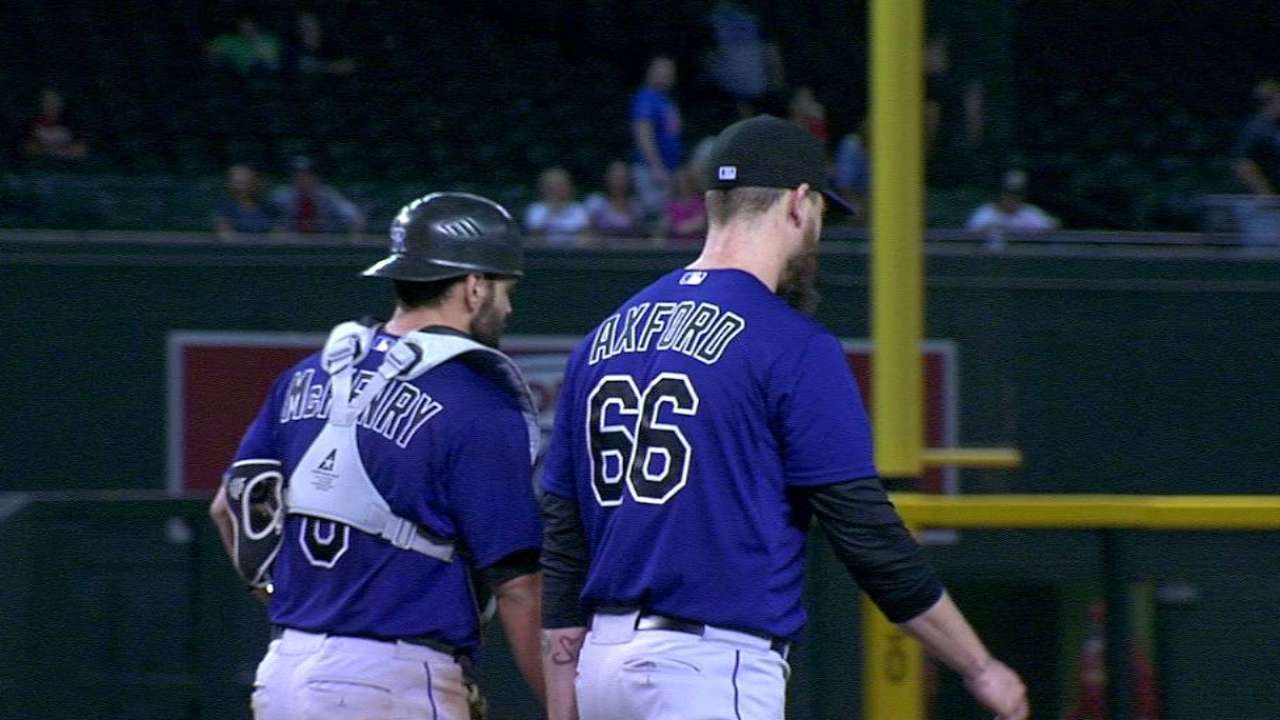 "Yeah, he did good job, I mean saves in this league are tough," Weiss said. "One-run saves are extremely difficult on the road. That's a tough save right there."
Axford missed much of the end of Spring Training when a rattlesnake bit his 2-1/2-year old son, Jameson, on top of the right foot. Doctors saved the foot, but there was still some concern about the boy losing one of his toes.
"There's still a long road ahead of him, but his son seems to be doing considerably better," Weiss said. "[Axford] had a tough spring with that situation. He's handled it very well. He got a chance to be there with them, for them. He kept his arm strong. It was a challenge, but he had to pick his spots. But really he hasn't missed a beat. He has thrown the ball very well for us."
Rondon, 27 years old, had made just one big league appearance prior to Monday's promotion, a scoreless inning for the Cardinals last season. The right-hander was acquired as a waiver claim in November, and he's allowed two hits and one run in 6 2/3 innings in five appearances for Albuquerque.
Colorado also reinstated David Hale from the 15-day disabled list and optioned him to Albuquerque. Hale was placed on the disabled list with a strained left oblique on April 5.
Barry M. Bloom is a national reporter for MLB.com and writes an MLBlog, Boomskie on Baseball. Follow @boomskie on Twitter. This story was not subject to the approval of Major League Baseball or its clubs.