Cubs recall Lake, option Schlitter to Triple-A Iowa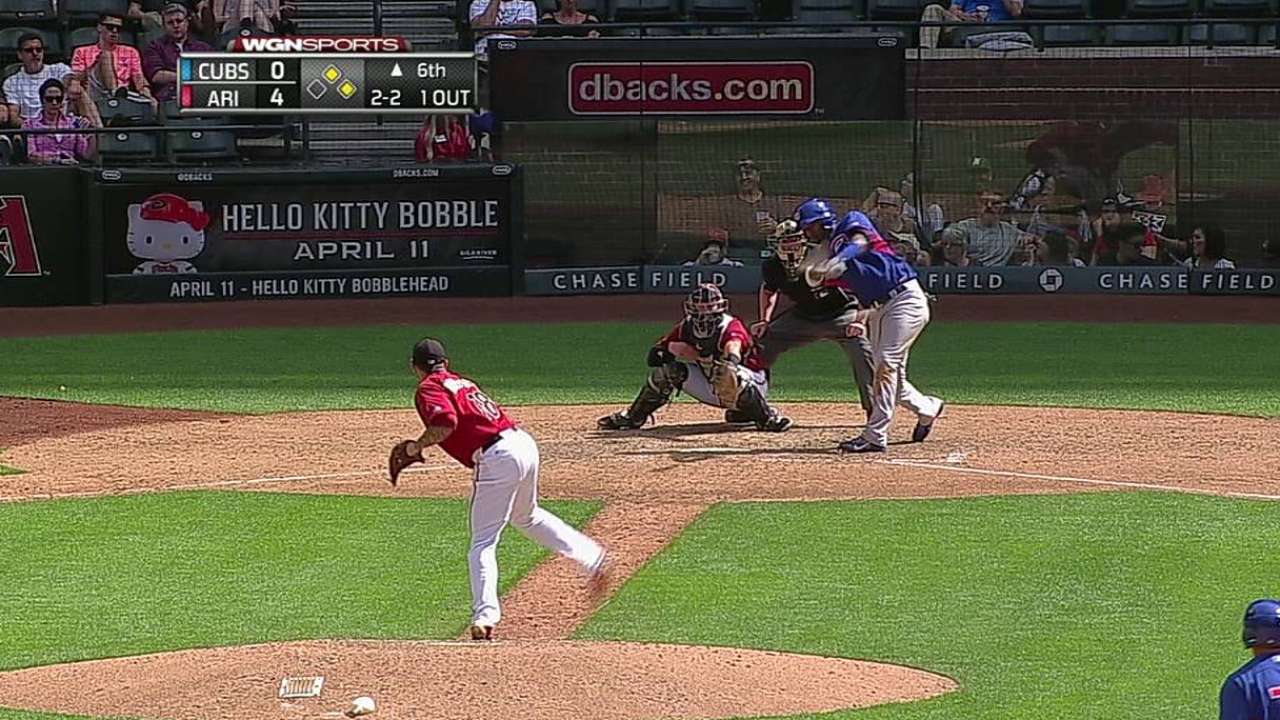 CHICAGO -- The Cubs recalled outfielder Junior Lake from Triple-A Iowa and optioned right-handed reliever Brian Schlitter to the Minor League team, trimming the number of pitchers on the 25-man roster to 12. Lake, 25, has primarily played outfield, but manager Joe Maddon says he won't hesitate to use him in the infield as well.
"We'll utilize him wherever, just like we do with everybody else," Maddon said.
Saturday's rainout in Cincinnati helped give the relievers a breather, and the bullpen is "back in order," Maddon said, which is why they can go with seven relievers.
• Maddon does not want to see the National League adopt the designated hitter. He's enjoying his first season full-time in the NL.
"I like the National League game," Maddon said. "I know by hitting the pitcher eighth, that's really creating even more controversy. The barroom has to be deluged with some really good stuff on a nightly basis when they think I'm stupid, which I think is great."
He's serious. He's glad to provide a topic for discussion.
"In this league, there's so much more to think about in planning," he said, citing the need to prepare relievers and know when to use the bench.
"All this stuff is conversation that I didn't have to have in the American League dugout," Maddon said.
• Javier Baez is at the club's complex in Mesa, Ariz., and should join Triple-A Iowa relatively soon, Cubs president of baseball operations Theo Epstein said.
"We're talking days, I think, not weeks," Epstein said Monday.
Baez will focus on second base and some shortstop. Epstein isn't thinking about a possible logjam at second with the arrival of Addison Russell in the big leagues.
"We've got a lot of guys with a lot of versatility and even that, there's the ability for all our core guys to fit on the field together at the same time if we get to a point where they're all up here together," Epstein said. "But that's thinking really far into the future. Right now, we just want to make sure guys have the ability to play multiple positions and Javy, get him back on the field."
• Double-A Tennessee's Dan Vogelbach was named Southern League Player of the Week for the second straight week. He batted .391 (9-for-23) with three doubles, three homers and 10 RBIs.
Carrie Muskat is a reporter for MLB.com. She writes a blog, Muskat Ramblings, and you can follow her on Twitter @CarrieMuskat. This story was not subject to the approval of Major League Baseball or its clubs.