MLB.com Columnist
Jonathan Mayo
Pair of Cubs top Prospect Team of the Week
Vogelbach hits three HRs, Schwarber drives in 10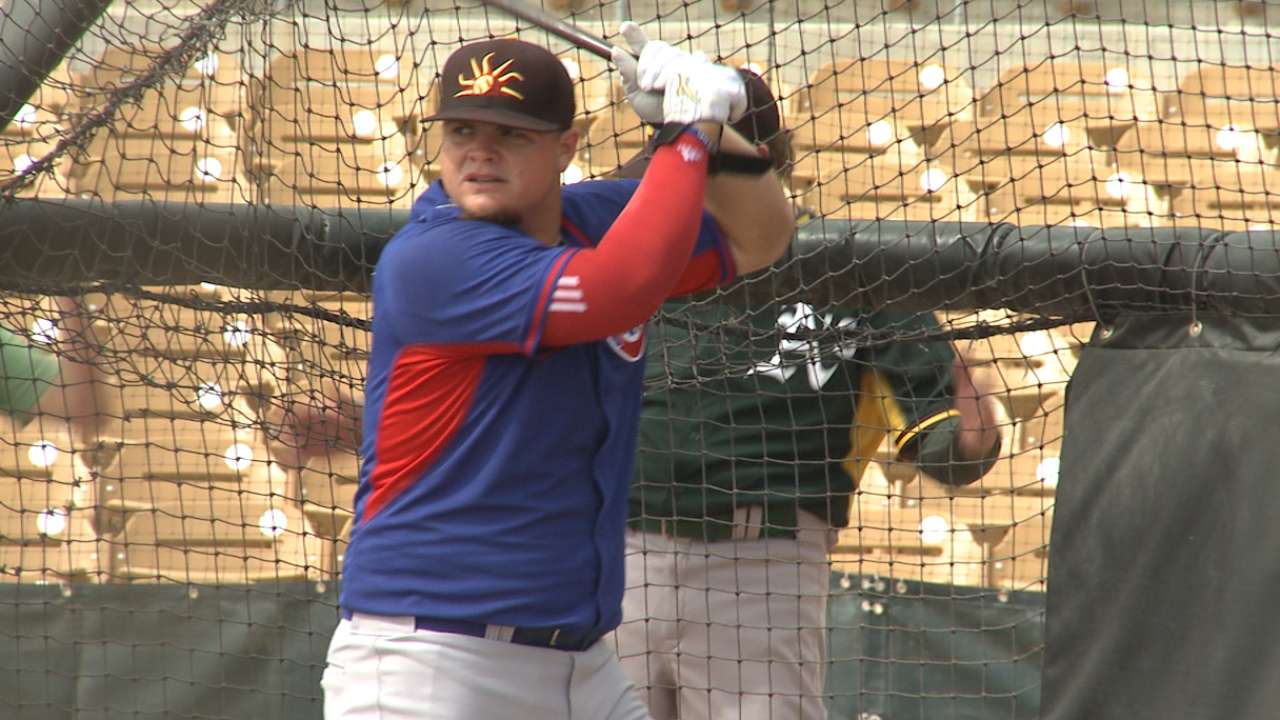 MLBPipeline felt that one Player and one Pitcher of the Week wasn't enough. So we'd like to introduce a new weekly feature: The Prospect Team of the Week.
Using performances from the past week's actions, the Pipeline staff has selected a player at each position to honor. The weekly all-star squad includes three outfielders, as well as one right-hander and one lefty on the mound. Any player currently on one of our rankings on Prospect Watch, including those currently in the big leagues, are considered for inclusion.
So, without further ado, the Pipeline Prospect Team of the Week for April 20-26:
1B: Dan Vogelbach, Cubs
6 G, .391/.517/.913, 3 HR, 10 RBIs
Making his Double-A debut this year, the Cubs' No. 15 prospect certainly hasn't had any trouble adjusting to the new level with the bat. He has hit in all but one of his 15 games, including hits in all six of his contests last week. The highlight was a five-RBI performance on April 22. He leads the Minors in OPS (1.293).
2B: Devon Travis, Blue Jays
5 G, .368/.429/.789, 2 HR, 4 RBIs, 1 SB
Getting hit in the ribs last Sunday didn't seem to deter the rookie second baseman. Travis returned on Wednesday with a three-hit game and his fourth home run of the season (He added his fifth on Friday). The No. 8 prospect in the Jays' system leads American League rookies in virtually every offensive category and is in the top five among all AL hitters in home runs (5) and RBIs (16).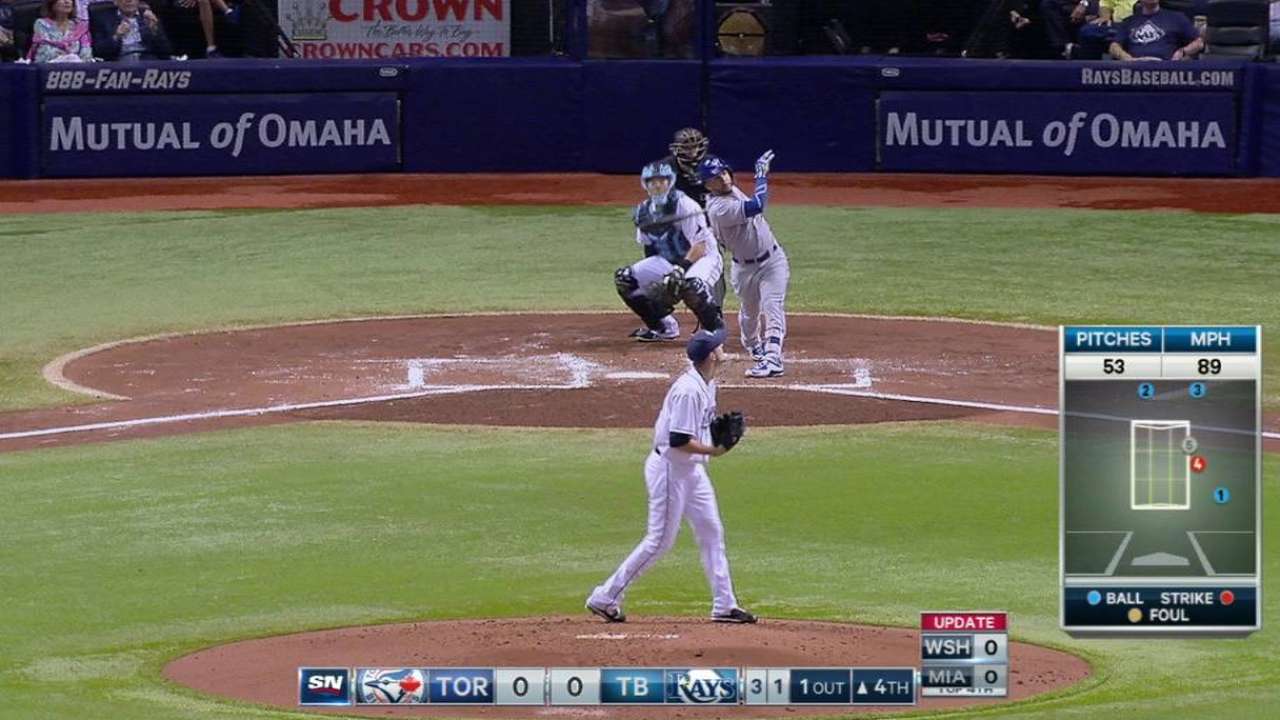 3B: Richie Shaffer, Rays
7 G, .333/.438/.741, 3 HR, 5 RBIs
The former first-round pick and No. 22 prospect of the Rays found his power stroke this past week, homering three times and picking up a pair of doubles to boot. Shaffer had three multihit games during the week and is now tied for the Southern League lead in home runs with four.
SS: Carlos Correa, Astros
5 G, .435/.435/.913, 3 HR, 7 RBIs, 1 SB
The No. 3 overall prospect, and No. 1 on the Astros' Top 30, Correa has hit pretty much out of the gate during his Double-A debut at age 20, which should surprise absolutely no one. This past week, the shortstop turned in multihit efforts in four out of his five games, including back-to-back three-hit performances (with a homer in each) to close out the week.
C: Kyle Schwarber, Cubs
6 G, .407/.433/.593, 1 HR, 7 RBIs
Schwarber paralleled his teammate Vogelbach with a big week in the Double-A Southern League. The 2014 first-rounder, ranked No. 48 overall and No. 4 on the Cubs' list, had three multihit games last week, joining Vogelbach on April 22 with a four-hit performance. The week's outburst raised Schwarber's batting average nearly 100 points.
OF: Clint Coulter, Brewers
7 G, .393/.469/.786, 3 HR, 9 RBIs
The former first-rounder, ranked No. 4 on the Brewers' Top 30, had a solid bounce-back season in 2014 and seems to be taking the next step this year while making the transition to the outfield. This past week, Coulter picked up five extra-base hits. An April 21 double-header resulted in five hits -- including two doubles and a home run -- to go along with four RBIs.
OF: Domingo Santana, Astros
5 G, .421/.476/.1.000, 3 HR, 5 RBIs
The Astros' No. 3 prospect (No. 70 overall) is trying to knock on the big league door from Triple-A Fresno. The outfielder had two huge games last week: a four-hit barrage, including a double and a homer on April 21, then a two-homer performance to close out the week on Sunday. His five homers for the season puts him in a tie for fourth in the Pacific Coast League.
OF: Peter O'Brien, D-backs
7 G, .385/.448/.846, 3 HR, 6 RBIs
O'Brien, the No. 8 prospect in the D-backs organization, is now playing the outfield every day after the D-backs had hoped he'd be their catcher of the future. Regardless of his position, it's his power that Arizona really wanted and it was on display last week as he homered in his first three games of the week. His six homers for the season are tied for second in the PCL, as are his 18 RBIs.
RHP: Jaime Schultz, Rays
2 G, 2-0, 0.80 ERA, 12 IP, 7 H, 1 ER, 3 BB, 17 K, .171 BAA
Schultz, recently added to the Rays' Top 30, has been a solid part of the Double-A Montgomery rotation. He tossed six hitless innings in his first start of the week, walking three and striking out eight. He followed that up by allowing one run on seven hits over six frames on Saturday, fanning nine while not walking a batter. He currently leads the Southern League in strikeouts.
LHP: Stephen Gonsalves, Twins
1 G, 1-0, 0.00 ERA, 7 IP, 1 H, 0 ER, 1 BB, 11 K, .045 BAA
The lefty ranked No. 11 on the Twins' Top 30 is building a case that he'll deserve a bump up to the Florida State League soon. He made just one start this past week, but it was a masterpiece, allowing just one hit over seven shutout innings, walking one and striking out 11. He's allowed just two earned runs over 20 total innings this season, with a ridiculous 30:2 K:BB ratio over three starts.
Jonathan Mayo is a reporter for MLBPipeline.com and writes a blog, B3. Follow @JonathanMayoB3 on Twitter. This story was not subject to the approval of Major League Baseball or its clubs.