MLB.com Columnist
Lyle Spencer
Angels doing Hamilton a favor with trade to Rangers
Texas best place for slugger to work on restoring reputation and finding peace of mind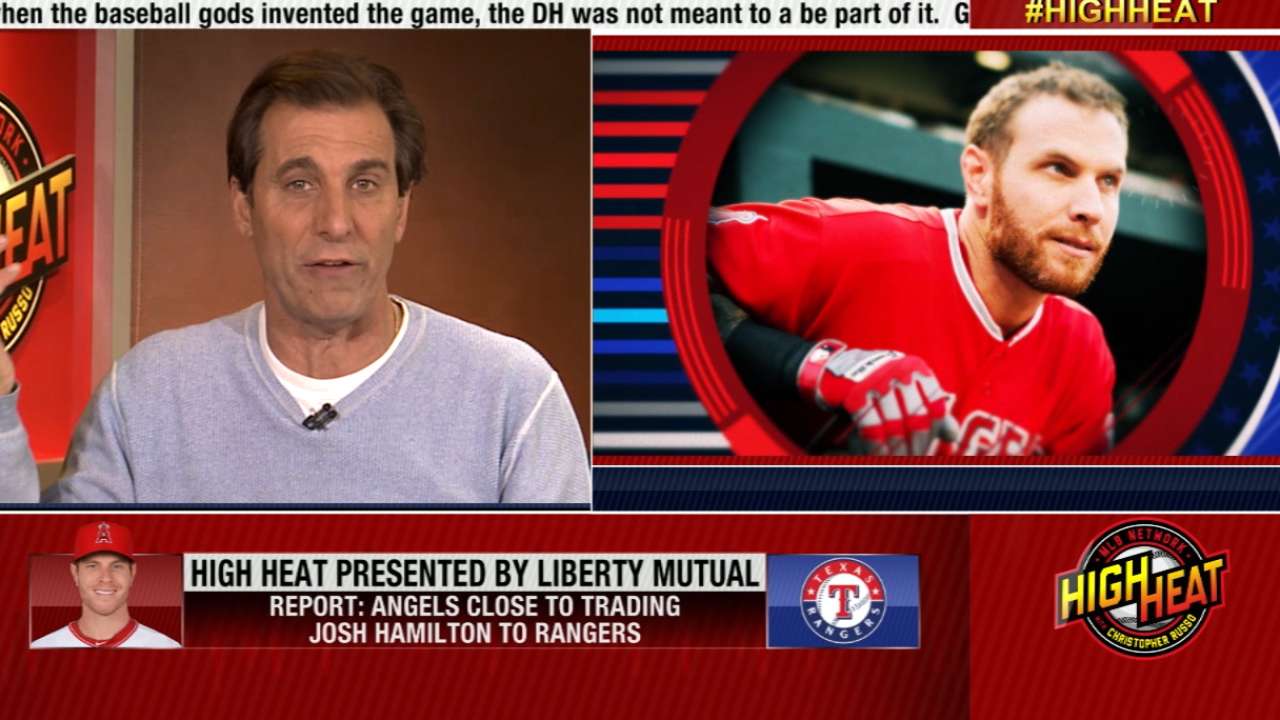 The return of Josh Hamilton to the Rangers, where he found himself and became a superstar after a long, hard road through substance addiction, is a swap unlike any other that comes to mind.
The Angels are picking up an enormous tab on what's left of the outfielder's $125 million contract to get it done, and the prevailing reaction is that they are doing it simply to get rid of a problem.
There is another relatively unexplored possibility here. Perhaps there is an element of generosity involved. Perhaps they are willingly doing Hamilton a favor. It certainly looks that way.
With all the negativity surrounding the athlete in Southern California, Texas obviously is the best place for Hamilton to begin the task of restoring his reputation -- and finding some peace of mind.
Former Rangers teammates such as Adrian Beltre and Elvis Andrus will welcome Hamilton with open arms. The pressures and expectations of Southern California created by his huge contract -- $83 million left on his five-year deal -- will be gone. Hamilton will be free to just play, in a place where he has made sweet music.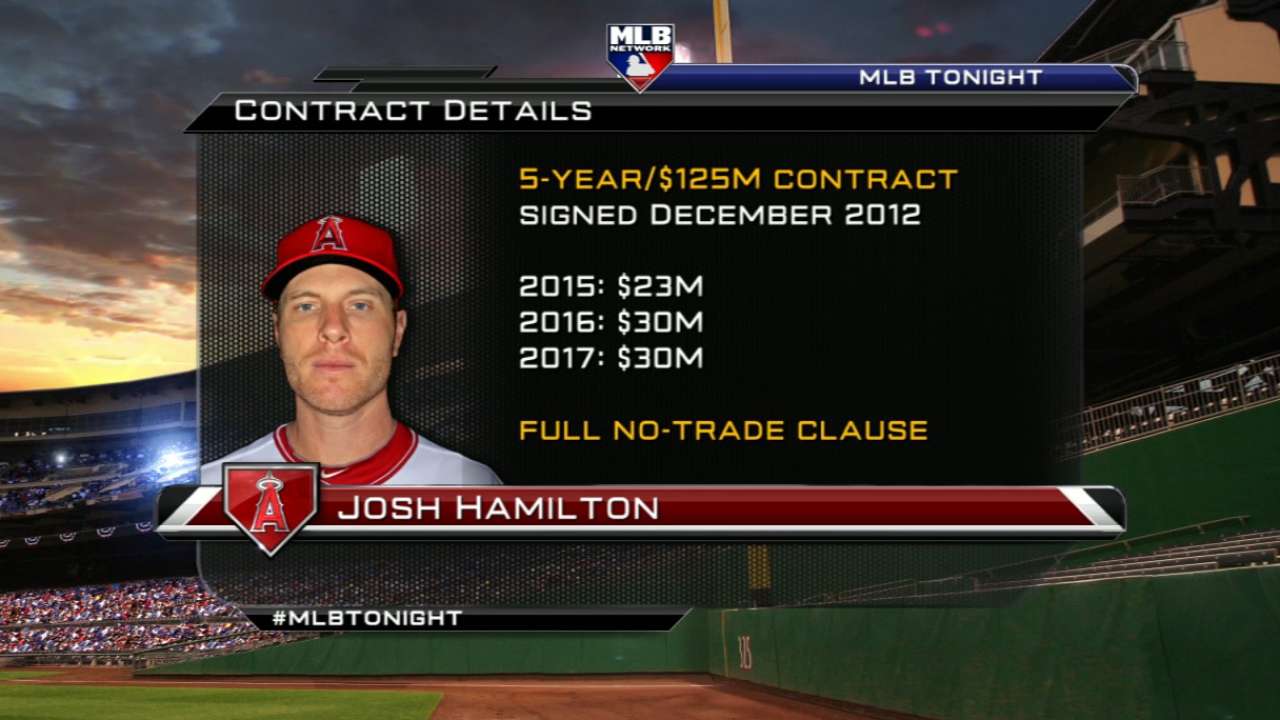 On the surface, moving a former American League Most Valuable Player Award winner to the place where he is most likely to be comfortable, inside the AL West, is not just puzzling -- it is extremely risky business.
Hamilton could find himself again and haunt the Angels with a bat that makes loud noises when he's feeling good. Either Angels management doesn't believe it will happen or it is willing to accept that risk and live with it.
What goes on behind the scenes among decision-makers is anyone's guess. It is entirely possible that we'll never know the full scope of the issues between Hamilton and the Angels.
What we do know is that Hamilton did not perform anywhere close to his potential in his two seasons in Anaheim, unable to live up to his salary-driven expectations.
Angels lefty C.J. Wilson, who knows Hamilton well from their time together in Texas, voiced an honest opinion that none of this would have happened if Hamilton had produced at his former MVP level with the Angels. Wilson was right, but it rubbed some folks wrong.
The raw nature of emotions in this highly unusual case is part of what made his prospective return to the Angels so uncomfortable for all parties.
When Hamilton is on track and in a groove playing a game he loves with skills few can imagine, he is an easy guy to like. Teammates embraced him when he was a Ranger, and they embraced him as an Angel. Hamilton has been open, maybe to a fault, about the full history and nature of his addiction issues.
While Hamilton's brutal honesty is admirable, the flip side is that it leaves him open as a target of suspicion when he goes into a funk -- as in his painful struggles in a hitless postseason performance against the Royals in the AL Division Series last October. He was dealing with a shoulder injury, but with Hamilton, the elephant never will leave the room.
Addiction always will be a hot-button issue in sports, as in society at large. Disease or weakness? The debate goes on, unabated and unresolved, professional opinions notwithstanding.
The disappointment of Angels management in Hamilton's latest relapse and the on-field issues it created are understandable.
How uncomfortable has Hamilton been at Angel Stadium? All 10 of his home runs and 28 of his 44 RBIs last season came on the road. Hamilton hit .249 with a .302 slugging percentage at home compared to .278 and .527 on the road. During his 2010 AL MVP Award-winning campaign for the Rangers, he hit .390 with a .750 slugging mark in Texas, with 22 of his 32 home runs at home.
The club was counting on Hamilton to deliver muscle from the left side in a predominately right-handed lineup, and it wasn't there. The lineup's struggles to generate runs can be traced to other absences as well -- Mark Trumbo and Howie Kendrick departed in consecutive seasons -- but Hamilton is the easy culprit.
If the Angels grew convinced that it simply was not going to happen for Hamilton, and that it was a significant distraction, moving him was the only logical option. He wasn't going to walk away from $83 million.
But how many teams would be willing to take Hamilton on at this point? Only the Rangers apparently figured it was worth a comparatively small investment -- less than $10 million -- given the possible bonanza of a return if he does recover his former skills and mindset.
While the Angels were in Houston, where Hamilton has been working out in his recovery from surgery on the shoulder, Wilson visited his old friend 11 days ago and said Hamilton looked "chiseled," ready to go. Other Angels players have said they are pulling for the man, hoping he makes it all the way back.
Having already met six times, the Angels taking four games, the rivals don't meet again until July in Texas. The middle game of the three-game series will be on the Fourth of July. Fireworks, anyone?
Lyle Spencer is a national reporter and columnist for MLB.com. Follow him on Twitter @LyleMSpencer. This story was not subject to the approval of Major League Baseball or its clubs.