Trade complete, Hamilton's Angels tenure ends
Slugger returning to Rangers after financial details of deal get ironed out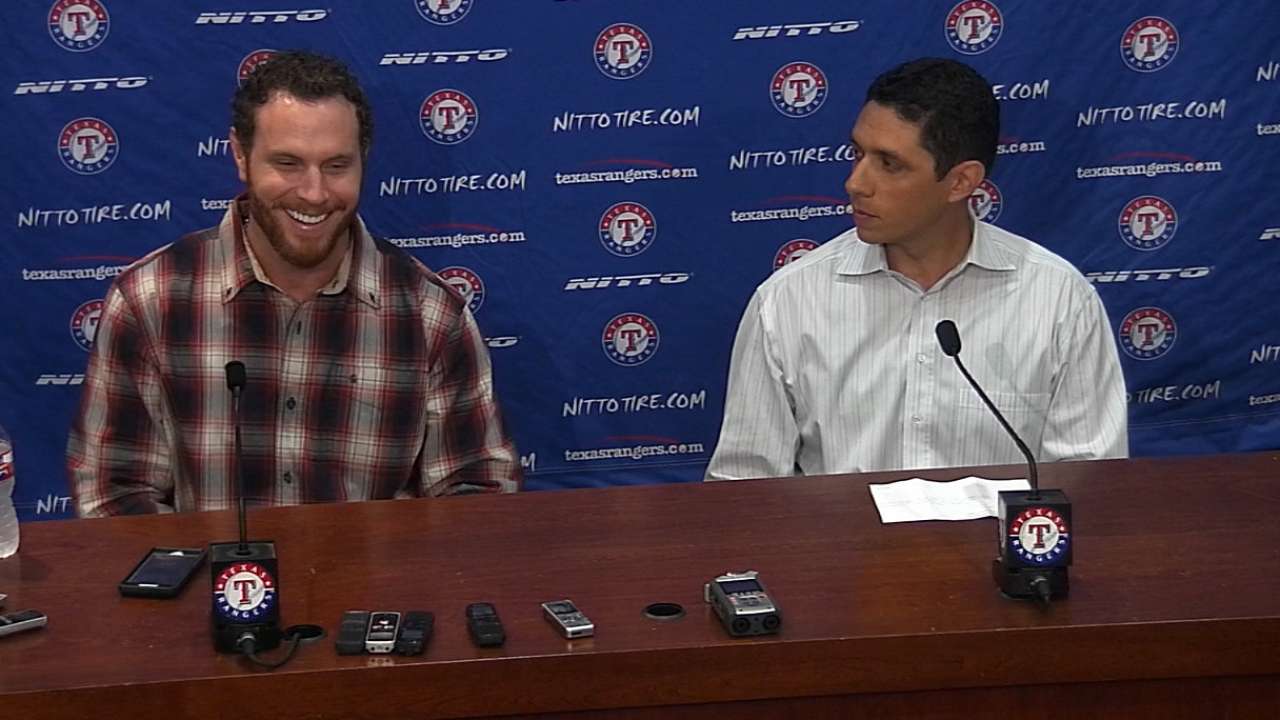 ANAHEIM -- Whatever it is that ultimately happened between the Angels and Josh Hamilton -- from the drug relapse to the hurt feelings to the other parts of this saga that may still not be public knowledge -- it's over.
The Angels have turned the page, a very expensive one, on Hamilton's tumultuous tenure in Southern California.
On Monday, they completed a trade that sent the embattled outfielder back to the Rangers organization for which he once thrived. In exchange, the Angels were able to save roughly $20 million on Hamilton's contract, which was originally set to pay him $83 million through the 2017 season, and were able to move on.
"As an organization, this is not what we envisioned this experience to be," Angels general manager Jerry Dipoto said on a conference call. "It didn't work out on the field, it didn't work out off the field. We're in a position now where it's best for us to just move on and focus on what comes next, rather than what's occurred."
The Rangers are expected to pay the Angels $2 million to $3 million in each of the remaining three years of Hamilton's contract, and Hamilton himself relinquished roughly $12 million while restructuring his deal, which is made up for by the fact Texas has no state income tax. Hamilton will also be able to opt out of his deal after 2016, though it's unlikely that he will.
The Angels talked through a variety of scenarios with Hamilton's representatives over the last three months, but a trade to the Rangers "is the one that always made the most sense for everybody," said Dipoto, who couldn't comment on specifics.
During his introductory news conference at Globe Life Park, Hamilton said if he had to do it over again, "I probably wouldn't have gone anywhere; I probably would've stayed here."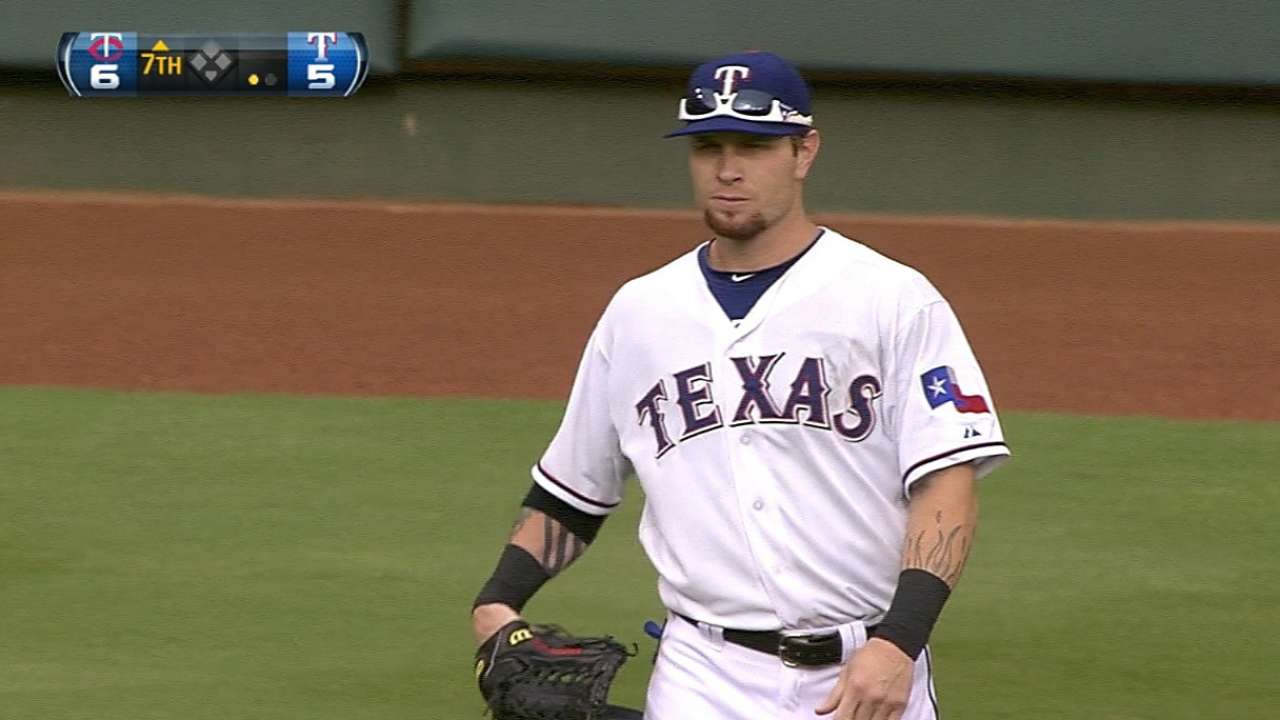 "When it was made aware to me that the Angels wanted to move me, my first choice was the Rangers," Hamilton added. "I've had a lot of good memories here."
Monday's trade put an end to what had evolved into an uncomfortable, contentious scenario that was sparked by a drug relapse late in the offseason.
Hamilton had spent the entire year in Houston, rehabbing from Feb. 4 surgery to his right shoulder while staying away from the team. The club did not issue the 33-year-old a locker at its Spring Training facility or at Angel Stadium, where all his merchandise and likeness was promptly removed, and never really welcomed him with open arms.
On April 3, when an arbitrator ruled that Hamilton's self-reported relapse did not violate the terms of his treatment program, president John Carpino said the ruling "defies logic" and Dipoto expressed the club's "disappointment" with a statement. Before the home opener on April 10, Angels owner Arte Moreno declined to say Hamilton would play for his team again and added that he hasn't spoken to Hamilton since the end of the 2014 season.
Asked why, Moreno said, "Probably disappointment."
"I think that's probably the biggest word here," Moreno added then. "We understand that he's had struggles, and obviously he's still having struggles, but the reality is there's accountability. When you make an agreement, you need to stand up."
Hamilton's response, when asked about those comments at his press conference on Monday: "Yeah, I have no clue what he's talking about."
"Going into this season, I hadn't been the player that they wanted me to be," Hamilton continued. "I know I hadn't been. But I worked my butt off to be that guy, this year, going into the season for the Angels. They just didn't want that to happen, for some reason.
"It doesn't hurt my feelings, it doesn't make me mad or anything like that. But I prepared. [Moreno] knew what the deal was when he signed me. Hands down. He knew what he was getting, he knew what the risks were, he knew all those things. Under the [Joint Drug Agreement], it is what it is."
Hamilton was later asked if he'd still be with the Angels if they had been more accepting of his relapse.
"I would be," Hamilton said. "I would've been in Spring Training, I would've rehabbed in Spring Training and I would've been playing probably a month ago."
Hamilton -- the No. 1 overall Draft pick out of high school in 1999, before drug and alcohol addiction kept him out of baseball for three years -- tapped into his potential with the Rangers from 2008-12.
Hamilton started five straight All-Star Games, played in back-to-back World Series, won the American League's Most Valuable Player Award and batted .305/.363/.549 in that five-year span, averaging 28 homers and 101 RBIs per season.
But his production slipped considerably after signing a five-year, $125 million contract with the Angels in December 2012. He batted .255/.316/.426 with an average of 16 homers and 62 RBIs over the last two years, capping his run with an 0-for-13 performance in an AL Division Series sweep to the Royals.
"From the moment he got here," Dipoto said, "there has been turbulence."
Rangers general manager Jon Daniels expects Hamilton to be back on the field by the middle or end of May. He's restructured some things with his personal life, filing for divorce from his wife, Katie, and getting back to the support group he had before the 2012 season. Hamilton said he's now getting tested five times a week, up from three, and has done "a lot of learning and soul searching over the past few weeks."
"Baseball is coming to an end soon," Hamilton said, "and the reason I'm making certain changes in my life is because I want to be OK when baseball is over."
The Angels next play the Rangers in Arlington July 3-5, and Hamilton is slated to return to Angel Stadium July 24-26.
Dipoto was asked if this was a move that would come back to haunt the Angels.
"Why would it come back to haunt us?" Dipoto asked, to which the response was that he was trading Hamilton to a division rival and an organization that helped make him a star.
"Again," Dipoto said, "we're comfortable with the decision here."
Alden Gonzalez is a reporter for MLB.com. Read his blog, Gonzo and "The Show", and follow him on Twitter @Alden_Gonzalez. This story was not subject to the approval of Major League Baseball or its clubs.