In Puig's absence, Dodgers need someone to provide spark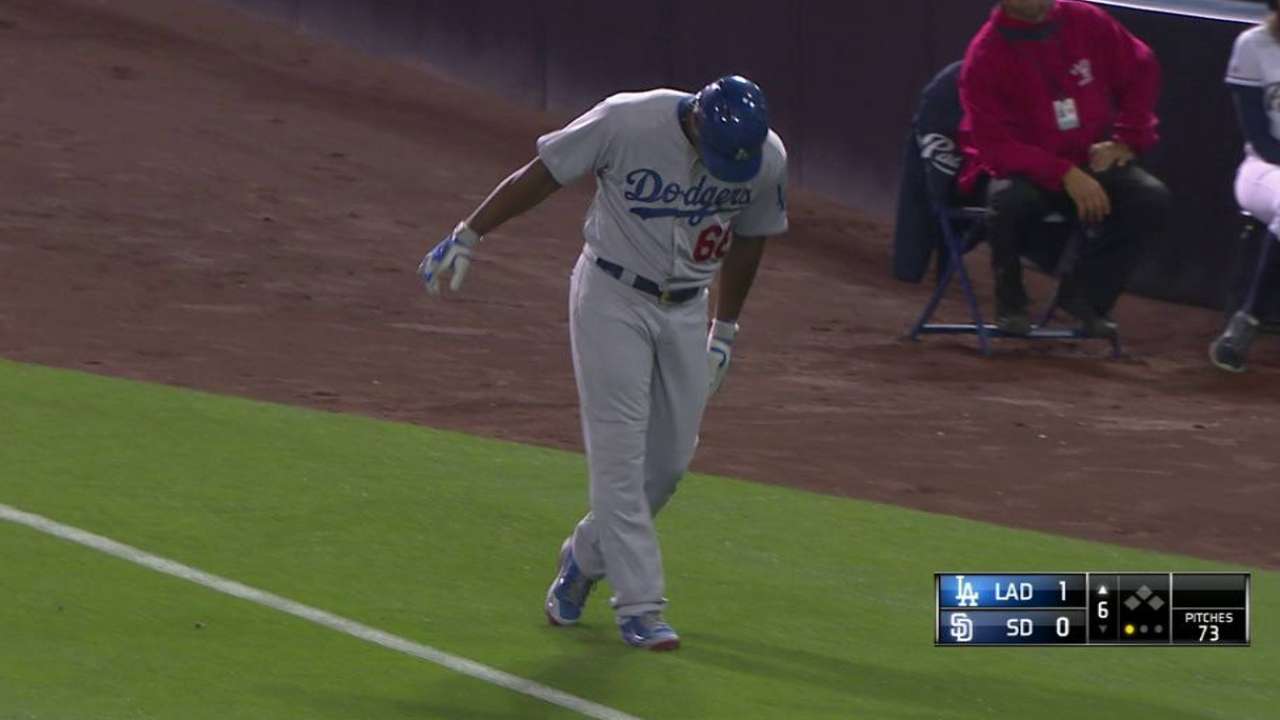 The Los Angeles Dodgers had been reasonably healthy this young season until Sunday. Yes, Kenley Jansen and Hyun-Jin Ryu have spent the entire season on the disabled list, but the team hadn't lost a non-pitcher before Sunday.
On Friday, while trying to run out a ground ball, Yasiel Puig reaggravated the troublesome hamstring that had been bothering him for the past two weeks. Although he said he feels like he could play within four or five days, making his first trip to the DL is the best move for both him and the Dodgers.
Also on Sunday, the Dodgers placed veteran reliever Joel Peralta on the disabled list. He had been ineffective in his last few outings. Peralta has a "dead arm," plus a neck strain. Putting him on the disabled list allowed the Dodgers to call up swingman Carlos Frias, who might be needed to start on Friday.
The Dodgers lead the National League in many offensive categories, but on the just-completed road trip, they didn't score more than three runs in any game except for Saturday and came home with four losses.
Yes, Puig can be frustrating when he misses the cutoff man and allows a run to score or when he runs the Dodgers out of a potentially big inning. However, he can make a game-changing play at any time. And after a slow start offensively, Puig was beginning to swing the bat well at the time of his injury.
Andre Ethier can play right field well and has been contributing to the offense well since the beginning of the season. Against left-handed pitchers, Scott Van Slyke can play there, because he hits better against left-handed pitchers than Ethier. However, neither brings the intensity to the lineup that Puig does.
The Dodgers are mostly a veteran club. Their players mostly perform professionally and don't show much emotion. This is good since the baseball season is filled with ups and downs. But sometimes a team needs an emotional sparkplug to remind the players that baseball is a game to be enjoyed. Puig is that player for the Dodgers.
While Puig is out, Alex Guerrero should play in left field against left-handed pitchers when manager Don Mattingly likes to rest Carl Crawford, who has a history of leg injuries.
So far this young season, Guerrero's play has muted the criticism of his refusal to return to the Minor Leagues. His production (in 19 at-bats, he has hit four home runs) boggles the mind. Although Mattingly argues that Guerrero hasn't had enough playing time to let the opposing pitchers learn how to get him out yet, he has shown that he deserves more playing time.
I want to see whether Guerrero will adjust when the pitchers figure how to get him out. This is what makes a good Major Leaguer. The Dodgers must have seen something that impressed them when they gave him a four-year, $28 million contract after the 2013 season.
It is understandable that Mattingly doesn't want to put Juan Uribe on the bench to allow Guerrero to play. An extremely popular player in the Dodgers' clubhouse, Uribe is a good defender at third base. During his 14-year career, he has demonstrated an ability to perform in the clutch. After a slow start offensively, Uribe has begun swinging the bat better.
Sitting Uribe to give Guerrero more playing time isn't the answer, but in Puig's absence, Mattingly needs to figure out how to insert Guerrero in the lineup until he proves he can't make offensive adjustments.
Sarah D. Morris can be reached at sarahmorris27@gmail.com. This story was not subject to the approval of Major League Baseball or its clubs.