Hughes makes quick work ending D-backs' rally
Reliever induces double play with two pitches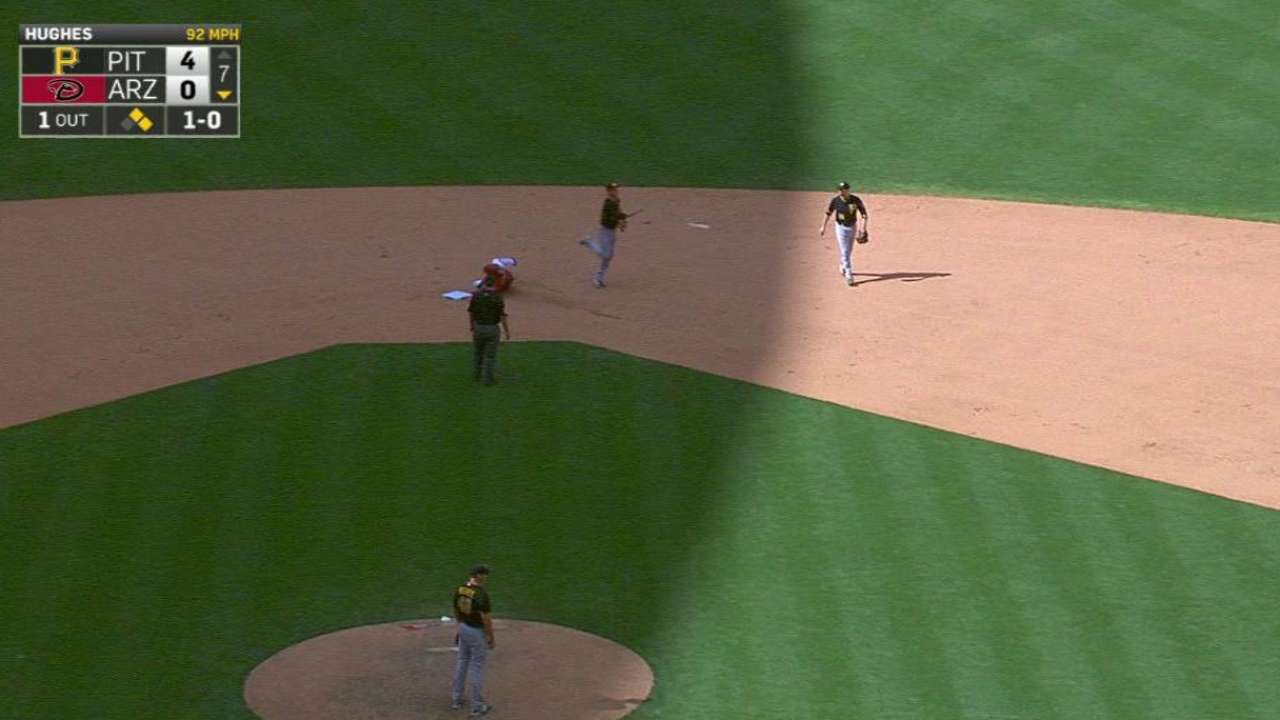 PHOENIX -- Jared Hughes threw 16 pitches in the visitors' bullpen. Then he took six more warmup pitches after arriving atop the Chase Field mound.
By Hughes' own admission, he was overprepared for his day's work.
Taking over for Francisco Liriano after the Pittsburgh lefty had walked two men with one out in the seventh, Hughes faced Aaron Hill, and his first pitch was a ball.
Hughes' second pitch was bounced to second baseman Neil Walker for the start of an inning-ending double play.
There was no third pitch.
"We've seen him do it before," manager Clint Hurdle said, with a shake of the head. "We don't take it for granted. But that's really good stuff."
Although the Bucs would eventually salt away the game, 8-0, Hughes walked into a stressful situation. The Pirates' lead was 4-0, meaning the potential tying run was on deck while he faced Hill.
"There was no save involved in this game," said Hurdle, alluding to the final eight-run margin, "but if there's a partial save to get, he would've gotten one today."
Two outs on two pitches nearly qualifies as Hughes' normal M.O. Two weeks ago, against Detroit in the Bucs' home opener, he matched that ratio, getting three outs on three pitches -- he'd entered with the bases loaded and none out, got a first-pitch double play from Nick Castellanos, and needed two more pitches for the third out.
"As a ground-ball guy," said Hughes, whose money pitch is the sinker, "I'm going to go in there attacking the zone, and a lot of times that means early contact. A lot of times they swing early, because they know it's going to be a pitch most in the zone of any they'll see.
"Early-action ground ball … that's my goal every time. That and low pitch counts is what I'm going for, for sure."
Touching all the bases
• First: In their last seven games in Chase Field, the Pirates have totaled 37 runs -- with 23 of them coming in the seventh inning and later.
• Second: Mark Melancon picked up saves on three consecutive days for the first time in his career in the Thursday finale of the Cubs series in PNC Park, then the Friday-Saturday games against Arizona.
• Third: The series sweep was the Bucs' second of this season (April 17-19 over the Brewers). In 2014, they did not notch their first sweep until Independence Day weekend, over the Phillies.
• Home: Andrew McCutchen stopped his hitless drought at 16 at-bats with a fifth-inning single, after drawing walks his first two times up. McCutchen is batting .186 with an on-base percentage of .322 with nine walks -- 25 percent of the entire team's total
Tom Singer is a reporter for MLB.com and writes an MLBlog Change for a Nickel. Follow him on Twitter @Tom_Singer. This story was not subject to the approval of Major League Baseball or its clubs.