Power Rankings: Pitching keeps Mets at top as Astros surge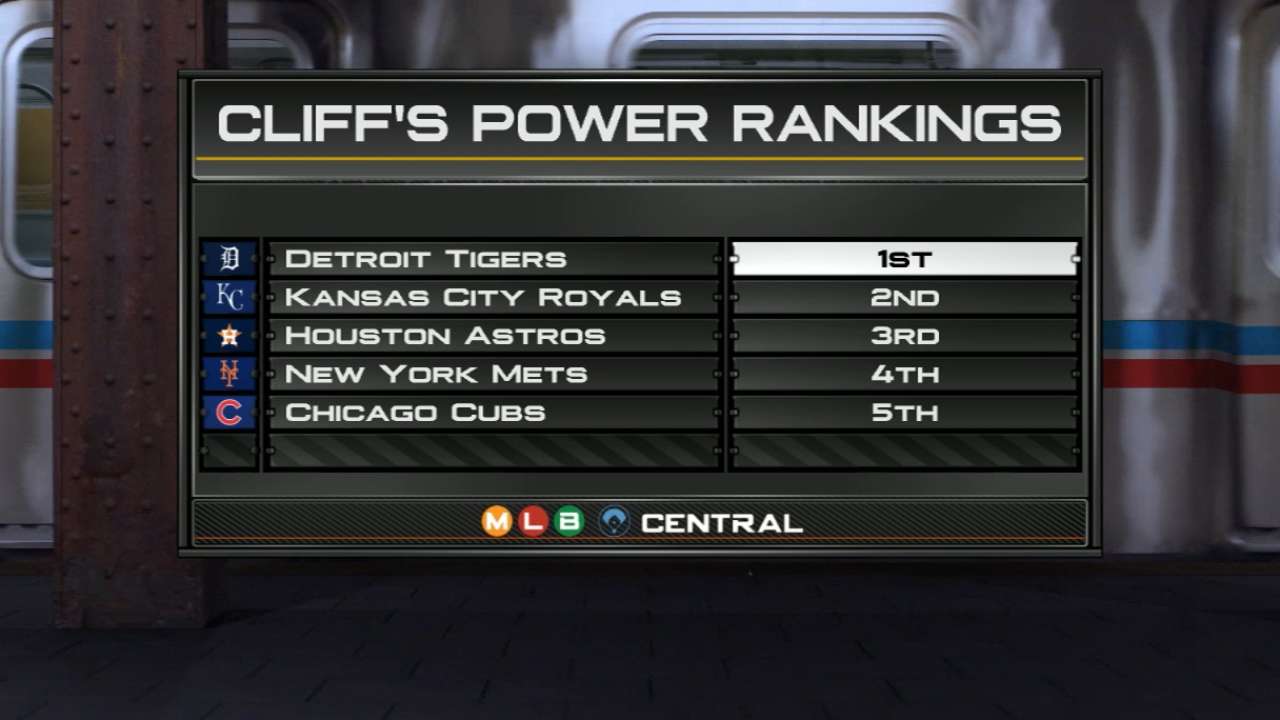 Week three is in the books, and while the usual suspects are still taking up residency in the top five of the MLB.com Power Rankings presented by The All-New Chrysler 200, some mild surprises are hanging around the middle of the pack.
While we're still fairly certain the Nationals and their absurdly deep rotation will be deep in a division race come September, so far, the Mets have given us no reason to knock them from the top spot. Also, the Yankees, after a not-so-hot first week, have settled in nicely -- in the middle of the pack in the AL East, and also in our rankings.
In our top 20 are a few pleasant surprises, including the Rockies and Braves. Show of hands -- who thought the Astros would be the only team over .500 in the AL West with most of April complete?
Biggest jump: Astros. Unranked, then barely ranked, and now a force to be reckoned with. The Astros are slowly building toward something they believe will be special in the next year or so, but what they're experiencing now -- a fast start -- hasn't happened in years. They're fresh off a sweep of the A's, which followed taking two of three from the Mariners. And they've been doing this on the road.
Biggest fall: Orioles. They dropped from sixth to 14th, but they did end the week with two convincing wins over the Red Sox. It would be silly to label a team "streaky" 19 games into the season, but well, the O's losses do tend to come in bunches. Lots of good teams are somehow struggling just to get to .500, including Baltimore.
Our top five:
1. Mets (5th last week): Truthfully, it's about two months too early to start really looking at the standings in earnest, but you can't help but notice how gaudy the NL East looks. Talk about clicking on all cylinders -- the Amazins still have yet to lose at home. What's working for them? Everything. How good is the pitching staff? Most of the attention goes to Matt Harvey -- and with good reason -- but he actually has the second-highest ERA of the five rotation regulars. It's been a team effort, as they say, but pitching rules -- and the Mets have plenty of it.
2. Tigers (1st): We're probably going to spend much of the season suspicious of the bullpen, just because, well, it's the Tigers. But Detroit fans couldn't have asked for a better start to the season, thanks in large part to a blistering offense that, so far, has taken some of the attention away from a mixed-review rotation. It's early, sure, but the Tigers have done pretty well for themselves in the past with a Miguel Cabrera-led lineup. So far it's looking as if it's going to be a delightful dogfight between the Tigers and Royals in the AL Central.
3. Dodgers (3rd): They're still in our top five, but. ... Let's just say we have one eye on the transaction page. It's not been a great week for the Dodgers. Yasiel Puig's hammy is strained. Joel Peralta's having neck and arm issues. Brandon McCarthy's elbow is tight. Still, the Dodgers are the Dodgers, and even after being swept by the suddenly surging Giants, it would be silly to panic this early. Even with a bad week, the Dodgers are sitting atop the NL West standings.
4. Royals (2nd): Seems everyone's talking about the Royals these days, and yes, it may have more to do with their rather unpleasant exchanges with a couple of opponents in recent weeks than anything that has to do with actual baseball games. But it should be noted the Royals are playing great. It helps that five everyday players entered Sunday's game hitting over .300, led by Lorenzo Cain and his eye-popping .390/.471/.593 slash line and a 1.065 OPS. On the pitching side, the Royals' bulletproof 'pen picked up right where we left them last October.
5. Cardinals (2nd): A division race without Adam Wainwright? Ouch. The Cardinals are toying with several options as possible replacements for Wainwright, but really, it's more about replacing his spot in the rotation and not so much about actually replacing him, which would seem impossible. Still, the Cards have a sound lineup, a good bullpen and organizational depth. Not every team can survive losing its ace, but St. Louis may be able to pull this off.
And the rest: 6. Astros (20th) 7. Cubs (9th) 8. Rays (no ranking) 9. Pirates (17th) 10. Yankees (16th) 11. Rockies (14th) 12. White Sox (no ranking) 13. Red Sox (7th) 14. Orioles (6th) 15. Padres (8th) 16. Angels (12th) 17. Braves (11th) 18. Mariners (19th) 19. Blue Jays (18th) 20. Nationals (13th).
Alyson Footer is a national correspondent for MLB.com. Follow her on Twitter @alysonfooter. This story was not subject to the approval of Major League Baseball or its clubs.