With Street taking day off, Smith can't get final out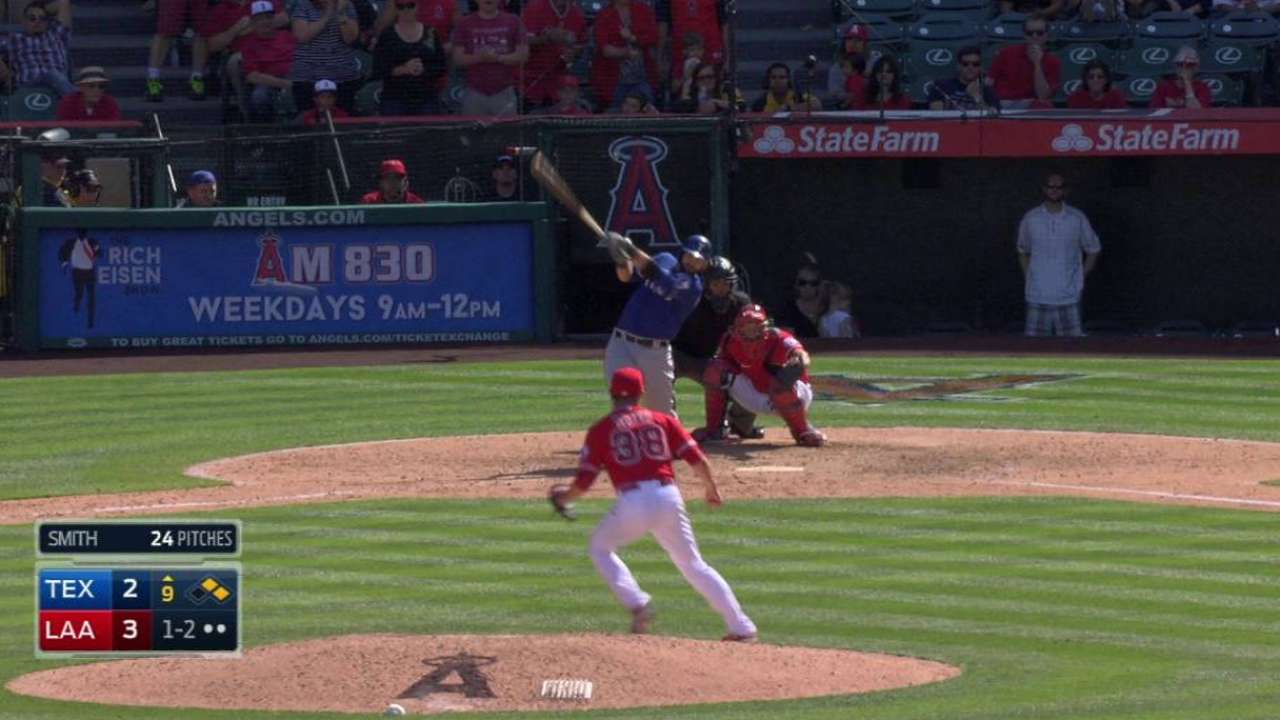 ANAHEIM -- The Angels are 7-0 when closer Huston Street pitches this season.

But Sunday was his day off, after Street saved three games on three consecutive nights, and needed 66 pitches to do it.

The Angels turned to eighth-inning specialist Joe Smith in the ninth inning with a one-run lead on the Rangers. Twice, Smith came a strike from ending the game and extending the Angels' winning streak to four games.

But the second time, Mitch Moreland delivered a game-tying RBI single, and the Rangers went on to win, 5-4 in 11 innings to avert a sweep at Angel Stadium.

"Joe was throwing the ball well, but just couldn't get the last out," manager Mike Scioscia said. "We were very confident with Joe out there. He had an incredible run closing games for us last year. It just didn't happen today."

Early last season, Smith moved from pitching the eighth to taking over the closer role and had 15 saves before the Angels obtained Street from the Padres. Smith's back pitching the eighth most nights, but when Street's not available, he's the leading candidate to close.

"Today, I did not do the job," said Smith, who got two quick outs in the ninth before Prince Fielder went the opposite way for a single. Adrian Beltre followed with an infield single on a 1-2 pitch. And Moreland got the Rangers even, also on a 1-2 pitch.

"On Prince [Fielder], I went up and away, and he kind of slapped it in the gap to get things started," Smith said. "I was trying to come in on Moreland, and I left it over the middle."

Smith said he looks forward to closing when Street needs a day off.

"Yeah, it's fun," Smith said, "but obviously it's more fun when the whole bullpen is out there. Everybody needs a day off, I had mine yesterday."

The Angels (9-10) had to use a lot of their bullpen in the four-hour, 13-minute game, that because starter Hector Santiago walked a career-high six (one intentional), and had to come out after 109 pitches with two outs in the sixth inning -- the same juncture C.J. Wilson came out Saturday night.

"Hector got himself into trouble, and he got himself out of trouble," Scioscia said. "Command was an issue today. His stuff looked good, but at times he had trouble with his release point, and his pitch count went up quickly."

The first of two errors by shortstop Erick Aybar -- a popup lost in the sun in the second inning with two outs -- didn't help Santiago's cause. The Rangers scored their first run (unearned) when Santiago hit Rougned Odor with a pitch with the bases loaded. A Moreland sacrifice fly cashed off a leadoff walk in the third inning.

"I was good early, and good late," Santiago said. "Sometimes, I was trying to be too aggressive. I had a lot of movement today."

Santiago added that "everyone wants to pitch into the seventh or eighth," especially after the bullpen was worked as hard as it was in the winning streak, but "after the error, I made 12 more pitches that inning. I was trying to do it myself too much. That happens sometimes when you're trying to pick up your teammate [Aybar]."

Aybar's second error, in the 11th, allowed the Rangers to score a second run in that inning, after left-hander Jose Alvarez gave up a go-ahead homer by Leonys Martin.

That second run in the 11th proved to be the difference after Aybar drove in a run in the botttom of the inning, but Neftali Feliz was able to halt that Angels rally.

"Erick had an uncharacteristic day at shortstop," Scioscia said of Aybar, a first-time All-Star in 2014.
Earl Bloom is a contributor to MLB.com. This story was not subject to the approval of Major League Baseball or its clubs.