Angels waiting on Hamilton-trade-to-Texas announcement
Deal for outfielder could be finalized by Monday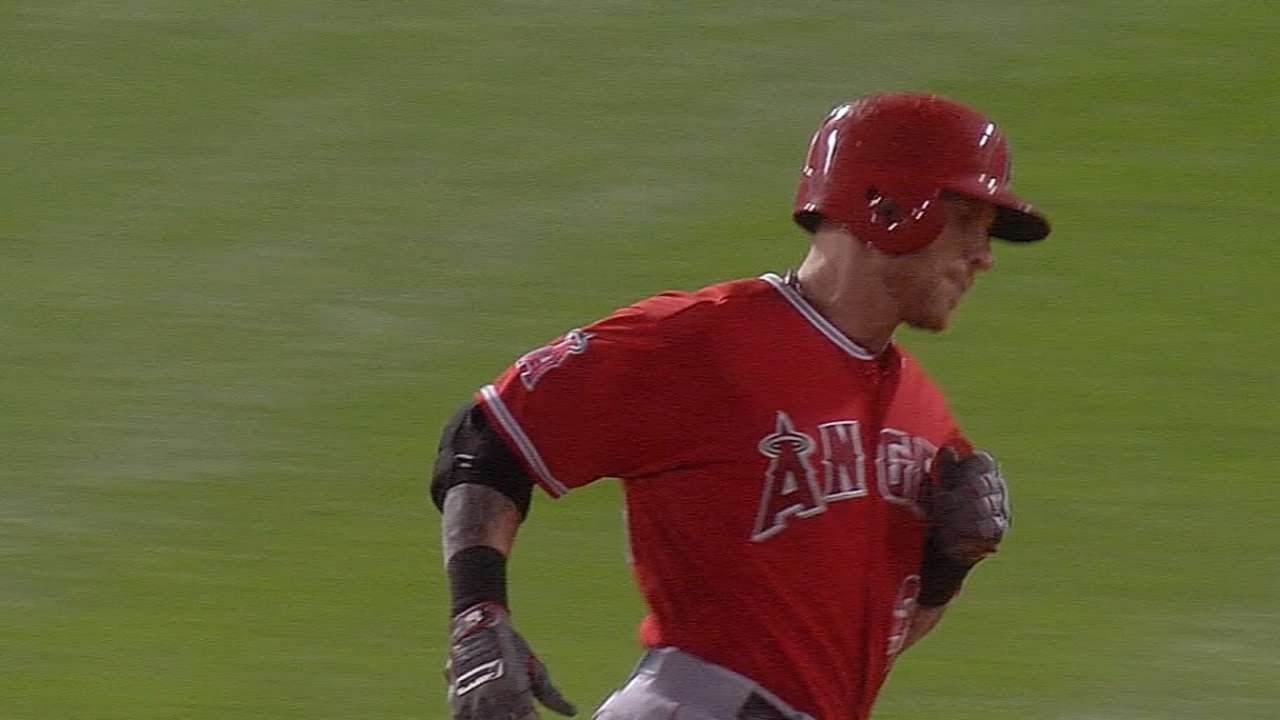 ANAHEIM -- No announcements were expected as of late Sunday afternoon, more than 48 hours after news first broke that the Angels and Rangers had a deal in place to send Josh Hamilton back to Texas. But neither side expects any hiccups. The trade could be finalized by Monday, an off-day for the Angels.
Five parties are involved in this trade -- the Angels, the Rangers, Hamilton, Major League Baseball and the MLB Players' Association -- so a lot of logistics had to be worked out before completion. Hamilton is expected to be the only player switching teams, but money is changing hands, which requires final approval from the Commissioner's Office.
Soon enough, the Angels are expected to officially say goodbye to Hamilton, who underperformed in his first two seasons in Southern California and hasn't been around the team all year.
"It's not just about baseball," Angels center fielder Mike Trout said after the Angels' 5-4 loss to the Rangers on Sunday. "He's a good teammate off the field, a good person to have in the clubhouse. It's tough, for sure."
A source said the Rangers will pick up approximately $2 million to $3 million in each of the three years remaining on Hamilton's contract, which is slated to pay him $90.2 million through the 2017 season, if you include a signing bonus that was spread out over the life of the deal. According to reports, Hamilton will sacrifice $6 million of his own, made up for by the fact Texas has no state income tax.
Hamilton started five straight All-Star Games with the Rangers from 2008-12, sporting a .305/.363/.549 slash line while averaging 28 homers and 101 RBIs and winning the American League's Most Valuable Player Award in that span. But since signing a five-year, $125 million contract with the Angels in December 2012, the 33-year-old outfielder has batted.255/.316/.426 with an average of 16 homers and 62 RBIs over the last two years.
Hamilton's relationship with the Angels became contentious when he had a drug relapse late in the offseason.
An arbitrator ruled on April 3 that Hamilton did not violate the terms of his treatment program, mainly because he self-reported the relapse to MLB before a failed test. The team did not issue Hamilton a locker at its Spring Training facility or at Angel Stadium, and has pulled all of his merchandise and likeness from the ballpark.
Hamilton has been staying at a friend's house in Houston since undergoing surgery to his right A.C. joint on Feb. 4.
The Angels have grown accustomed to playing without him.
"That's what we prepared for because we knew he wasn't going to be ready at the start of the season," said Angels manager Mike Scioscia, whose team begins a six-game road trip through Oakland and San Francisco on Tuesday.
"Whatever branch this thing takes, this thing takes. But the guys in this clubhouse are focused on one thing, and that's going out and winning games. It has not been a distraction."
Alden Gonzalez is a reporter for MLB.com. Read his blog, Gonzo and "The Show", and follow him on Twitter @Alden_Gonzalez. This story was not subject to the approval of Major League Baseball or its clubs.