Gibson rewards Twins' faith in quality outing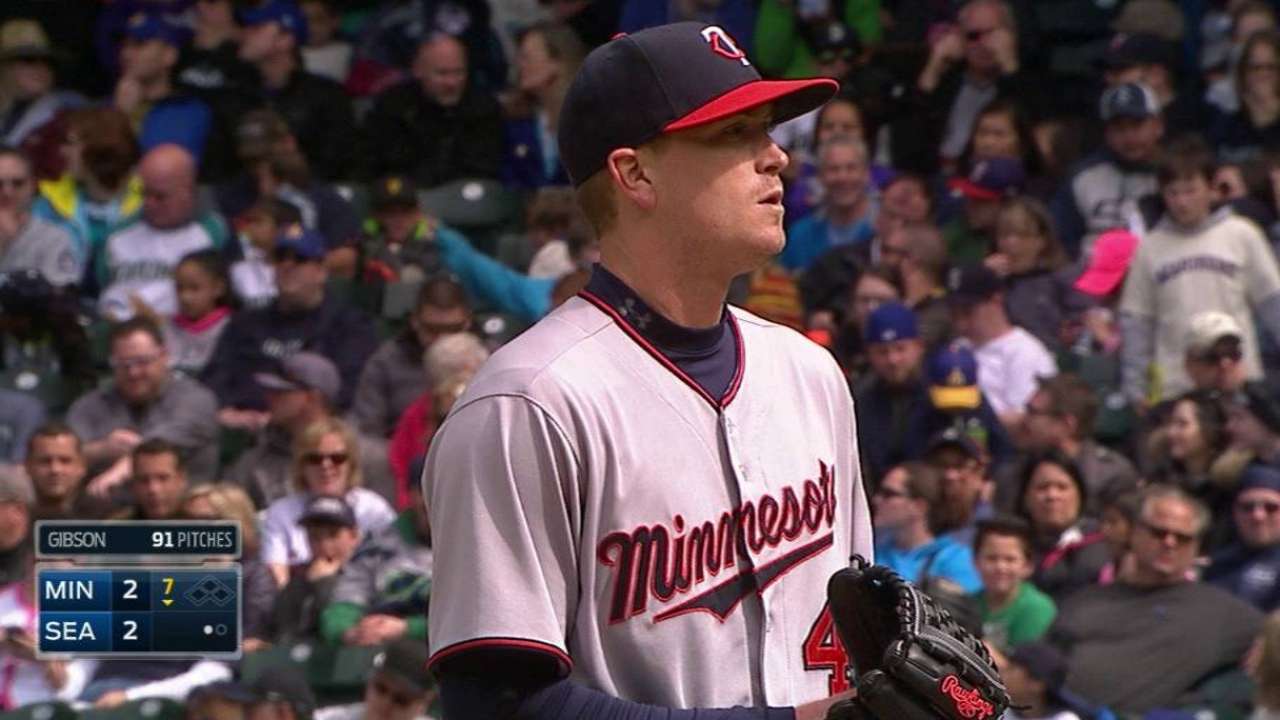 SEATTLE -- Kyle Gibson needed a boost in confidence. So did the Twins, for that matter.
The right-hander and his teammates were able to accomplish both at the same time, although it took 11 innings for a 4-2 win over the Mariners on Sunday at Safeco Field.
Gibson went a season-high seven innings -- pitching into the eighth -- and recorded his second quality start of the season. He also gave the Twins more reasons to be encouraged by his development.
"It was awesome," Gibson said of manager Paul Molitor and pitching coach Neil Allen's decision to let him come out for the eighth in a 2-2 tie. "It's pretty cool that they have that kind of confidence."
Gibson didn't make it past one batter in that eighth inning because he gave up a leadoff double to Seth Smith, but he kept his team in a game that it would find a way to win on Joe Mauer's two-run triple in the 11th inning, and for Gibson, who has been inconsistent thus far, it was a big step.
Gibson had gotten into trouble in the fourth inning, when Smith led off with a home run to right field and Gibson walked the next two hitters, Seattle stars Robinson Cano and Nelson Cruz. It was time for a conversation between Allen and his young right-hander, and the results of that pep talk were positive. Gibson allowed only one of those runners to score and got out of the rest of the frame unscathed with the score tied.
"He gave up the home run, which is going to happen, and then it looked like he kind of backed off, at least for a couple of hitters, with the aggressive approach he had earlier in the game," Molitor said. "Obviously, he was facing good hitters there in Cano and Cruz, but you want the guy to stay after it. We had Neil go talk to him and try to get him back on track.
"He's just got to keep pushing. If somebody hits the ball hard, you come back, you go right back on the horse and pump it back in there. I think he's learning that."
Doug Miller is a reporter for MLB.com. Follow him on Twitter @DougMillerMLB. This story was not subject to the approval of Major League Baseball or its clubs.