CarGo looks like old self in two-hit game
Working through slump, outfielder knocks double, single in win
DENVER -- Carlos Gonzalez came out for early batting practice on Friday afternoon, intent on discovering his proper swing and finding his way out of the April wilderness.
He was again hitting sixth in the Rockies' lineup, something he did Wednesday for the first time since Sept. 17, 2012. Manager Walt Weiss gave Gonzalez a breather Thursday -- he entered that game against the Padres on a double-switch in the eighth and struck out in the bottom of that inning.
The left-handed-hitting Gonzalez said the single-minded purpose of his early work was to "just drive it to the other side, use the whole field. I think my timing is giving me a hard time. I'm seeing the ball well, missing a lot of pitches because I'm a little out front. And they're working me away, away, away -- softer and softer.
"Whenever I make contact, it's early, and it's going to go to the right side," he added. "Whenever I'm going well, I'm using the whole field."
Entering Friday, Gonzalez was hitting .175 (10-for-57) with a .213 on-base percentage along with one homer, five RBIs and two hits in 15 at-bats with runners in scoring position.
"He's just going to grind his way through it," manager Walt Weiss said before the Rockies' 6-4 win over the Giants. "That's typically how hitters get through it. But we all know that when he gets rolling, it's going to be something to see."
That process could well have started Friday. After grounding to second on each of his first two at-bats, Gonzalez was hitless in 16 consecutive at-bats and had one for his past 24.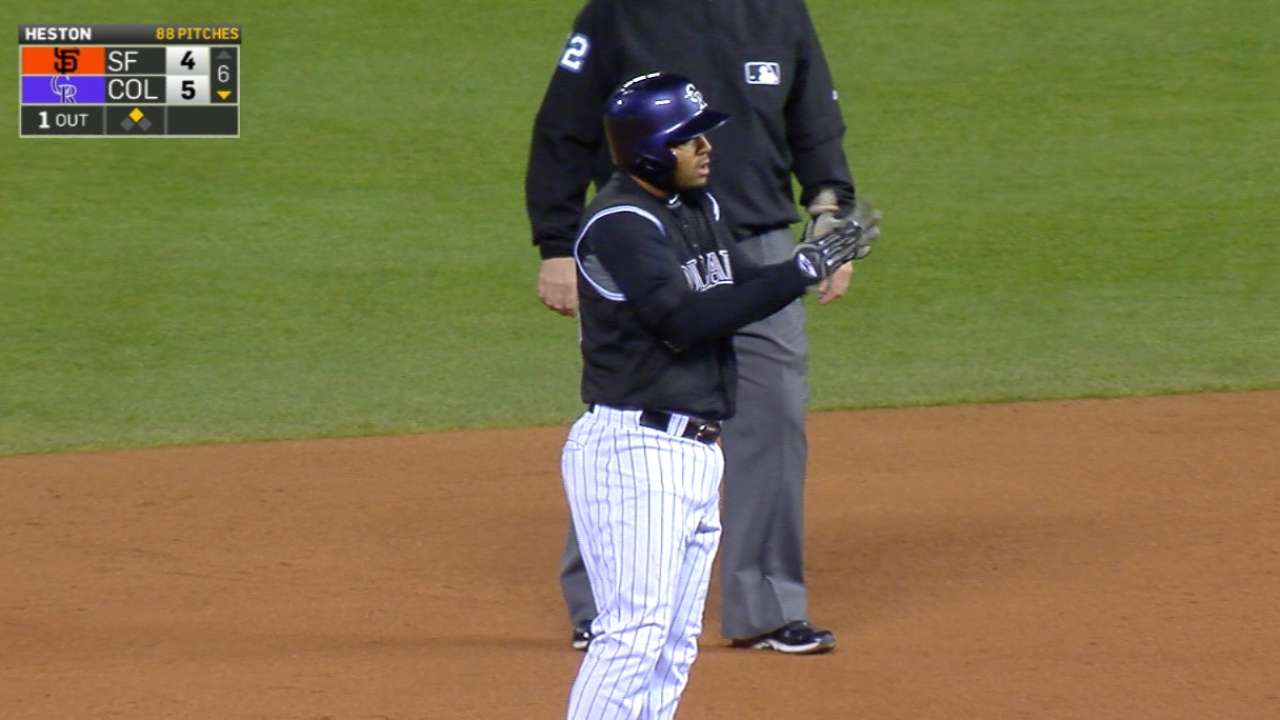 And at that point, Gonzalez seemed to have touched bottom. He led off the sixth against Giants starter Chris Heston with an opposite-field double into the left-field corner on a 1-0 sinker, the start of what proved to be the Rockies' three-run, game-winning rally.
On his final at-bat in the seventh, Gonzalez lined Yusmerio Petit's 2-2 fastball for a two-out single into center field.
"That's my swing," said Gonzalez, a former National League batting champion and two-time All Star. "That's what I've been looking for the whole time. I knew that at some point it would click. I just got to be consistent with that swing.
"If they want to pitch me inside, I can just react and hit it into the seats."
At this early point in the season, slumping players can come to the plate with a hideously low batting average screaming at them in huge numbers from the scoreboard. Being a veteran, Gonzalez is beyond being tormented by any dismal digits.
"I don't really pay attention to [my] average in April," said Gonzalez, whose average rose to .197. "In April, you either hit .400 or you hit .100. That's the way it is. You only have a few at-bats. If you get a hit, your batting average will raise up a lot; if you don't, it will go down. It doesn't matter. I just got to continue to work and believe I will have a lot of opportunities in front of me in the future."
Jack Etkin is a contributor to MLB.com. This story was not subject to the approval of Major League Baseball or its clubs.