Robles displays no fear in pressure-filled MLB debut
Mets reliever first faces A-Rod, escapes jam by retiring Texieira, McCann and Beltran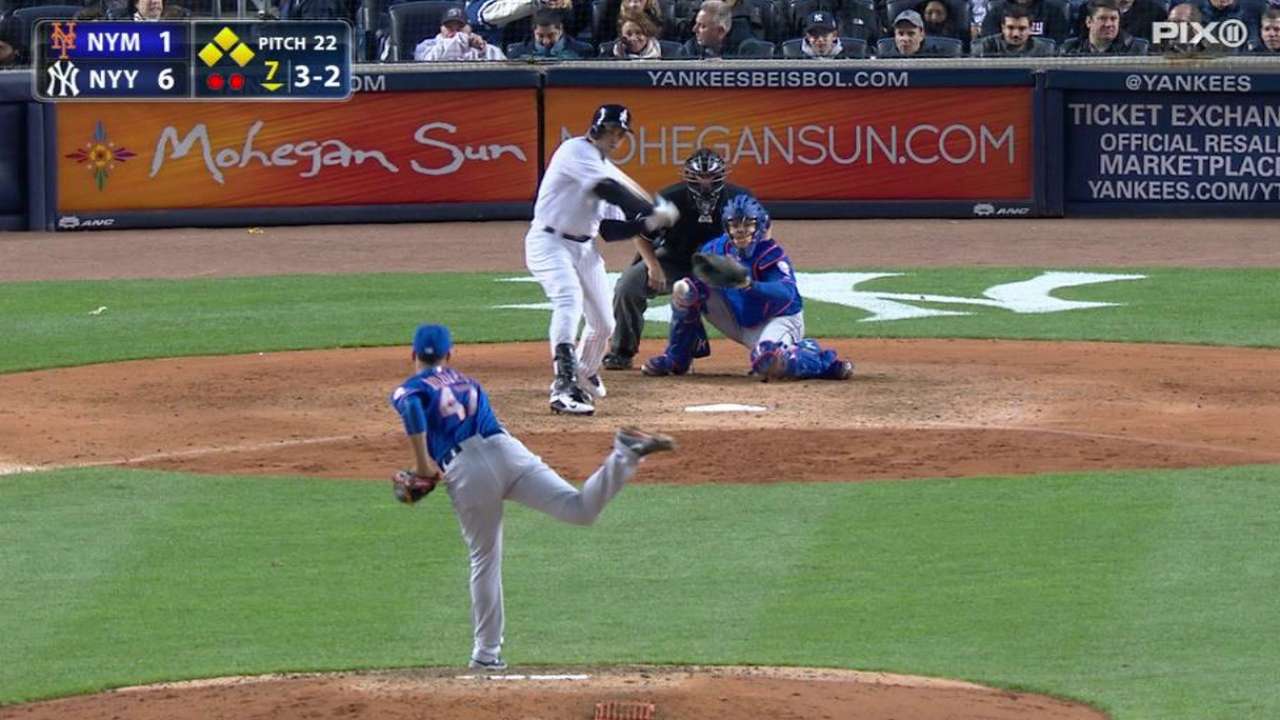 NEW YORK -- Picture debuting in the big leagues at age 24, following six-plus years in the Minors and stops at seven different affiliates. Then picture doing it in the seventh inning at Yankee Stadium, in front of 45,310 fans. Now picture climbing atop the mound to find Alex Rodriguez, one of the foremost power hitters of this generation, awaiting with two men on base.
"It was really interesting," Hansel Robles said through an interpreter after the Mets' 6-1 loss.
If Robles, was fazed, he did not show it. Though Rodriguez muscled an infield single to shortstop to load the bases, Robles responded by popping up Mark Teixeira and striking out Brian McCann. He then delivered the pitch that truly impressed Mets manager Terry Collins: a tumbling, 3-2 changeup to whiff Carlos Beltran after showing him seven consecutive fastballs.
"Tremendous pitch," Collins said. "You make a pitch like that, it tells you you're not afraid."
When the Mets removed Robles from their 40-man roster in November 2013, it seemed unlikely that he would ever be a factor for the club. But Robles went unclaimed and converted to relief in the Minors the next season, posting a 1.80 ERA in 20 innings out of Double-A Binghamton's bullpen. That earned him an invitation to big league camp this spring, then to the Major League 'pen when Jerry Blevins broke his left forearm earlier this month.
"I think I took being taken off the 40-man as a challenge," Robles said, "and I kept working, working, working until I got back again."
If he continues to put his fearlessness on display, more A-Rod-like challenges are sure to await.
"I'm sure his adrenaline was pumping a little bit, but he looked great to me," catcher Kevin Plawecki said. "It didn't look like he had any nerves out there at all. That's a tough situation to come in for your debut, to face Alex Rodriguez. I thought he did a great job."
Anthony DiComo is a reporter for MLB.com. Follow him on Twitter @AnthonyDiComo and Facebook. This story was not subject to the approval of Major League Baseball or its clubs.