Wood, Braves pitching staff very impressive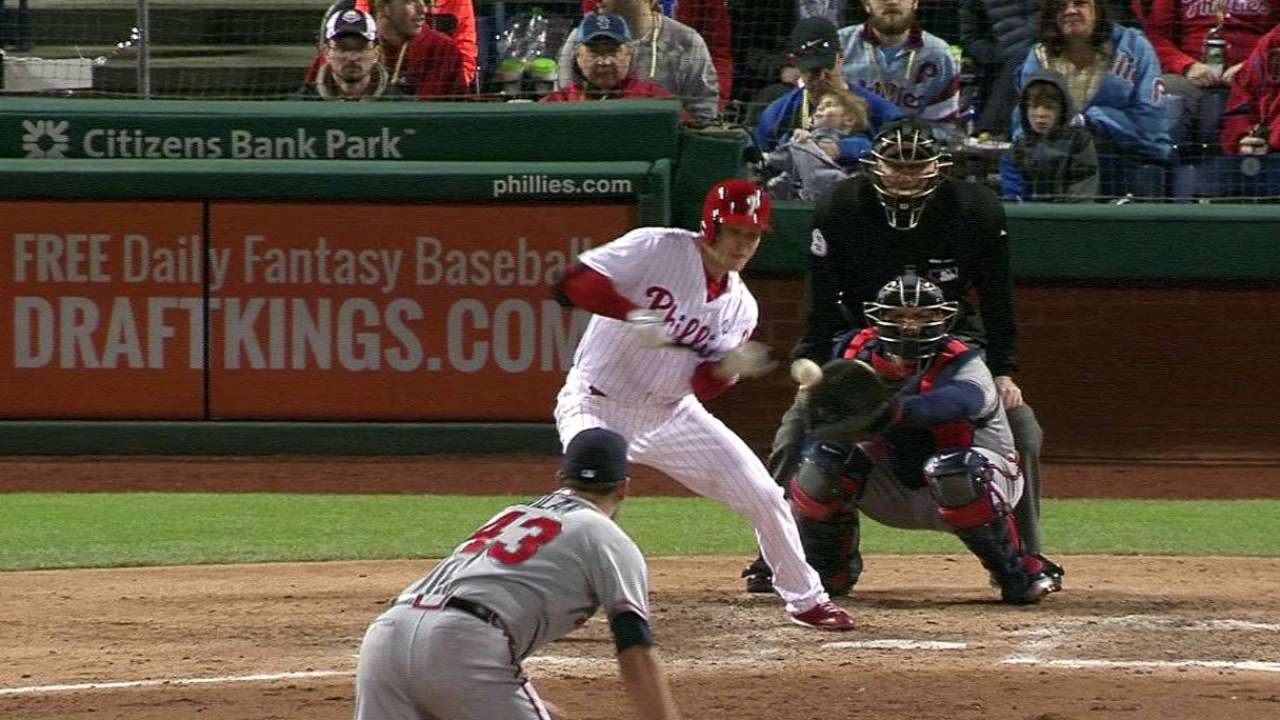 PHILADELPHIA -- Though Jim Johnson's recent frustrations were enhanced during Friday night's 1-0 loss to the Phillies at Citizens Bank Park, the recently-maligned Braves bullpen had no reason to be ashamed of the effort it provided in this latest setback.
The Braves bullpen stranded seven inherited runners, including each of the three Alex Wood handed to Cody Martin in the seventh inning. But in the end, they could not overcome an ugly ninth inning that concluded when Freddy Galvis scored with the assistance of a passed ball charged to A.J. Pierzynski and Freddie Freeman's game-ending error.
"I thought [Johnson] did a great job," Braves manager Fredi Gonzalez said. "He kept the ball down with groundballs."
Johnson had retired just seven of the previous 17 batters he had faced while allowing a total of five runs over his previous three appearances. But though he was saddled with this loss in this contest, it would have been unfair to place any blame on his shoulders.
After stranding a pair of inherited runners in the eighth inning with a strikeout of Carlos Ruiz, Johnson allowed Galvis to begin the ninth inning with a single. Galvis advanced to second base on a sacrifice bunt and reached third when Pierzynski did not handle a pitch in the dirt.
The Braves proved charitable one more time when Galvis scored in uncontested fashion after Freeman was unable to field Ben Revere's chopper in the infield grass. Freeman's miscue -- his second of the night -- ran Atlanta's season-high error total to four.
"Woody pitched awesome," Freeman said. "[Luis Avilan] was awesome and Johnson did his job too. We just didn't make the plays behind him."
Wood completed 5 2/3 scoreless innings with the assistance of Martin, who escaped his inherited bases-loaded threat by getting Ruiz to fly out to end the sixth inning. Avilan also escaped unscathed after entering with a runner at second base and one out in the seventh inning.
The Braves bullpen has taken some heat as it has surrendered 18 earned runs over the course of the past nine games. But this relief corps leads the National League with an 8.1 (3-for-37) inherited runners scoring percentage.
"Woody was good," Gonzalez said. "He mixed his pitches well. His secondary pitch, he threw for strikes. Really, everybody gave us a good opportunity out of that bullpen to get that win."
Mark Bowman is a reporter for MLB.com. This story was not subject to the approval of Major League Baseball or its clubs.