Cruz missile: Seattle slugger drives 9th homer 459 feet
SEATTLE -- Nelson Cruz continued his home run barrage for the Mariners on Friday with a second-inning blast off right-hander Phil Hughes, raising his Major League-leading long ball total to nine in his first 16 games as the Mariners topped the Twins, 2-0, behind a shutout performance from Felix Hernandez.
Cruz's latest missile into the left-field upper deck in Safeco Field was estimated at 459 feet by Statcast, which reported the ball was traveling 113 mph as it left his bat.
Can he hit the ball any harder?
"I don't know," Cruz said with a smile. "I don't think so. It's just one of the things where you hit it and you're very happy because you come up on top and give the lead to a special pitcher like Felix. He was amazing. I remember being on the other side, seeing him that tough. Today he was tough again."
Hernandez was equally happy to see his buddy hammer another homer to help the Mariners improve to 7-9. The King appreciates any run support he can get and the big man delivered.
"Wow. Unbelievable," Hernandez said of Cruz's longest bomb yet. "He told me before the game he was going to hit one. I asked for four the day before yesterday and three from [Robinson] Cano. I'll take one."
Cruz, 34, has already tied for the third-most home runs in the opening month of the season by a Mariner player. Ken Griffey Jr. hit 13 in the first month in 1997, 11 in 1998 and nine in 1999, while Alex Rodriguez also completed the first month with nine in '98.
Cruz has now hit five home runs in his last eight games against the Twins, dating back to last season when he led the Majors with 40.
First baseman Logan Morrison joined in the fun, launching his first extra-base hit of the season with his own solo shot in the fifth for Seattle's other run. Morrison has hit some balls hard without any luck, but this time he put one where it couldn't be caught as he lifted his batting average to .185 with a 1-for-3 day.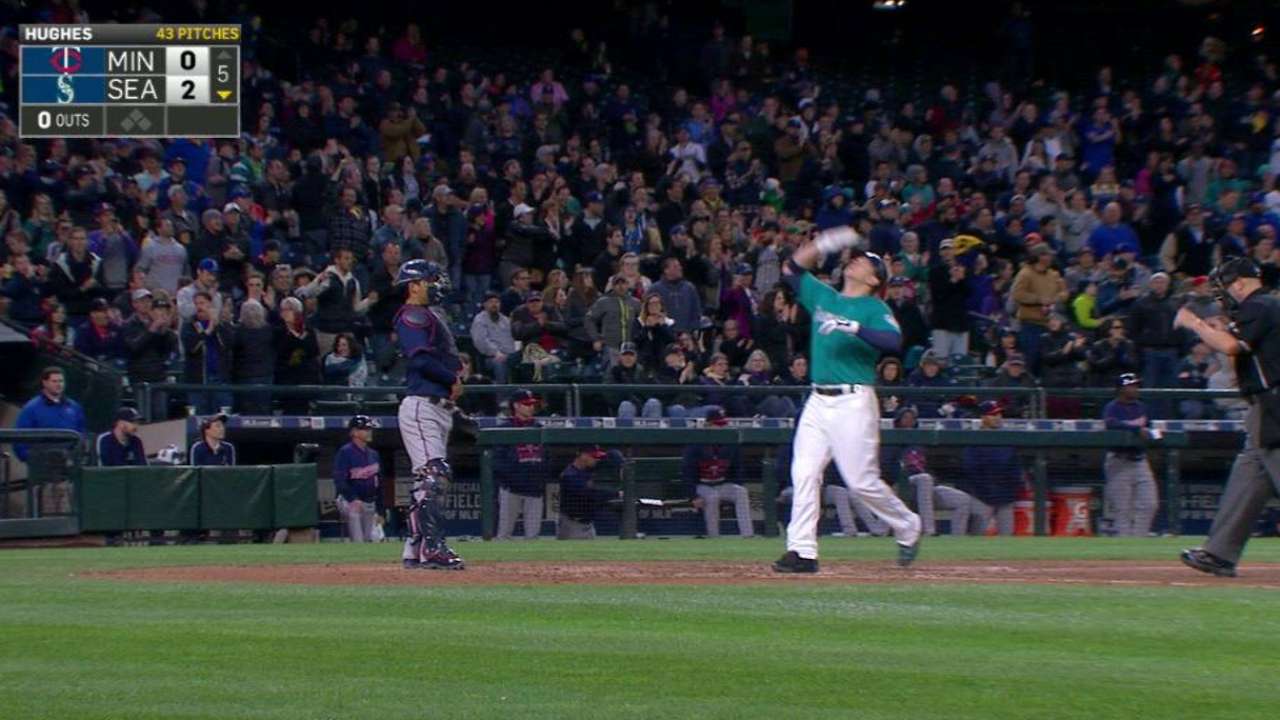 "I said before, he's been swinging the bat pretty darn decent," manager Lloyd McClendon said. "He hit one where they couldn't go up and catch it."
"I was like, 'Finally, it went over the fence,'" said Morrison. "I didn't feel like I was due. You don't think about that as a player. You just think about each day getting better with your swing and timing and things like that and making little adjustments here and there."
The one guy who doesn't seem to need any adjustments is Cruz, who now leads the Majors in RBIs as well with 18. He's hit .408 with nine homers, 18 RBIs and 11 walks in his last 12 games. And after some wondered if he could produce as well at spacious Safeco Field, he's hit .367 with three homers and nine RBIs in seven games this homestand.
"He makes it look pretty small, huh," said McClendon.
Greg Johns is a reporter for MLB.com. Follow him on Twitter @GregJohnsMLB as well as his Mariners Musings blog. This story was not subject to the approval of Major League Baseball or its clubs.