How fast was Tex's 2nd homer? Statcast knows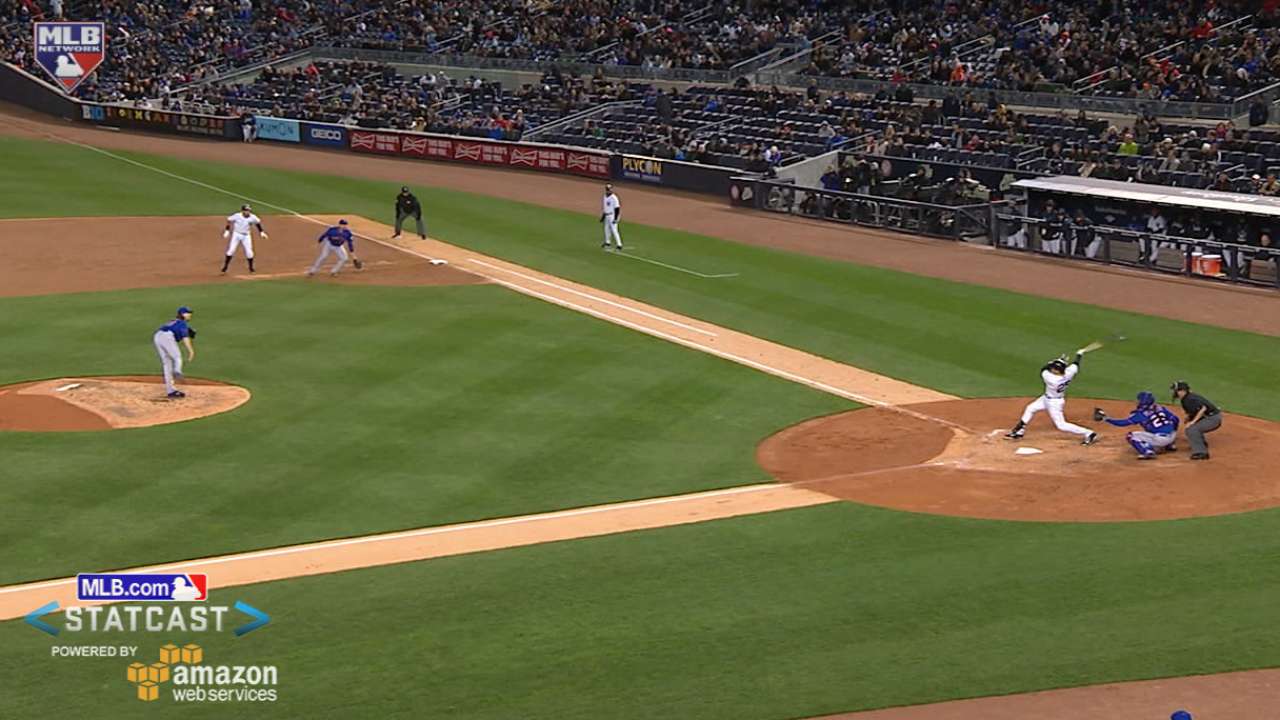 When Yankees first baseman Mark Teixeira took right-hander Jacob deGrom deep in the third inning of Friday night's 6-1 win over the Mets at Yankee Stadium, it was his second home run of the night, his seventh of the season and the third of the night for the Bronx Bombers.
But thanks to Statcast data, which was part of the national broadcast on MLB Network, those aren't the only numbers we know.
With one out and Alex Rodriguez on first base, deGrom fed Teixeira a 93-mph four-seam fastball, and Teixeira jumped on it. As Statcast shows, he added force to the pitch, sending the ball shooting toward right field with an exit velocity of 106 mph.
That's obviously quite fast, though Statcast has measured numerous hits with higher exit velocities this season. In fact, Teixeira's shot is not among the top 20 homers by exit velocity thus far in 2015. For example, the line drive Giancarlo Stanton crushed on Thursday at Citizens Bank Park sizzled over the left-field wall at 118.5 mph. The top mark among all batted balls remains 119 mph, on a single by the Mariners' Nelson Cruz.
Still, 106 mph was plenty for Teixeira to drive the ball well into the second deck of Yankee Stadium's right-field bleachers, staying just inside the foul pole. Statcast also measured the launch angle at 37 degrees, producing a high-arcing drive that traveled a projected 424.7 feet.
Andrew Simon is a reporter for MLB.com. Follow him on Twitter @AndrewSimonMLB. This story was not subject to the approval of Major League Baseball or its clubs.